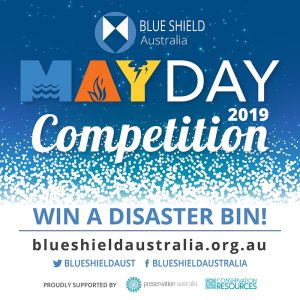 Are you a regional and remote Museum, Library, Gallery, Archive or Historical Society and in need of a Disaster Recovery Bin to help in emergencies?
During the month of May, Blue Shield Australia runs an annual MayDay campaign, promoting disaster planning and awareness amongst archives, libraries, museums, galleries, heritage places, historical societies, local history groups and other cultural heritage organisations.
As part of this year's activities Blue Shield Australia is running a competition to win one of three disaster bins, delivered to your organisation.
Entries close on 24th May 2019 and winners will be announced on 31st May 2019.
The competition is supported by Preservation Australia and Conservation Resources.