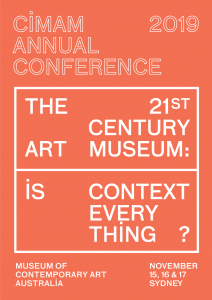 CIMAM – INTERNATIONAL COMMITTEE FOR MUSEUMS AND COLLECTIONS OF MODERN ART will be presenting its 2019 annual conference in Sydney at the Museum of Contemporary Art Australia, on November, 15th – 17th.
Ticket information
Tickets are only available to directors, curators and arts professionals of modern and contemporary art museums and collections from around the world. To book your ticket, please visit the CIMAM website. Registration closes on 30 September 2019.
Early Bird Registration has now opened.
In partnership with the MCA, Museums & Galleries of NSW has five registrations to give away to staff from regional galleries in NSW. Five successful applicants will be chosen from EOI's received that outline the benefits attendance would provide, both personally and towards program outcomes of the gallery involved.
This offer is limited to one registration per gallery and allows for bids that seek to subsidise attendance by 2 or more staff.
Submissions close 5pm Friday 31st May.