Let's Get Digital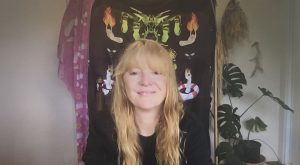 Let's Get Digital is a year-long project (over 2021 and 2022) supported by the NSW Government through Create NSW as part of Arts Restart. Zanny Begg has been employed as Digital Creative to manage fifteen digital projects and initiate training workshops and events to support digital culture within Museums, Galleries, and Aboriginal Keeping Places across NSW.
As part of this role Zanny is working with Daniel Browning, renowned journalist, radio broadcaster, documentary maker and writer, to host a special mentoring and training workshop as a partnership between Broken Hill Library and MGNSW.  Daniel is a descendant of the Bundjalung and Kullilli peoples of far northern New South Wales and south-western Queensland. He will mentor young Indigenous sound recordists and run a workshop on recording oral histories.
Let's Get Digital includes projects across NSW that work across virtual, live, augmented, and public spaces to share cultural experiences with audiences in new and exciting ways.
Lively Objects: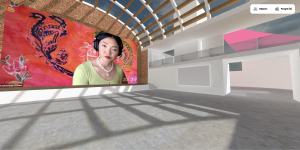 To encourage new thinking around museum culture Let's Get Digital organised a virtual book launch of Curating Lively Objects with Dr Lizzie Muller and a  resource page that includes a commissioned piece of text and sample chapters from her book.  You can check out more about Curating Lively Objects here.
Digital Training: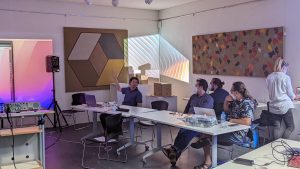 Let's Get Digital supported a range of virtual and live training workshops including;
Social Media 101: Introduction to social media for cultural organisations with Van Low,
Hybrid Exhibitions: Techniques for Digitally Restaging Exhibitions using AR, VR & 360 Photo Tours with Warren Armstrong,
Podcasts and Audio Recordings with Jennifer Macey,
Story Telling Online; Instagram and  Tiktok, and Facebook and Linkedin, with Van Low,
Google my Business and Google Analytics, with Jason Gee, and
Projection Mapping with Craig Walsh, Steve Thomasson and Dara Gill.
Let's Get Digital Projects: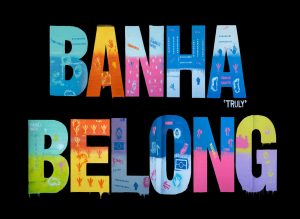 M&GNSW has been supporting fifteen fantastic projects through our Let's Get Digital Fund, managed by our Digital Creative Zanny Begg. Small to medium galleries, museums and Aboriginal cultural centres across NSW have responded to the COVID-19 crisis with new strategies of digital engagement. Let's Get Digital will support a range of institutions in adapting to this environment by developing skills and resources to integrate digital experiences into their future programming.
Each project has dedicated $10,000 to employ regional artists and creatives to produce and deliver enhanced digital and artistic content for their communities and to collaborate with staff and volunteers to enhance their digital knowledge, with $3000 allocated to support project costs.
Bathurst Regional Art Gallery hosted a series of workshops, developed in conjunction with the Local Aboriginal Lands Council, Community Services staff, Kelso High, and artists Sven and We Buy Your Kids, to engage young people in creating empowering content that 'Lit Up' Bathurst over NAIDOC week. Funds will compliment a successful Stronger Country Communities Grant which installed digital screens and projectors across the Bathurst CBD by focusing on content creation and digital skills.
Cumberland City Council – Granville Centre Art Gallery will initiate a Digital Online Program Series, created by Ricky Tana from Opnsrc.co in collaboration with the gallery team, to engage audiences with gallery programming.  The project will include podcasts, videos, and audio tours created in consultation with Accessible Arts to engage diverse audiences with the gallery.
Maitland Regional Gallery created Waterways, a short film, online learning resource and digital excursion that complements the exhibition Barka, the forgotten river, a collaboration between Badger Bates, Justine Muller and the Wilcannia Community. The project linked audiences and students from Maitland, Broken Hill and Wilcannia providing insights into First Nations cultural knowledge and fostering custodianship of local waterways.
Mudgee Region Gallery is creating a suite of digital materials, with video artist Kim V. Goldsmith, that will provide insights into the inaugural year of programming for Mudgee Region Gallery, built with funding from Create NSW and the Federal Government's Building Better Regions Fund. The video resources will explore the process of making works of art for exhibition.
The Lock Up, Newcastle has used funds from Let's Get Digital to redesign its website to support the exhibition of digital projects.
Crawford House Museum will create a virtual tour of Crawford House that brings to life some of the stories that haunt the objects held within the museum's collection. The tours will enliven the collection whilst providing a resource for scholars and an enticement for tourists to visit.
Greater Hume Council is making a six-part web series that will explore the dynamic histories of objects from six local museums; the Culcairn Station Masters House; the Holbrook Woolpack Inn; the Headlie Taylor Header, Holbrook Submarine, Jindera Pioneer and Wymah Schoolhouse Museums.
Wingham Museum will engage a local videographer to create digital content that enlivens its collection. The focus will be on the unique and significant stories behind the collection, rather than the collection itself and will be shared on the web and through QR links on the museum's display banners.
Montreal Goldfield and Heritage Centre will provide visitors with the chance for a virtual conversation with a miner buried deep within the earth. Funds will be used to update signage and equipment to simulate a 'conversation' with the ghosts of the past.
Port Macquarie Museum has commissioned a digital art and creative story telling project by Mic Rees, Old Books New Looks, that reimagines Annabella Boswell's archives through a digital exhibition at the Port Macquarie Museum.  Annabella Boswell's archives were inscribed on the UNESCO Australian Memory of the World in 2019 and offer a unique insight into colonial life.
Dharriwaa Elders Group: training in live streaming and the installation of large-scale digital screens to share culture with the community.
Hawkesbury Regional Museum: Rivers are mathematically beautiful. According to Luna Leopold's river meandering theory, the length of a meander is, on average, 11 times the river's width. 11 Stories from the River will be an interactive website that hosts recordings from a series of location-based audio walks created by Oonagh Sherrard along the banks of Dyaruban (Hawkesbury River). The collaborative work will include field recordings and collaborations with Darug elders and musicians.
Wiradjuri Keeping Place – Parkes Cultural Centre: Yindyamarra is intrinsic to the culture of Wiradjuri. It underpins their relationship to country and community, teaching and living. This project will employ Ub Ubbo Exchange to create an audio-visual component of the Wiradjuri Keeping Place exhibition in the Parkes Cultural Centre.
Yarkuwa Indigenous Knowledge Centre: What can a 1964 basket made by Aunty Eddie Whyman or a 120-year-old basket made by women at Moonahcullah teach us about our culture? This digital story telling project will engage emerging Aboriginal artists to create digital interpretations of the lively objects within the centre's collection.
Hawkesbury Regional Gallery: an immersive installation that explores the story of the Dyarubbin river. An artist will work with Darug knowledge-holders, artists and educators Leanne Watson, Erin Wilkins, Jasmine Seymour and Rhiannon Wright to explore the ecological, cultural and spiritual significance of the river for women.
About Zanny Begg:
Zanny is an artist-filmmaker who has experimented with algorithms, multi-channel projections, web-based media and other forms of digital practice. Her recent works include the 2018 ACMI Artist Film Commission, The Beehive, and the 2020 ACCA Open Commission, Magic Mountains. She has a PhD in Art Theory and a mini-retrospective of her work, These Stories will be Different, will tour with MGNSW over 2022-23. More information about her work can be found on www.zannybegg.com.
---


Let's Get Digital is proudly supported by the NSW Government through Create NSW as part of Arts Restart