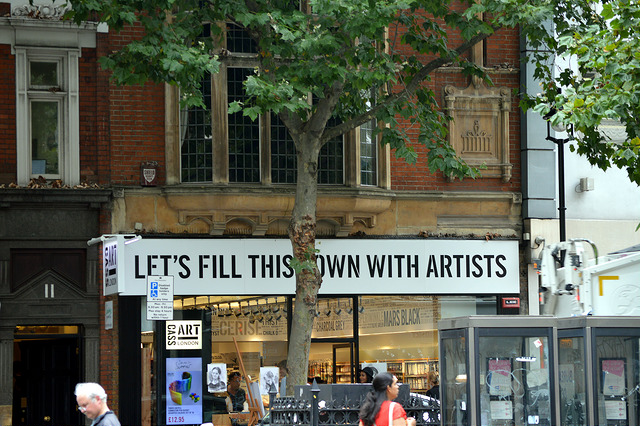 Are you an artist looking for your next big opportunity?
We have compiled a list of artist opportunities currently seeking applications.
EOI: City of Sydney Artwork displays program
The City of Sydney is inviting expressions of interest to use display spaces in the City's library network. We are looking for submissions that engage with the library's objectives and showcase our diverse communities.
Display proposals must engage with one or more of the following objectives:
highlights the library as a space for our communities to grow, learn, create and connect
showcases the identity of the branch and or local communities of interest and practice
celebrates the diversity of our community especially in relation to target groups such as children, young people, older people, Aboriginal peoples, people experiencing homelessness, people from culturally and linguistically diverse backgrounds, people with disability and LGBTIQ people.
Closing date: Thursday 16 May 2019
Still: National Still Life Award
Still is a biennial, acquisitive award for artworks in the genre of still life, in all mediums. The award is open to artists at all stages of their careers.
Entries for the 2019 award have now opened. The online entry form and further information are available here. 
Entries close on Monday 10th June, 2019. First Prize: $30,000.
Pro Hart Outback Art Prize
The Pro Hart Outback Art Prize is an annual acquisitive competition. The prize showcases work in any media which reflects the spirit and diversity of the Australian Outback. The prize consists of an Acquisitive First Prize, a Non-Acquisitive Second Prize and a People's Choice Award with a total prize pool of $23,000. The winning work will be added to the nationally recognised collection of the Broken Hill Regional Art Gallery.
Entries Close: Friday, 31st May
WORKSHOPPED19 – Call for applications

Australian Design Centre and WORKSHOPPED are calling for applications for WORKSHOPPED19 until 23 April 2019. This is an outstanding opportunity for designers to showcase their work in a dynamic exhibition hosted at the Australian Design Centre. Join the long list of renowned WORKSHOPPED alumni including; Karina Clarke, Adam Cornish, Jon Goulder, Dale Hardiman, Trent Jansen, Andrew Simpson and Kate Stokes.
Key dates, Design Brief, Awards and submission details: https://australiandesigncentre.com/workshopped19-eoi/
Closing: 23 April 2019
Public art project at Goulburn Civic Centre – EOI
Goulburn Regional Art Gallery is calling for Expressions of Interest from local artists (within a 120km radius of Golbourn CBD) to fulfil a public art project at the Civic Centre. This is a significant opportunity to put forward a bold, creative idea that will change the landscape of the building for years to come. A $30,000 fee is attached.
The EOI closes at midday, 5 April 2019.
Naked & Nude Art Prize 2019 – Call for Entries
The biennial Naked & Nude Art Prize (previously the Manning Art Prize: Naked & Nude) commenced in 1990 with entries open to Australian artists. The Art Prize is a partnership between Friends of the Manning Regional Art Gallery and the Manning Regional Art Gallery. After 29 years, the Naked & Nude Art Prize has become a prestigious national event on the Australian Arts Calendar and is open to artists in a variety of mediums.
First Prize: $30,000
Enquiries: friendsmanningvalley@gmail.com
Closing  30 June 2019
Art & About 2020 program
Ambitious installations, augmented reality, performance – we're keen to hear about any bold and original ideas that will temporarily transform public and unusual spaces.
We'll fund a number of projects from $40,000 to $85,000.
This is a great opportunity to have your work seen in the centre of Sydney.
Entries close midnight, 24 February. Start planning now.
We welcome submissions from local, interstate and international creatives.