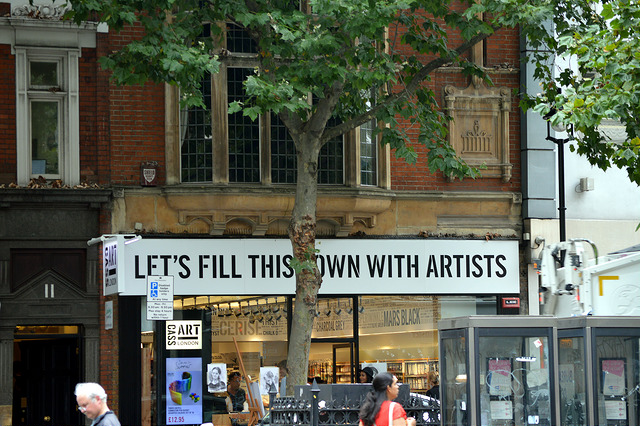 Are you an artist looking for your next big opportunity?
We have compiled a list of artist opportunities currently seeking applications.
Artspace One Year Studio Program
Since 2015, Artspace has provided Studios Free for Artists: year-long, rent-free studios that support artists to develop new work and methodologies in an open and critically-engaged environment. This program is part of a 10-year vision to support 70 artists across generations — from emerging to established, and across all media — to embrace risk and experimentation in their practice.
The One Year Studio program is supported by an unparalleled partnership with UNSW Art & Design, providing access to its leading research and production facilities in tandem with professional networking opportunities through our jointly presented International Visiting Curators Program.
John Fries Award 2020
The John Fries Award 2020 for early career artists is a non-acquisitive award of $10,000 with finalists receiving an artist's fee of $1000 each. It is an exciting opportunity for artists working in all media from painting to conceptual art, from performance to photography, and aims to encompass the multiplicity of contemporary practice.
The Award has been generously donated by the Fries family in memory of former Viscopy director and honorary treasurer, John Fries, who made a remarkable contribution to the life and success of Viscopy. Since mid-2012, the Award has been managed by Copyright Agency.
GreenWay Art Prize – Call for Entries
Celebrating this vibrant, innerwest green corridor through art, the GreenWay Art Prize is open to all artists working with themes of waterways, urban environment, community connections and sustainable transport.
Prize pool : $11,000
Closing 8 October 2019
For further information, visit the Art Prize website or email: greenwayartprize@gmail.com
Apply for a 2020 studio tenancy at Parramatta Artists' Studios
Apply now for a 6 or 12-month studio tenancy at Parramatta Artists' Studios in 2020.
Get into your arts practice with our studio program, which includes:
• professional studio spaces in the Parramatta CBD
• professional development programs including curatorial visits
• a community and network of artists and arts workers
• opportunities to connect with artistic and local communities through public programs
• subsidised rent to support sustainable artist careers
Applications close Monday 9 September.
Gallery Lane Cove Library Sculpture plinth
Artists producing small scale 3D work are invited to apply to exhibit in Gallery Lane Cove & Creative Studios outdoor sculpture plinth. Located in Library Square on Longueville Road, the Sculpture Plinth offers a position of high exposure within Lane Cove's central foot traffic precinct.
Exhibition spaces are available throughout most months of 2019 for between 2 – 4 weeks.
Gallery Lane Cove Outdoor terrace exhibition space
Gallery Lane Cove has opened up our outdoor Terrace Space for exhibitions. This space provides the perfect opportunity to exhibit 3D artworks, installations, performances and projections.
Exhibitions periods are available for hire throughout the majority of 2019 for hiring periods between 2 and 4 weeks. Hiring costs for the space is $150 per week (no frills).
UTS Library – Call out for 2019 Creative-in-Residence applications
This residency offers a successful applicant the opportunity to develop and produce a creative project that uses the UTS Library as a starting point for the research and realisation of a new creative work.
The residency will run over a period of 6 months, from August 2019 – January 2020.
A resident stipend of $10,000 will be paid to the successful applicant.
A materials budget up to the value of $5,000 is available to the successful applicant to assist in realising the project. The library will manage the materials budget.
Applications close: Friday 28 June 2019.
Charlestown CREATE – Pubkic art commission
Lake Macquarie City Council has $57,500 available for the commissioning of high-tech artworks to form part of a new art trail linking Pearson Street Mall to Charlestown Skate Park. The commissions are;
technology-based sculpture – $40,000 commission plus $10,000 additional for installation
projection mapping artwork – $10,000 commission (Council will supply and install hardware)
sound-based artwork – $2,500 x 3 commission (Council will supply and install hardware)
Artists interested in submitting an expression of interest can download an information package from the website.
Submissions close Sunday 9 June 2019.
Charlestown CREATE is proudly funded by the NSW Government through the Stronger Country Communities Fund in association with Lake Macquarie City Council.
CULTURE AT WORK®  ARTIST ART-SCIENCE RESIDENCY PROGRAM 2019
Growing Culture
Artist Art-Science Residency Program 2019 Applications OPEN NOW
Application  – support for 6 residencies.
Artists will be selected and allocated a studio space to develop their own art practice culminating in an exhibition or performance or installation.
Artists will exhibit in the ACCELERATOR Gallery or main gallery as part of the program.
CULTURE AT WORK®  is a not for profit Australian Research Institute dedicated to art and science.
Still: National Still Life Award
Still is a biennial, acquisitive award for artworks in the genre of still life, in all mediums. The award is open to artists at all stages of their careers.
Entries for the 2019 award have now opened. The online entry form and further information are available here. 
Entries close on Monday 10th June, 2019. First Prize: $30,000.
Pro Hart Outback Art Prize
The Pro Hart Outback Art Prize is an annual acquisitive competition. The prize showcases work in any media which reflects the spirit and diversity of the Australian Outback. The prize consists of an Acquisitive First Prize, a Non-Acquisitive Second Prize and a People's Choice Award with a total prize pool of $23,000. The winning work will be added to the nationally recognised collection of the Broken Hill Regional Art Gallery.
Entries Close: Friday, 31st May
Naked & Nude Art Prize 2019 – Call for Entries
The biennial Naked & Nude Art Prize (previously the Manning Art Prize: Naked & Nude) commenced in 1990 with entries open to Australian artists. The Art Prize is a partnership between Friends of the Manning Regional Art Gallery and the Manning Regional Art Gallery. After 29 years, the Naked & Nude Art Prize has become a prestigious national event on the Australian Arts Calendar and is open to artists in a variety of mediums.
First Prize: $30,000
Enquiries: friendsmanningvalley@gmail.com
Closing  30 June 2019