NSW Health Infrastructure Arts and Health Award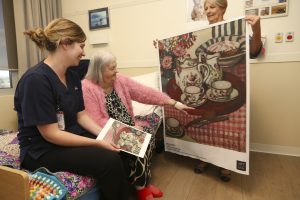 NSW Health Infrastructure Arts and Health Award announced
As part of the 2022 IMAGinE Awards, Museums & Galleries of NSW announced the commencement of a partnership with Health Infrastructure to deliver a new initiative, the NSW Health Infrastructure Arts and Health Award.
This $10,000 award has been designed to foster strong partnerships between cultural organisations and their Local Health Districts. This will allow programs to be developed that contribute to better health outcomes in local communities.
Brett Adlington, CEO, Museums & Galleries of NSW said that many cultural organisations in NSW have long made important contributions to the health and wellbeing of their communities.
'With this award, we wanted to celebrate that work, and foster an increase in working closely with the health sector to provide clear health outcomes' Mr Adlington said.
Museums & Galleries of NSW and Health Infrastructure congratulate Gosford Regional Gallery and Gosford Hospital (Central Coast Local Health District) for their application Weaving for Wellbeing.
This project brings together local Aboriginal Elder Aunty Daniella Chedzey, and local fibre artist and experienced art therapist Lisa McArthur-Edwards, to hold weaving workshops at Gosford Hospital with patients and staff, with an exhibition to be held at the Gosford Hospital Exhibition Space at the end of 2023.
Across 20 workshops held for patients with chronic health issues, participants will develop coping mechanisms and mental health benefits accrued through bonding and identifying with other patients going through similar experiences.
The Award assessment panel found that this application built on four years of demonstrated commitment in the art and health field and showed clear benefits to the participants through the mindful practice of weaving.
The panel also highlighted the ongoing benefits of this project given that workshops will also be run for staff, both in the general wards and in the Central Coast Medical Research Institute. Through this participation, the benefits of an arts in health practice can be experienced by staff and students.
Rebecca Wark Chief Executive, Health Infrastructure was absolutely delighted to be partnering with Museums & Galleries of NSW on this award.
"This award recognises the unique contribution of cultural organisations to rural, remote and metropolitan health services, that collectively inspire stronger and more resilient communities for a brighter health care future," Ms Wark said
The integration of arts into the design and delivery of health services through NSW Health's Arts in Health initiatives benefit patients, visitors and staff. The Arts in Health program includes all art forms including heritage, literature, visual, performing and dramatic arts. Studies have shown incorporating vibrant, positive and engaging artwork into hospitals helps promote healing and wellbeing. 
Museums & Galleries of NSW and Health Infrastructure look forward to developing the capacity of both the cultural and health sectors in working together to boost the wellbeing of communities across the state. The partnership will see Health Infrastructure fund this award for three years.
The Arts and Health Award is proudly supported by NSW Health Infrastructure