CASE STUDIES – NSW Health Infrastructure Arts and Health Award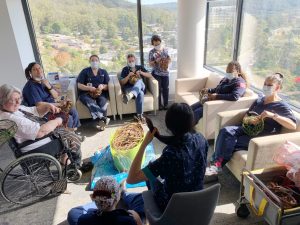 Gosford Regional Gallery
Weaving for Wellbeing. Partnership with Gosford Hospital and Central Coast Local Health District.
Recipient of the 2022 Health Infrastructure Arts in Health Award
Gosford Regional Gallery was the recipient of the 2022 Health Infrastructure Arts in Health Award to assist them in building on an existing engagement and suite of programs they run at Gosford Hospital. The engagement with Gosford Hospital started in 2017 and includes a large temporary exhibition space in which they program 5-6 art exhibitions per year. These generally focus on health awareness and education. Previous programs have included engaging artists to work with specific sections within the hospital, such as the Cancer Centre or the Aboriginal Health Unit (Nunyara) or artists who are working on specific health related content.
In applying for the award, the Gallery stated that they wanted the Weaving for Wellbeing project to be able to expand across the majority of the hospital, and importantly to include hospital staff in the project. They have engaged 3 artists (2 First Nations artists) to conduct a series of workshops spread throughout different wards.  Eight workshops have already been conducted across wards including Orthopaedics, Vascular Surgery, Palliative Care, Inpatient Mental Health Unit and Paediatric Inpatient Unit. More workshops are planned for other units with demand growing.
The workshops invite both patients and staff to drop in and work with the weavers to create collaborative weavings. This is not being run as a diversional therapy program, whilst it clearly has those benefits, the aim is to be able to connect staff and patients through shared experiences. The feedback to date has highlighted that the workshops create a space where patients feel equal to the staff and where the discussions are not centred on healthcare. The workshops are held in the patient lounges within the ward. The flexible structure of the workshops allows staff to come in and out as their work allows and patients to participate from their bedside if necessary.
The culmination of the project will be an exhibition of collaborative weaving works displayed both in the exhibition space and in the wards where workshops were conducted. The outcome exhibition will promote a sense of ownership and pride within the hospital as a sense of place.
Casula Powerhouse Arts Centre
Men's Health Week 2022:  Men's Stories exhibition in partnership with South-West Sydney Local Health District, Western Sydney University and the Exodus Foundation
To celebrate Men's Health Week, South-West Sydney Local Health District, Casula Powerhouse, Western Sydney University and the Exodus Foundation mounted an exhibition about men's stories of overcoming challenges in life such as migration, unemployment, mental illness and discrimination.
The exhibition was part of a project called Tackling the Challenge which encouraged men to speak up about their emotional and other problems in life.
The project showcased photos and accompanying text-based stories of local men who have bravely spoken publicly about dealing with personal crises, recovery or other challenges.
Mark Tayar's story was part of the exhibition: 'As gay man, coming out of the closet was really hard, but coming out of the mental health closet was even harder, because the stigma is more intense against mental illness than the gay community. When someone says you're schizophrenic, you don't have to take on that label. Coming out and sharing your story is very important. Coming out to yourself first and then to others', Mark explained.
The exhibition at Casula Powerhouse ran from 11-19 June 2022 and the launch event featured the Rev Bill Crews, four of the people in the exhibition telling their stories, a live musical performance and an interactive art workshop after the formalities.
The partnership between Casula Powerhouse, South-West Sydney Local Health District and Western Sydney University continues, with future projects being explored together.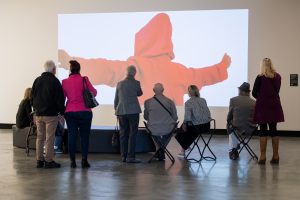 Maitland Regional Art Gallery
Conversations, Art and Dementia program
Conversations is a free creative program at Maitland Regional Art Gallery (MRAG) for people living with dementia and their carers, and is one of many arts and health programs integrated into the gallery's exhibition program.
Conversations addresses the challenge of social isolation for older people through free creative and social visits of exhibitions, community outreach, and online activities, creating meaningful opportunities for people to connect.
Held three times a month onsite at the Gallery, each 90-minute session includes a tour of current exhibitions followed by an art making activity. As art and imagination do not require memory, the program offers participants a chance to express themselves in a welcoming and safe environment.
The program has been running since 2011 with training provided by the National Gallery of Australia. It has since developed over the past decade with staff who are trained with arts health qualifications. Conversations has evolved significantly over the past two years, engaging with carers and local aged care facilities. Onsite programs are complemented by expanded outreach and a growing suite of new online arts health videos and activity sheets. Outreach actively targets socially isolated older people in care facilities while online activities become an evergreen tool for carers and facilities alike, increasing engagement and self-determination. Onsite, in outreach and online, art becomes a medium to connect, increasing wellbeing and quality of life.
Conversations started after an analysis of residents aged 65+ making up 15% of Maitland's population, and feedback from MRAG audiences seeking social and creative outlets for loved ones with dementia. The program aimed to maintain engagement with and positively inform the wellbeing of these target demographics dominated by people aged 65+, and since 2011 has welcomed over 3000 participants.
Bob and Jill are two participants who have attended for several years. "For the carers, it is just wonderful to meet other carers and know that you're not alone, coming here reassures you of that" Jill said. The program normalises their experience of dementia, and the couple love going home and showing their family their creations after each session, which has included weaving, watercolours, drawing, and more.
Maitland Regional Art Gallery
A Conspicuous Object: The Maitland Hospital
This exhibition was staged in 2021/22 to honour the last 170 years of the Maitland Hospital and the transition to its new site in Metford.
Staff, volunteers, patients, and the community were all invited to share their memories about the hospital with ten celebrated artists who produced work in response to these stories, resulting in a collection of paintings, sculptures, photographs and more.
One of the artists, Peter Poulet, was also commissioned to create NSW Health's largest ever painting for the foyer of the new Maitland Hospital, being almost 180m2 and painted directly onto the walls and ceiling.
The exhibition included works by G.W. Bot, Linda Greedy, Oliver Harlan, Anita Johnson, Adrian Lockhart, Catharine Neilson, Peter O'Doherty, Susan O'Doherty, Peter Poulet, and Lesley Salem. Historical items were also on display as part of the exhibition, including old medical equipment and instruments.
The exhibition and dedicated website are part of the Collected Memory Project initiative developed in partnership with Hunter New England Local Health District and Health Infrastructure as part of the transition from the old site to the new hospital.
Art Gallery of NSW
Culture Dose for Kids
An Art Gallery of New South Wales and Black Dog Institute partnership program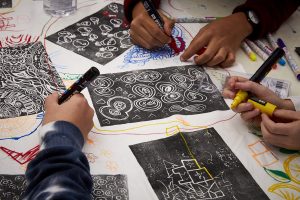 Culture Dose for Kids (CDK) is an innovative arts engagement program, developed as a collaborative partnership between the Art Gallery of New South Wales and the Black Dog Institute. It was established with the generous support from the Jibb Foundation.
Believed to be the first of its kind worldwide, this eight-week program supports children, aged 9-12, with anxiety and those impacted by natural disasters, and their families. Highlighting the therapeutic benefits of engaging with art in a non-clinical setting, CDK explores the transformative power of art in promoting mental health. It emphasises the calming, meditative aspects of art engagement, sparks creative ideas and creates social connections in a peer-group setting to build self-confidence over a period of weeks. It also differs from other art-based programs as it engages children and their parents in two parallel sessions that operate separately and together.
CDK is the culmination of a five-year research initiative. It follows the successful and similar adult program (Culture Dose 2019-2020) and a Sydney-based multi-phase pilot program focusing on young people's mental wellbeing, held at the Art Gallery between 2021 and 2023. The success of these programs provided clear evidence of CDK's feasibility with young people and their parents and set in place a blueprint for its broader implementation across regional NSW.
Given the recent and many natural disasters throughout the state and the devastating consequences for regional communities, CDK's next phase establishes partnerships with regional galleries in Lismore, Murwillumbah, Grafton, Bega, Katoomba and Albury. The program will be delivered at each of these locations, directly drawing on local art collections, providing skills development for local staff to lead sessions for their community, and create opportunities for meaningful long-term engagement.
The commitment and generosity of the Jibb Foundation has ensured the program will continue into 2024 extending partnership opportunities to many more NSW regional galleries and their communities.
For more information go to:
https://www.artgallery.nsw.gov.au/whats-on/programs/culture-dose/for-kids/
https://www.blackdoginstitute.org.au/research-studies/culture-dose-for-kids/
Art Gallery of NSW
Multipurpose Service Arts in Health Pilot Project
Art Gallery of NSW and Murrumbidgee Local Health District
Campbelltown Art Centre
Campbelltown Arts Centre and Campbelltown Hospital (South West Sydney Local Health District) partnership
Goulburn Historical Society
Goulburn Historical Society & Goulburn Hospital (Southern NSW Local Health District) partnership
If you have any questions related to the award please take a look at the frequently asked questions.
---
The NSW Health Infrastructure Arts and Health Award is proudly supported by NSW Health Infrastructure.