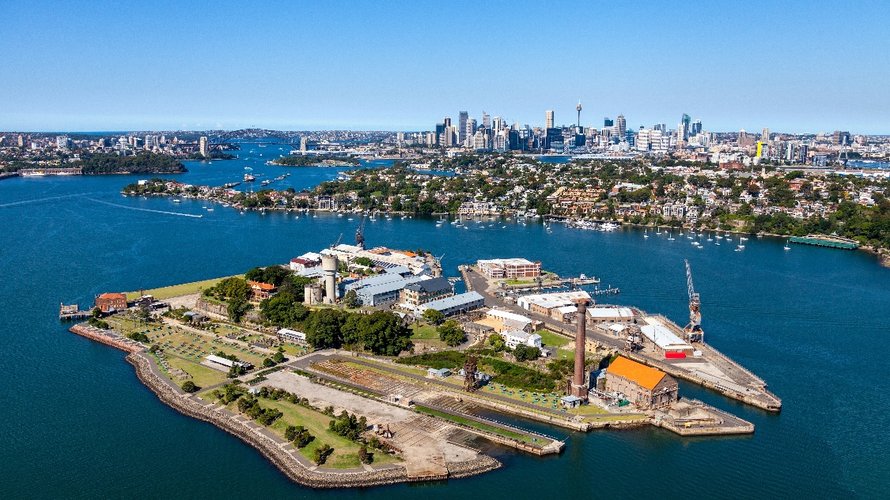 The Biennale of Sydney is back with a vengeance this year. If you haven't been yet you are definitely missing out but don't panic just yet, there's still time to get out and about and catch some of the highlights.
The whole event has been arranged into Embassies of Thought, loosely grouping artists with broad themes.
Following our trail will guide you to five of the seven embassies—Cockatoo Island, Carriageworks, The Museum of Contemporary Art, The Art Gallery of NSW and Artspace—Mortuary Station and the travelling Embassy of Stanislaw Lem round out the main venues but there's much to be found at the so-called in-between spaces.
Richard Bell's Embassy has appeared again in the MCA forecourt and is host to a range of public programs and talks. An interpretation of the Aboriginal Tent Embassy, Bell's work reclaims traditionally Aboriginal land in order to "provide a safe place for thinking, public debate and conversation."
Similarly Archie Moore's recreation of Bennelong's hut, A Home Away From Home, in the Royal Botanic Gardens references both Aboriginal and colonial history. The original hut was built in 1970 for Bennelong—after whom the site of the current Opera House is named—by Governor Phillip. The work is accompanied by a site specific soundscape that addresses these histories.
Performance has been a significant part of this year's biennale. Mella Jaarsma's Dogwalk has been a highlight. Regularly "activated" at the Art Gallery of NSW, the work features performers dressed in skins of domestic animals parade through the space, acting both as the walkers and those being walked. While you're down there make sure you visit Taro Shinoda's, Abstraction of Confusion. Sindoda has covered every surface of the gallery space in white clay creating a place of peaceful contemplation.
If you're after something less tranquil, Mike Parr certainly takes the cake for the most outrageous performance after setting fire to a number of his own works in front of an opening night crowd. Parr is known for his dramatic flair and his biennale event did not disappoint in that regard. Check out our video below or better yet, get down to Carriageworks where the performance documentation is on show along with a collection of works that survived the artist's destruction.
This is just a small slice of what's happening around the city as the biennale wraps up in a couple of weeks. Jump on the website to plan your trip and see what events are coming up.  The last Festival Day at Cockatoo Island is worth catching but free ferry places book out quickly so be sure to reserve your place.  The days include activities for kids and families, guided tours and a range of education and public programs.
Wherever you are in Sydney there's guaranteed to be something going on nearby. So go out and take in some art!