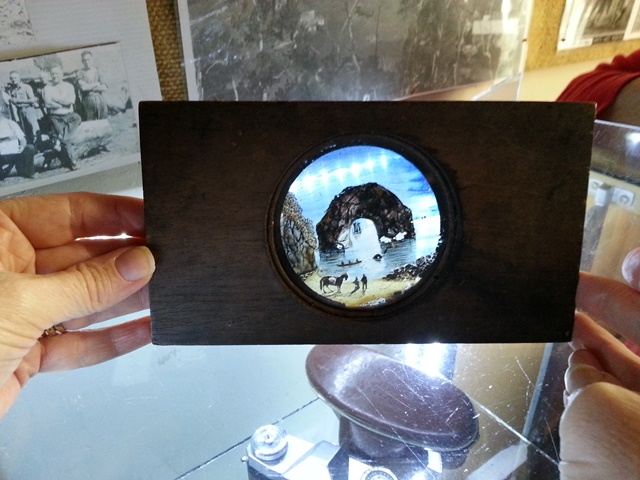 Hand-painted glass magic lantern slide
showing a view of Arched Rock on the Isle of Wight.
On a recent visit to the Murrurundi Historical Society Museum, I was shown a set of four glass slides that had been discovered during a refurbishing project. Jenny and Des, volunteers at the museum, were very excited by the discovery, and wondered what they were. So I put on my sleuthing cap to see what I could find out.
The Google god revealed a wealth of information on magic lantern slides, and images on the website of the Magic Lantern Society confirmed that Murrurundi's slides were hand-painted magic lantern slides. I've seen hand-coloured photographs transferred to glass plates as lantern slides in the past, but these were slightly different and appeared to be miniature paintings on the glass slide itself.
Before 1850 most magic lantern slides were hand-painted on glass using watercolour or oil paints. The photographic type slides appeared in the mid-1850s replacing the hand-painted types from then onwards.
Magic lanterns were the forerunners of the 'modern' slide projector and relied on the same principle—a beam of light passes through a transparent image and a series of lenses project the enlarged picture onto a screen.
With the scent of a bloodhound now driving me onwards, I discovered a research paper on the subject of magic lanterns in Australia by Elizabeth Hartrick. Her research revealed that the magic lantern was a popular form of entertainment, both in people's own homes and for public gatherings.
"Early practitioners of the magic lantern in the colonies included entrepreneurs attracted to the growing settlements of south-eastern Australia and New Zealand whose population and prosperity were boosted by gold rushes and the development of agricultural production." [Hartrick, p. 47]
Searching for articles from the Murrurundi Times and Liverpool Plains Gazette on Trove revealed a variety of public notices about lantern shows being held in the Oddfellows' Hall, School of Arts or one of the local churches. Research further showed that lantern shows were used to illustrate lectures on scientific subjects like Astronomy, to educate and entertain audiences by focusing on different countries and cultures, and interestingly, there were nearly as many references to slideshows which included comic slides, Chromotropes and phantasmagorical effects.
I was intrigued to find a notice about a lantern show on "The Land of the Maori" shown in Murrurundi at the School of Arts in 1898. The article enthused about this event saying that "the whole entertainment was highly appreciated by those present and was certainly the best and most interesting and instructive that has ever visited Murrurundi."
Having established that the Murrurundi's slides were pre-1850s, I wondered whether the painted slides were of local scenes. After a few emails back and forth with experts in the field, it appeared more likely that the four slides were part of a standard set of mixed images imported to Australia. Lanternists assembled sets of slides, including those illustrating iconic buildings, landscapes, and revered historical events.
The image on the slide above was the most unusual, so I decided to dig a bit deeper to attempt to establish the actual location. By googling "arched rock" I found images of Arched Rock on the Isle of Wight that seemed to match the Murrurundi slide. After a bit more ferreting around and I stumbled across a link to a print by W. Chevalier (after Clarkson Frederick Stanfield) in the Tate Gallery. There are some slight differences between the slide and the print, but enough similarities to confirm that Murrurundi's slide is a view of Arched Rock on the Isle of Wight.
Two of the four slides show a cottage with a tree and a picket fence; they appear to be the same cottage, but shown in summer and winter. Hartrick's paper refers to the popularity of "dissolving images" as part of the program for a lantern show which required two versions of the same scene, such as day and night. Murrurundi's duo of summer and winter would have provided the same dissolving option, no doubt pleasing the locals.
We've put these together as a little Gif for you (see above) applying the latest technology to its 'dissolving' predecessor. Clearly the journalist who wrote "that something instructive and amusing will at length arise, amidst the dearth of improvement or pleasure in this dull quarter" was not as enamoured with the Upper Hunter as we are, and I only hope that the magic of the lantern slides appeased his boredom to some extent. I found his notice in Trove.
All four slides of the Murrurundi's slides have a paper label with the number "77". It's unclear whether this was a registration number applied by earlier volunteers or reference to an auction lot.
So part of the mystery is solved, but I'm left wondering who owned the slides, whether they used them in their own home or whether they had been used in one of those documented Murrurundi lantern shows in the mid-1800s.
Inspector Clue-so
---
You may also like:
Museum Victoria's Magic Lantern video
References: Hartrick, E. (2003). Consuming illusions: the magic lantern in Australia and Aotearoa/New Zealand 1850-1910. PhD thesis, The Australian Centre, University of Melbourne.