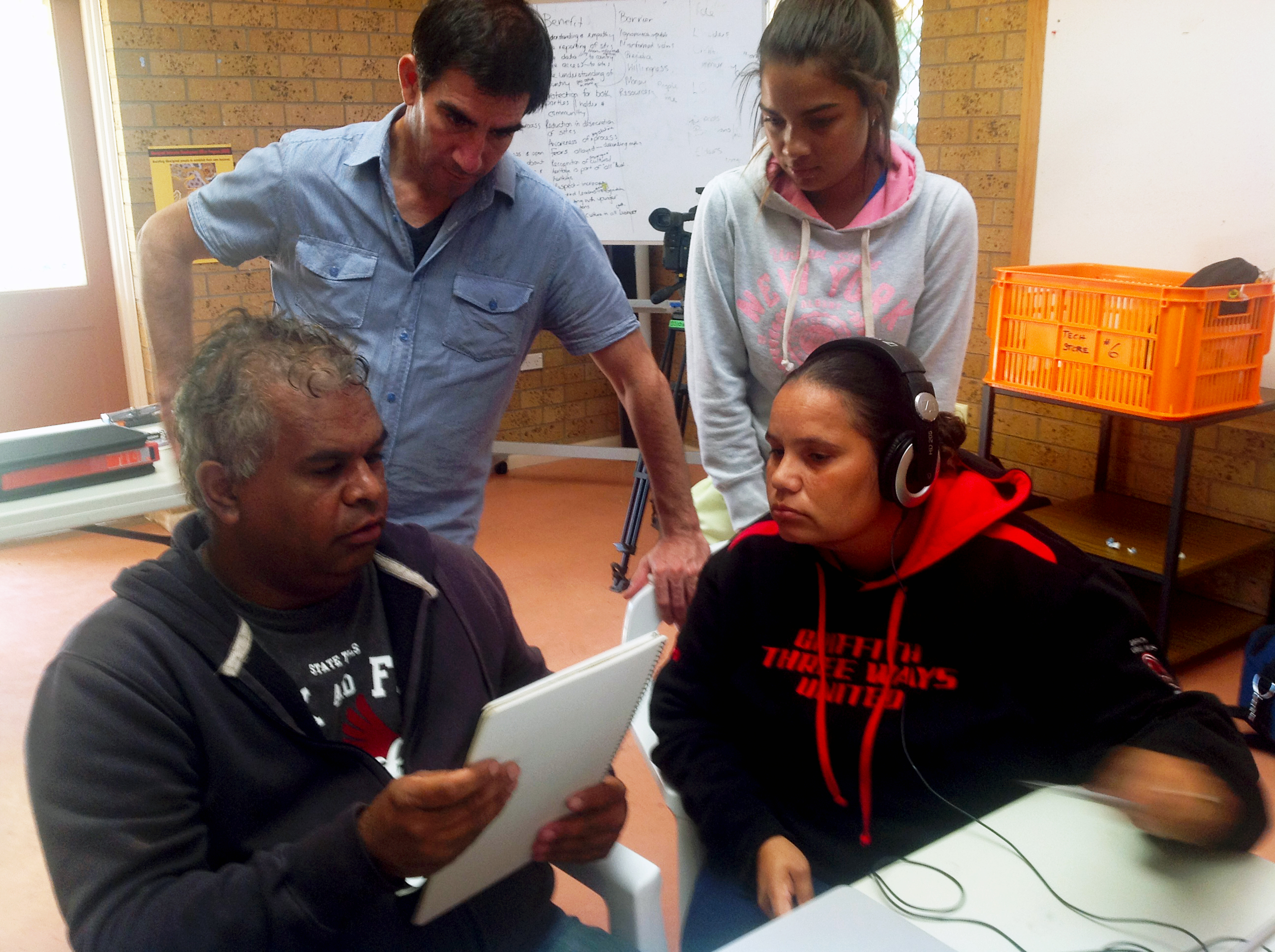 M&G's Steve Miller has been out and about introducing this year's Travelling Places program to Dubbo and Armidale and consulting on future workshops with respective Aboriginal communities.
Travelling Places is a flexible training program for digital storytelling specifically tailored to Aboriginal communities. It offers hands on modular workshops which can be delivered in any order to accommodate different entry points and skill levels.
It features Mukurtu database software, originally developed in Tennant Creek and now managed through the University of Berkeley USA. Mukurtu is increasingly used by First Peoples around the world to collect, store and keep safe their cultural heritage.
Mukurtu's Indigenous credentials was a topic of interest when ABC Radio Western Plains interviewed Steve Miller about Travelling Places last week. Listen to the interview below.
The recent workshops explored the ideas behind a grassroots online keeping place and highlighted the advantages of the 'virtual' in preference to a physical keeping space with ongoing obligations for maintenance and operational budgets.
State and federal frameworks were examined and it was noted, that although funding for data archives outside the major cultural institutions is not on the governments' agendas, they are increasingly interested in Aboriginal heritage, particularly with language, and are keen to build strong cultural identity through arts and culture.
Participants acknowledged the value of having a virtual keeping place and their personal responsibilities in acquiring skills to be active participants in establishing an online cultural space for their communities. The cultural mapping exercise where participants list their sites of significance and cultural resources – including books, dvds and academic papers – emphasised the amount of local knowledge gathered in one place and the sense of empowerment resulting from it.
The Travelling Places program for 2015 so far looks like this:
Dubbo:
Tue 16 – Wed 17, June – digital storytelling with AFTRS. This will be a new approach using portable videoing technology such as mobile phones and tablets.
Weds 22 July – Arts Law Centre's Artists in the Black workshop
Armidale:
Tue 2 – Wed 3, June – digital storytelling with AFTRS. As above
Weds 28 July – Arts Law Centre's Artists in the Black workshop
Mukurtu workshops have been blocked in for October with a four member team from the US flying in to deliver in Sydney and the regions. The dates advised are:
Monday 12 October – Dubbo
Tuesday 13 October – rest day/travel to Armidale
Wednesday 14 October – Armidale
Thursday 15 October – rest day/travel back to Sydney
Friday 16 October – State Library of NSW
Saturday 17 October – State Library of NSW masterclass/Train the Trainers
There is also the possibility of an additional workshop series in the Lithgow, Bathurst region. If this proceeds, Mukurtu Lithgow will take place on Monday 19 October.
If you are interested in taking part in Travelling Places, contact Steve Miller on: stevem@mgnsw.org.au
Editor's note: Mukurtu 2.0 software has just been released. In coming weeks we'll be unpacking some of its features and preparing a resource for you. In the meantime, check out the website; Steve has been named as a 'Mukurtu Champion' on the About page!
For more information visit: www.mukurtu.org