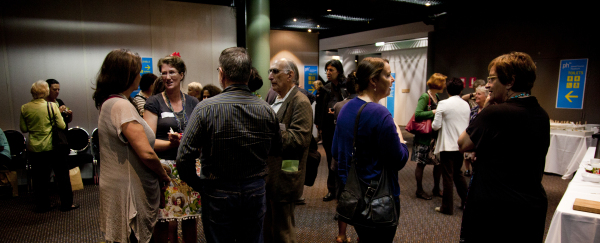 Each year in November, the Powerhouse Museum, in partnership with the other Cultural Institutions and service agencies, hosts a forum to encourage a better understanding of the issues and opportunities for those working in the regional cultural sector.
This year the forum provided a fantastic opportunity for everyone to share 'war stories' of one sort or another. These stories were either about the challenges and highlights of putting together exhibitions and events in the regions, or literal war stories in preparation for the World War I centenary next year.
The Forum was kicked off by the Hon. George Souris Minister for Tourism, Major Events, Hospitality and Racing, and Minister for the Arts. He spoke of the profound value that regional museums and galleries add to their communities.
Andrew Glassop from WPCC explained the importance of the four Ps in managing the public and local council's concerns during controversies: Predict, Prepare, Proactive and Professional.
Community engagement was the morning's focus with Debbie Sommers describing the process of developing Frock Stars, Foot Steps, Fashion Show with the Port Macquarie Historical Society Museum. Glynis Jones and Joanne Delzoppo talked about the importance of representing Muslim culture through the prism of fashion with Faith, Fashion, Fusion which tours the regions next year.
Andrew Glassop's 'war stories' spoke to a very different kind of community engagement with his presentation Running with Shears – managing regional controversy. He looked at various controversies that embroiled the Western Plains Cultural Centre (WPCC) and explained the importance of the four Ps in managing the public and local councils' concerns: Predict, Prepare, Proactive and Professional.
Andrew stated WPCC never courted controversy but was unapologetic about pushing boundaries in the regions. Properly managed, confronting exhibitions can be welcomed by regional audiences, narrowing the perceived gap between urban and country social conversations.
In the afternoon, we were introduced to the exciting range of WWI online and on site programs planned for 2014. The State Library of NSW's WWI Centenary web presence was launched on Monday and Inside History's WWI Database Project is scheduled to launch later in the month. If the four presentations are anything to go by 2014-2018 will be significant years of remembrance.