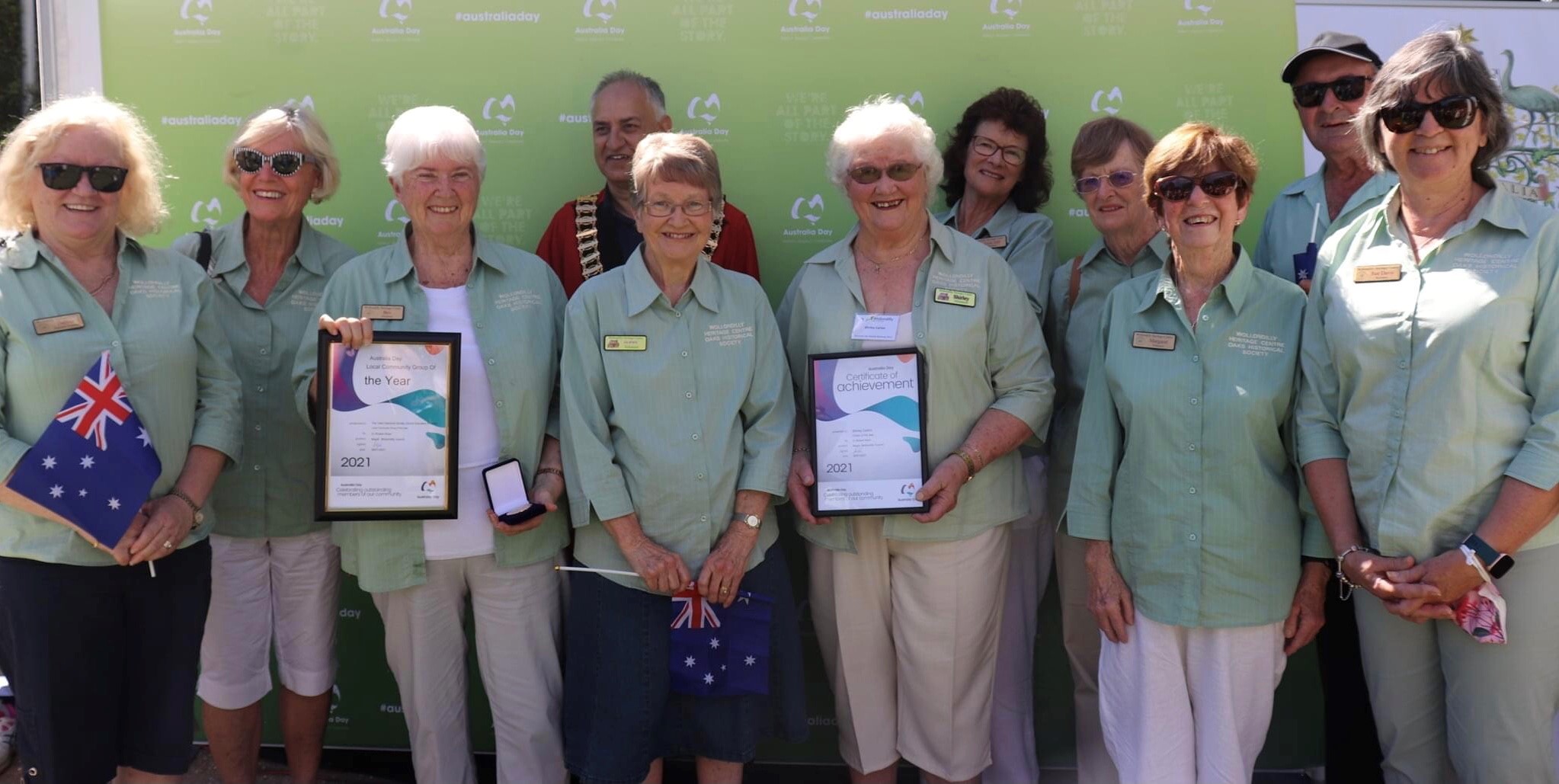 The Oaks Historical Society recently received the Australia Day Local Community Group of the Year award for their School Education Program. The entirely volunteer-run program is attended by school groups on a weekly basis throughout the school terms and highlights the local history of the area, giving visitors a hands-on feel for what life was really like in the past. We spoke to Bev Batros, who coordinates the program.
Museums & Galleries of NSW (M&G NSW): How did the idea of the Education Program come about?
Beverley Batros (BB): The program has actually been operating now for 30 years. It started around about the bicentenary when the Wollondilly Heritage Centre was actually formed and the Oaks Historical Society started that off. So, the education program began not long after that, and we actually have one volunteer that has been there the whole time.
I was a teacher and I took my class there once about 10 years ago and I thought Wow, when I retire, I am going to return there and volunteer. And I eventually got around to doing it!
M&G NSW: You have a strong group of over 20 volunteers. Can you tell us a bit more about them?
BB: It is a big group. Because it's a strong mining area, we have a number of people who have been involved through the local mines, and one of our activities is learning about mining. We also have retired school teachers and others from a variety of backgrounds.
M&G NSW: What does a typical day at the Museum entail when preparing for a school visit?
BB: I, along with a couple of others, get there around 8:15, 8:30. We unlock everything and we start setting up the activities. It's very hands on, so we have to prepare a lot of things including setting up the mangle, butter churn, laundry tubs, art materials and even light the fire. So that all takes us to about half past 9, quarter to 10. The schools arrive at 10 o'clock and then they have their morning tea and we give them a talk about what's going to happen. Then there are 2 hours of activities after that – there's six groups that rotate around the six activities, and then they have their lunch before they go, and we do our packing up.
M&G NSW: What do you think the visiting students enjoy most about the program?
BB: It's a very hands-on program, which I think is what really attracts everybody to it. In each of the six activities, there's something that they all get a chance to do.
One of the most popular activities is the laundry where they get to do the washing, and then have to squeeze it out and bring it across to the mangle. And they turn the handle, and while they're doing that, they also get a chance to carry water and practise their ironing. Then, they use a water pump out the back. So that one's always quite popular because the washing is quite different in terms of the scrub boards and that sort of thing.
M&G NSW: How did you find out about the news that you'd won the local community group of the year?
BB: Well, we didn't actually know until the day when it actually happened! Because it was a ticket-only event, we were allowed 6 tickets and were allowed to get extras. So, we thought, we'll take about 10 of us along.
And I actually looked at the list and saw there was a CWA group that had been assisting fire affected residents with the bushfires and I thought we're not going to win against them, but I guess the fact that we'd been doing it for a long time was probably a factor in our favour as well.
We have schools as far as Penrith, from Camden, Bankstown, and Thirroul. And we have five schools that come every year; they never miss a year. So obviously they think it's very important to either bring their year 1 or 2 classes along each year.
We've also had a number of high school groups who have special needs, and we find them quite good to work with because they're a bit older and have a bit more of an understanding of things.
M&G NSW: How has COVID affected the museum?
BB: Last year, we actually had the whole year almost booked in February and March, so then COVID hit us and that was the end of that, so to speak. But it was going to be one of our busiest years.
M&G NSW: And have you been able to resume the activities?
BB: We have, actually. We had a meeting and we worked out how we would deal with the various issues. So, we've got a COVID-Safe policy now and each activity has a set of things that they need to do, like wipe down frequently touched surfaces and sanitise kids and so forth.
We also had to add a few more outside activities so that we weren't in one space too often. We kept some doors open that we don't normally do. We made sure things like paint brushes were put in some sort of solution in between groups and we had to really think about each activity. We've got enough slate pencils so that every child could have one that day, rather than normally the 6 or 8 that are out. We had to make quite a few adjustments.
It was quite a production to get that worked out, especially when we were coming back and a little anxious about how it was all going to work but we've got a very good group of volunteers. Our heritage centre is totally run by volunteers, including weekends. It's a pretty impressive group of people.
---
The Wollondilly Heritage Centre
More information about the School Programs
Watch a video about the Schools Program here