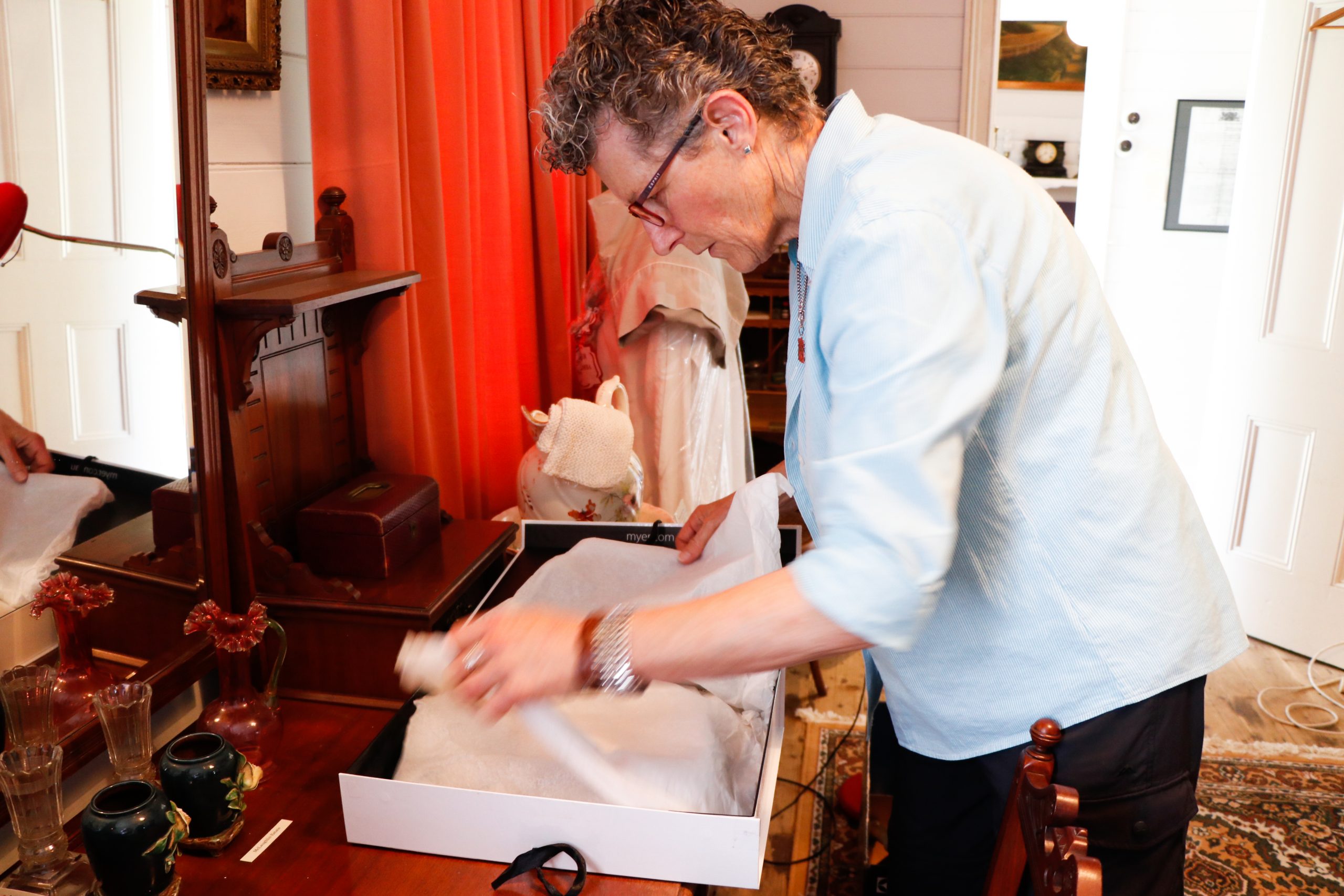 Situated in Wentworth Falls, Tarella Cottage was originally built in 1890 as a holiday cottage, and now serves as a museum and research centre for the Blue Mountains Historical Society. Tarella holds 3 collections – the McLaughlin Estate Collection, the 2018 Florence E. Moore Collection and the Blue Mountains Historical Society Collection – consisting of historic documents, photographs, maps, subdivision posters, records and books that give a broad insight into the life of the McLaughlin family and life in the late 19th – early 20th centuries. We interviewed Tarella Cottage curator Linsi Braith to find out more about the museum and its collection.
Museums & Galleries of NSW (M&G NSW): Can you share a brief history of Tarella Cottage Museum and its significance for the local area?
Linsi Braith (LB): Tarella has many layers of significance. It's an example of an 1880's timber cottage built as a simple holiday house for an affluent Sydney family. The McLaughlins escaped to Tarella, travelling all the way from Central Station to Wentworth Falls by steam train. As Sydney-siders still do today, they wanted time out in cooler temperatures, surrounded by green ranges; and John McLaughlin already owned 50 acres of land in the Blue Mountains.
Tarella was owned by two generations of the McLaughlin family prior to the land, the cottage and most of its contents being bequeathed to the Blue Mountains Historical Society.
The 50 acres (20 hectares) of land was originally acquired by John McLaughlin in 1879 but, over time, the family subdivided it and sold lots until only the present 1 hectare, with cottage in place, remained. Now, replete with about 100 homes, four streets to the north and west of Tarella's present location were named by the McLaughlins and two identify their Sydney roots: Yanko Road and Farnham Avenue.
The McLaughlin family home at Waverley, overlooking Bronte was called 'Yanko'; it is no longer there. Ada Amanda Moore's childhood home 'Farnham', overlooking Coogee, at Randwick still stands today.
John and Ada had four children. Their two daughters, Ida and Beryl, were early patrons of the Blue Mountains Historical Society. Together, they lived well into their old age at Tarella and in 1955 they kindly provided Tarella as a meeting place when the local council was short of rooms. In 1968 they went further by establishing a museum for the Society on their land, next to Tarella. Beryl's final step was to transfer it all to the Society and this allows it to exist today as a Blue Mountains History Centre open to membership and welcoming visitors.
Today, through its rooms, furniture and collections, Tarella tells the story of life in the early days of Wentworth Falls, life in a cottage and the lives of each McLaughlin family member through good and terrible times. Their story starts with John arriving from Ireland in 1851, then goes on to his career and his marriage to Ada Moore. It extends to troubles with Ada's Uncle Charles – once Lord Mayor of Sydney. The story of  the four McLaughlin children emerges: their schooling, their careers, then the tragedies of World War 1 which impact the entire family.
M&G NSW: How long have you been the curator at Tarella and what drew you to working with the collection?
LB: In response to a call for volunteers at BMHS 6 years ago, I attended a meeting there. I described my interests, hobbies, and my TAFE teaching career in Signwriting where I had developed a broad range of practical skills highly suited to curatorial and restoration work. I then accepted their invitation to be the curator of Tarella.
I'm drawn to old things and I have some small collections – including signs of course. Old things have life and stories. They've often travelled or been loved and I enjoy seeking their history. Retired with spare hours in my weeks, I found there was often a need for collections to be cared for – or displayed – in the Blue Mountains and I was happy to assist. My focus is now Tarella.
However, the Covid-19 closed months also presented a perfect opportunity to fast-track interior painting of most of the 9 rooms, 2 halls and steep staircase of the cottage.
M&G NSW: How did COVID-19 affect the activities at Tarella?
LB: The Blue Mountains Historical Society must generate income by membership, book sales, donations and – importantly – Tarella Open Days and Tour Days. Due to the Covid-19 pandemic in 2020, Tarella suffered the fate of other museums around the world in that it could not be open to the public. This meant that Tarella was not earning money.
However, the Covid-19 closed months also presented a perfect opportunity to fast-track interior painting of most of  the 9 rooms, 2 halls and steep staircase of the cottage. Collections were wrapped and boxed, all hanging items were taken down, furniture was moved.
The condition of internal wall boards was poor – the paint was very old and had started to peel – plus they had shrunk and warped. Prior to painting, walls/ceilings had to cleaned and gaps/holes had to be filled. Curtains, rods, door fittings, shelves etc were removed… eventually applying 3 coats of paint by brush was the easiest part!
Finally, when the painting was finished,  there was time to re-think how and where collections are presented.
M&G NSW: Can you give us some insights into the following collection items?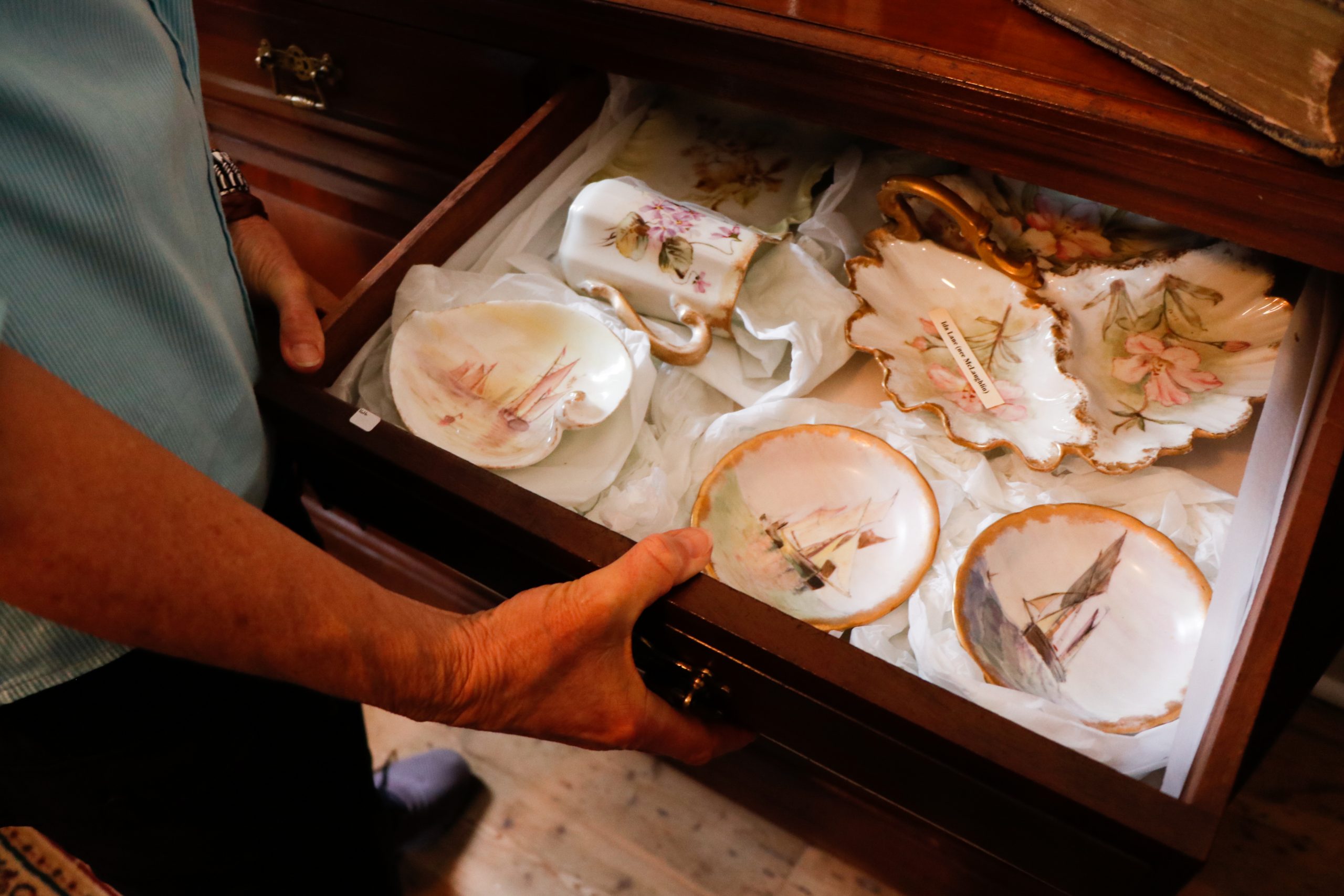 Hand painted porcelain, 9 pieces (Florence Moore Collection)
This collection of porcelain was painted by Ida McLaughlin, year unknown. It arrived within a large donation of McLaughlin family belongings that was given to Tarella in 2018 by a descendant of Florence Moore. The illustrations are of sailing boats and flowers. Ida may have learned to paint like this from her Aunt Madeline Moore.
---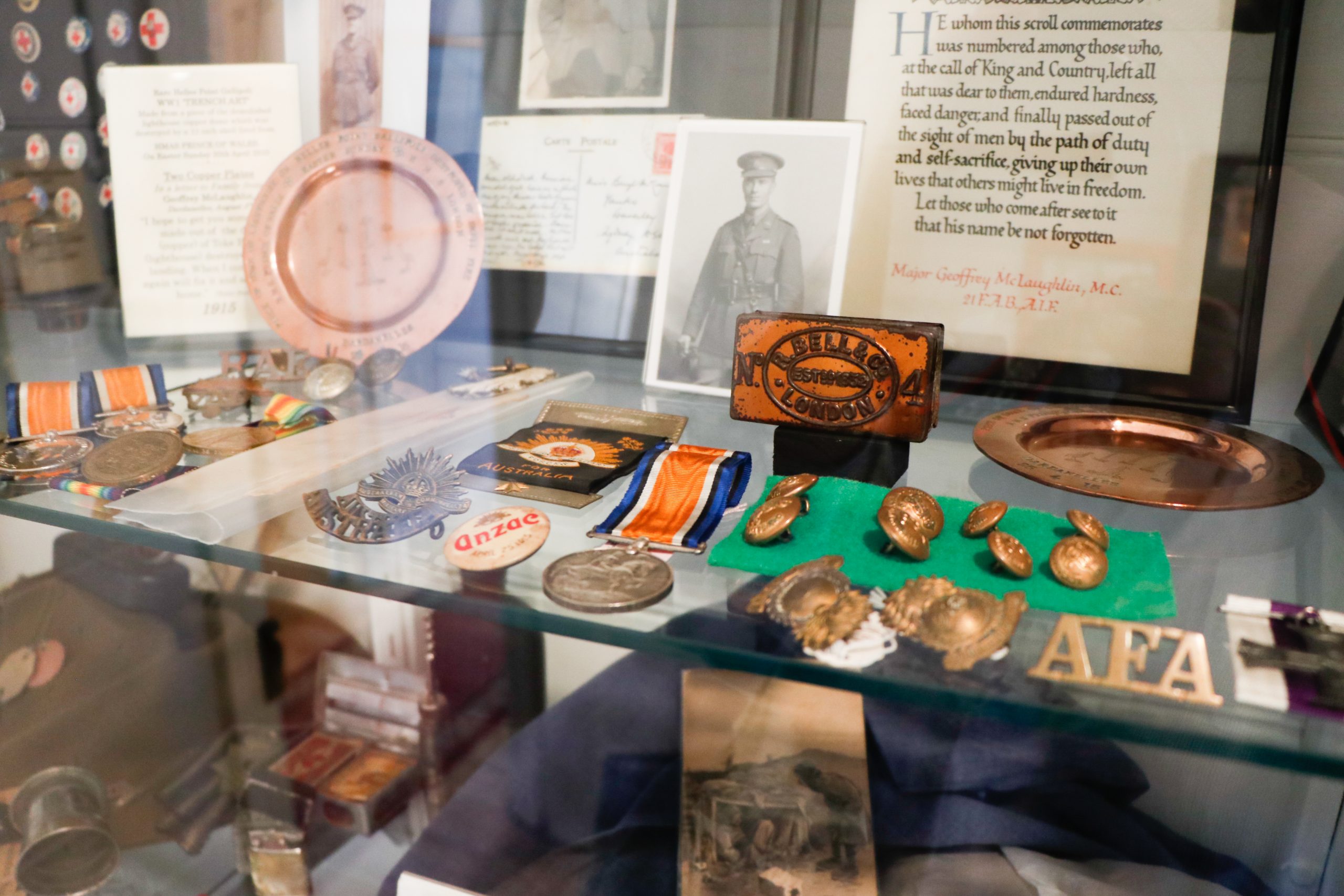 WW1 Items which belonged to Major Geoffrey McLaughlin (McLaughlin Estate)
Geoffrey was a Sydney Barrister, as well as a Captain with the Australian Field Artillery before enlisting for WW1 and sailing from Sydney Harbour in October 1914. He did not return home due to dying from severe injuries on November 2nd 1917 at Passchendaele. Tarella poignantly holds this collection which include his badges, uniform buttons, medals, and souvenirs he posted home.
---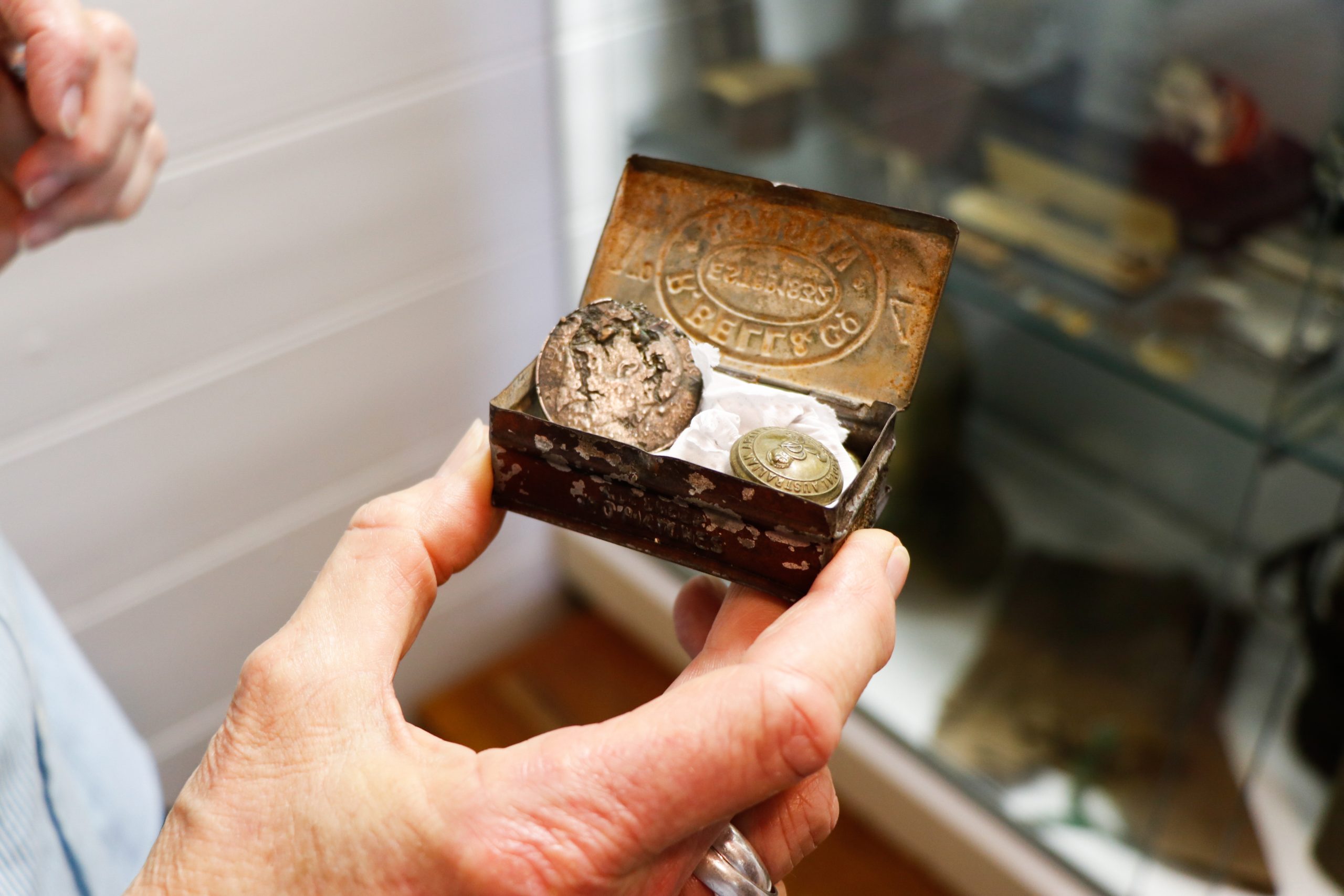 Metal box with contents of buttons, badge and melted silver coin (McLaughlin Estate)
This Bell & Co box and its contents were with Major McLaughlin, in his bunker, at the time that it was bombed on November 2nd 1917. They were later sent to his family among the deceased effects.
---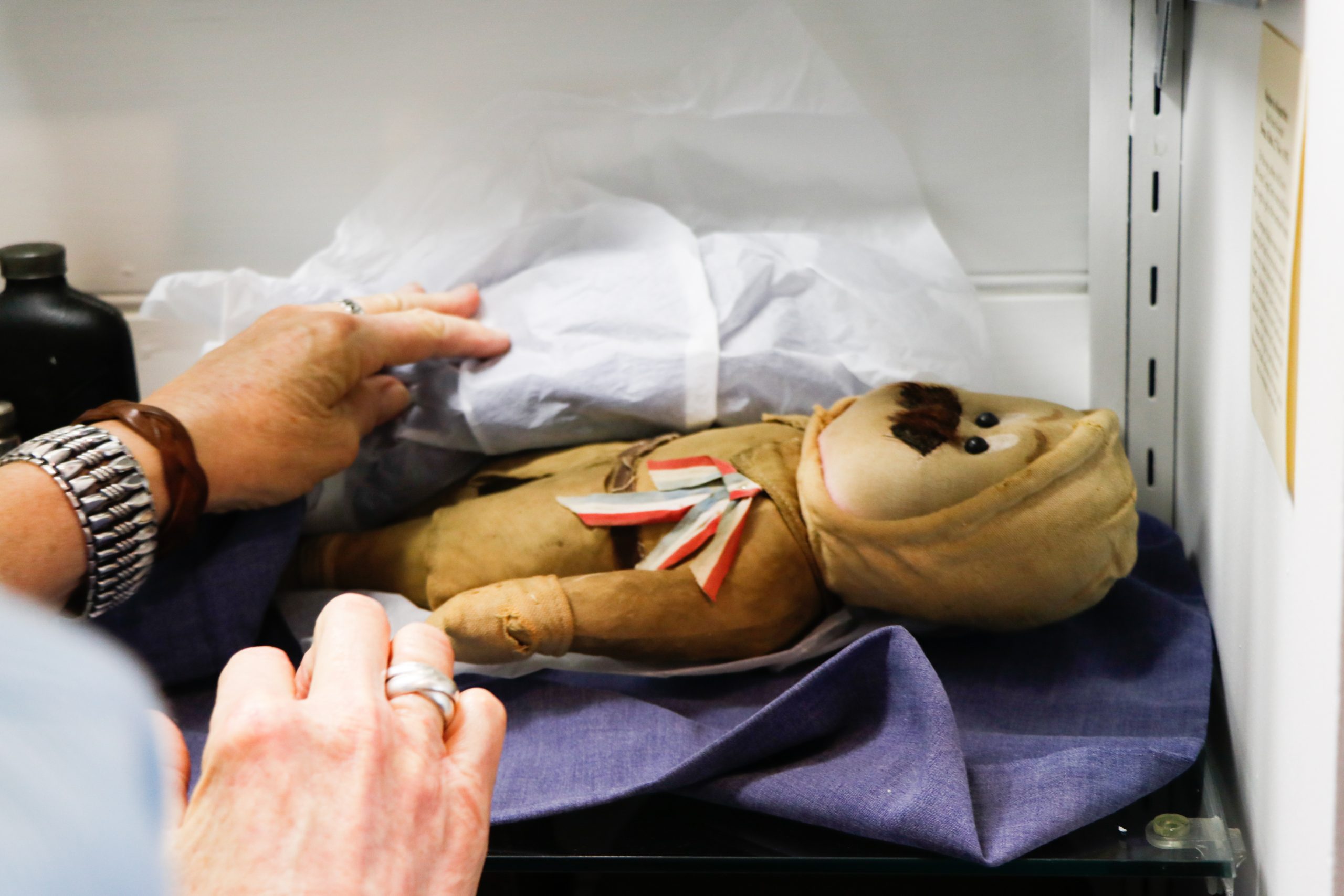 'Old Bill'. Fabric, fur and felt stuffed doll. Probably by J. K. Farnell (BMHS Collection)
This doll is based on the war cartoon character created by Captain Bruce Bairnsfather. "Well, if you knows of a better 'ole, go to it" was his most famous line. The Old Bill character was adopted as a symbol of the British Tommy, preserving a sense of humour under dreadful conditions on the home front and in the trenches of The Western Front.
---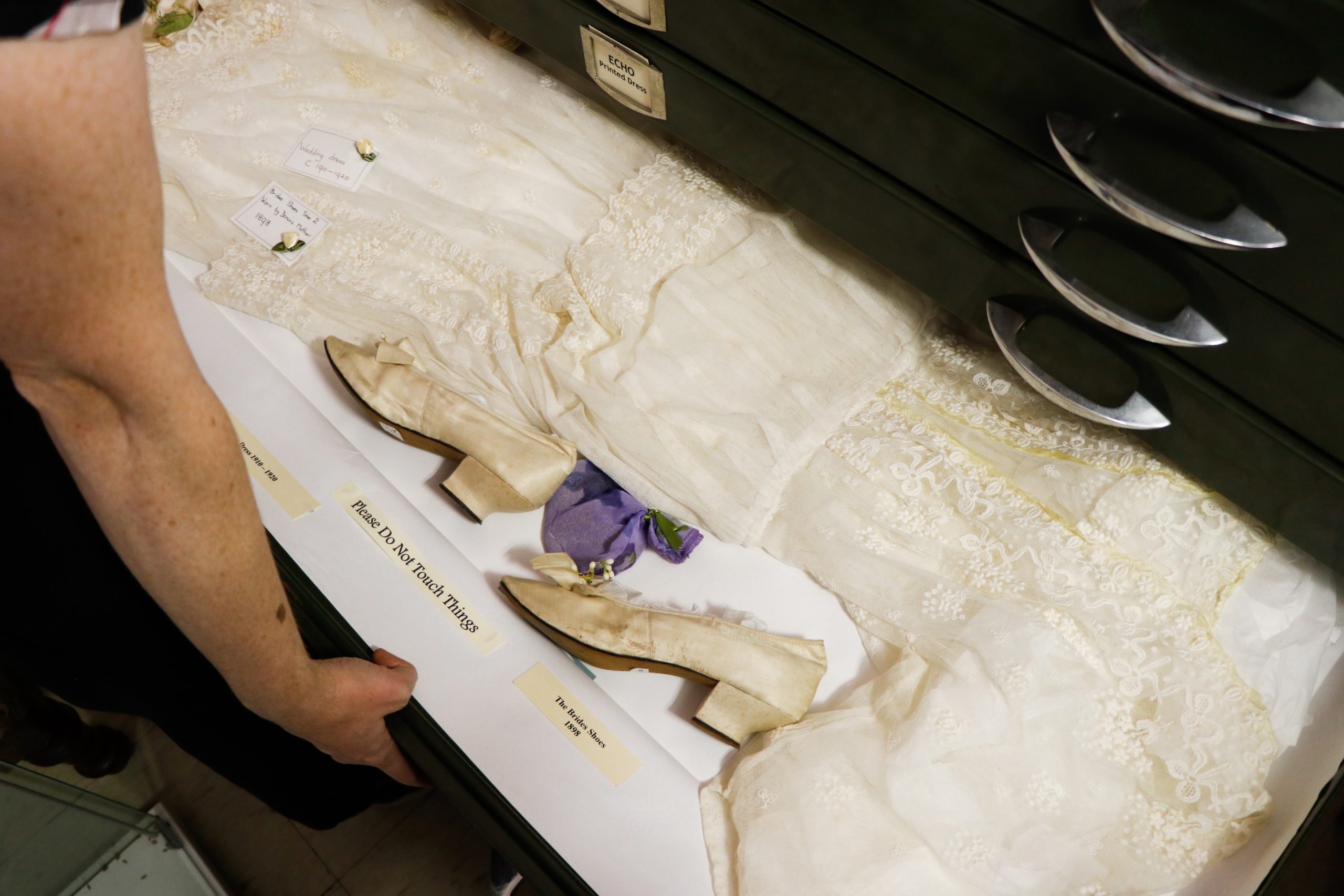 Wedding Dress, Veil and Bridal Shoes. c1900 (BMHS Collection)
Tarella holds a collection of items that are not 'McLaughlin', they are items donated to the Society by members and people of the Blue Mountains. Within the 'Dress' category, this wedding dress, veil and pair of bridal shoes were donated to the Society.
---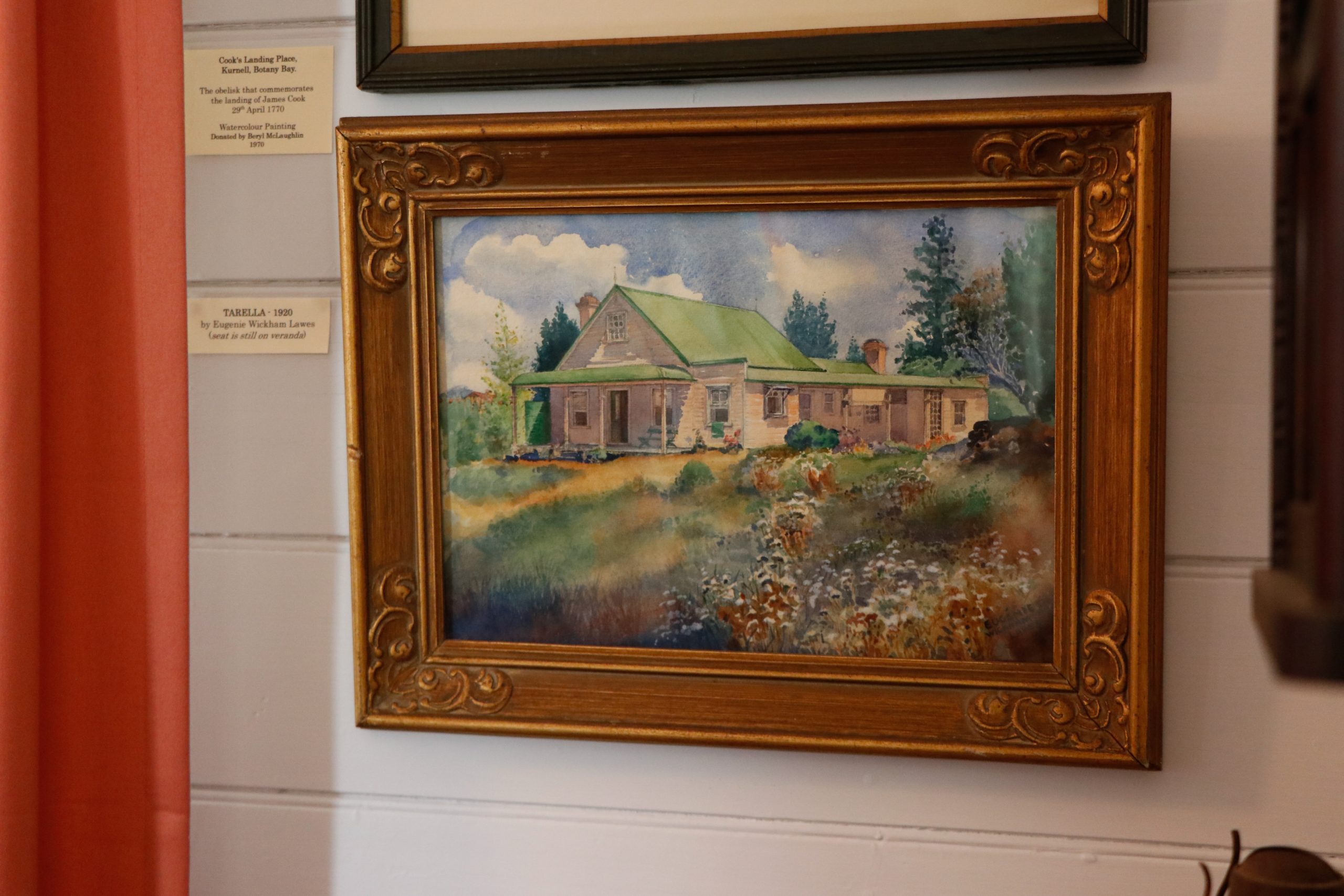 Watercolour Painting of Tarella by Eugenie Wickham-Lawes (née Kirkpatrick) c1920 (McLaughlin Estate)
Beryl McLaughlin, then living at Waverley, was in the first small group of women architects to graduate from Sydney University in 1922. Eugenie also studied architecture there. Her first year was Beryl's final year and so a friendship or mentorship was probable if they were not already friends. According to our records, this resulted in Eugenie leasing Tarella, during which time she produced this painting.
---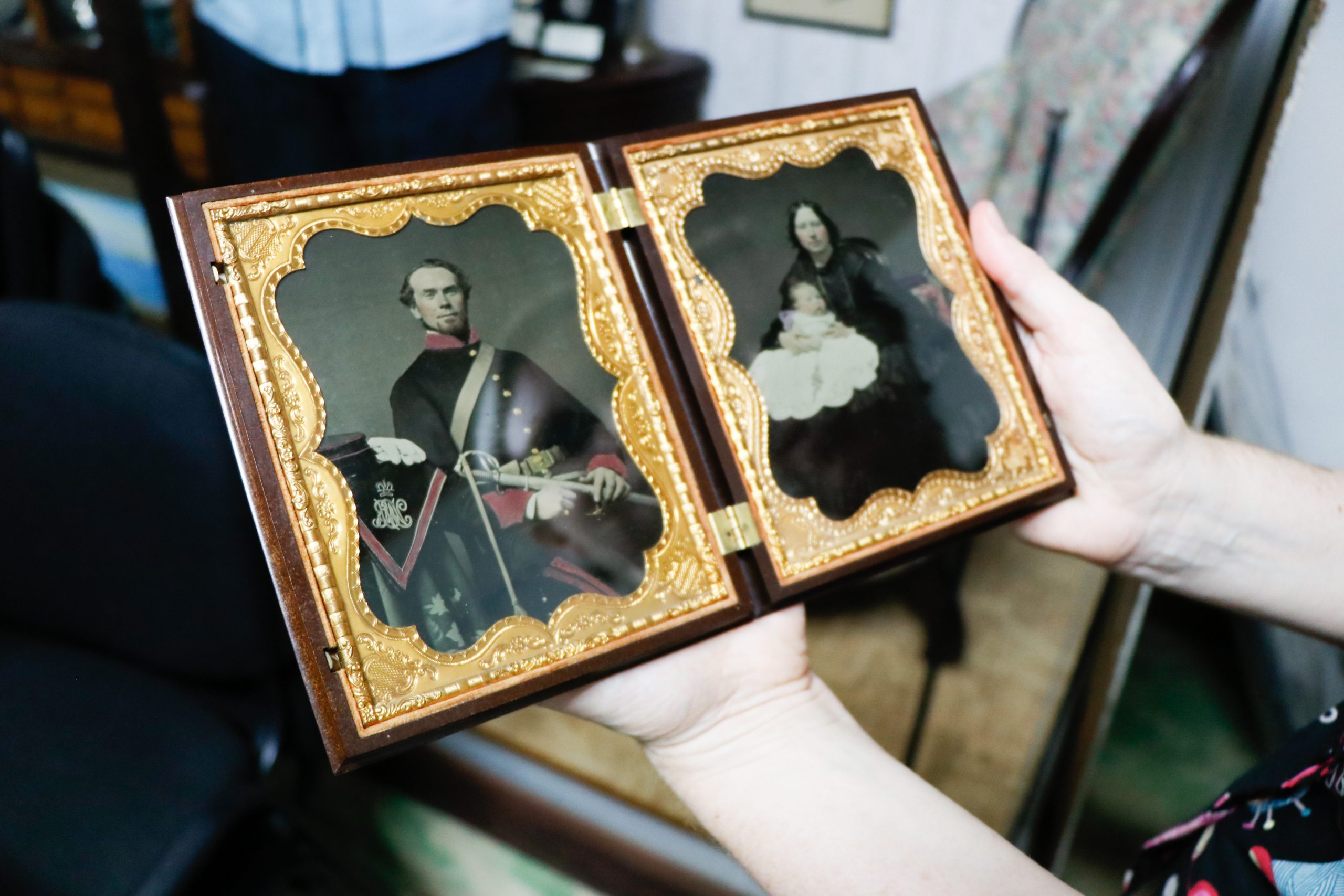 Union Case. Ada Moore's Grandparents (Florence Moore Collection)
This large, ornate Union Case – probably Canadian – holds a portrait of John Fletcher McDonald, his wife Sarah, and their daughter –  most likely Ada's mother – Louisa Ann McDonald. Ambrotype or daguerreotype; the case and the images are in beautiful condition.
---
Assorted Katoomba Paragon Restaurant items and packaging 
Zacharias Simos established a Greek Cafe in Katoomba in 1916. He was an astute businessman in many ways including ensuring that Paragon confectionery was beautifully packaged in boxes, tins and wrappers. Over many years, BMHS members and others have donated a variety of Paragon items to the society. They now form a significant collection due to the Paragon Restaurant business – with all miscellaneous historic items – being removed from the iconic Paragon building.
---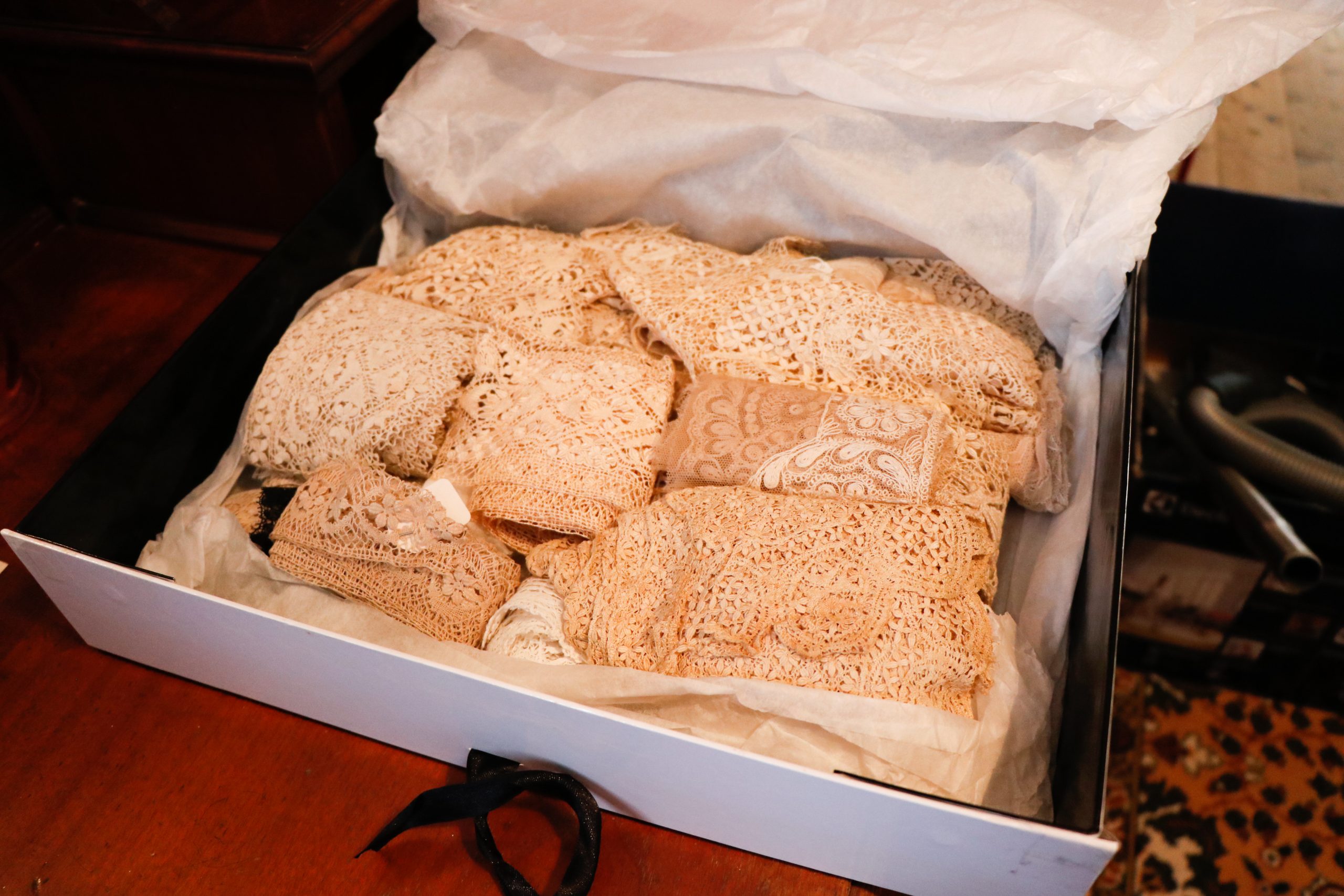 Collection of Maltese Bobbin Lace. Rolled lengths and other pieces. 1915
During WW1 while  Geoffrey McLaughlin was in Malta recovering from illness, he posted laces home to his mother. In his letters he describes trying to find them and once found, he writes again on December 14th saying "Bought some more lace too today and addressed it to you. I find it too exacting trying to decide what for who and leave it to you to whack with the girls or Aunt – Got some bits of things it seems you can fix on hats etc. You'll find them there, so I hope they arrive all safe". It seems most of the laces were never used.
---
M&G NSW: For those wanting to learn more about Tarella, where can they find more information?
LB: More Information about Tarella can be found with the following links: