Summer blockbusters, often linked to popular culture, are a staple of major institutions and even some regional centres. So why shouldn't Aboriginal Cultural Centres get in on the act too?
Steve Miller (M&G NSW Aboriginal Programs Manager) asked Wadjar Creative Director Alison Williams of Yarrawarra Aboriginal Cultural Centre what happened when she decided to stage Cleverman, based on the popular ABC-TV series.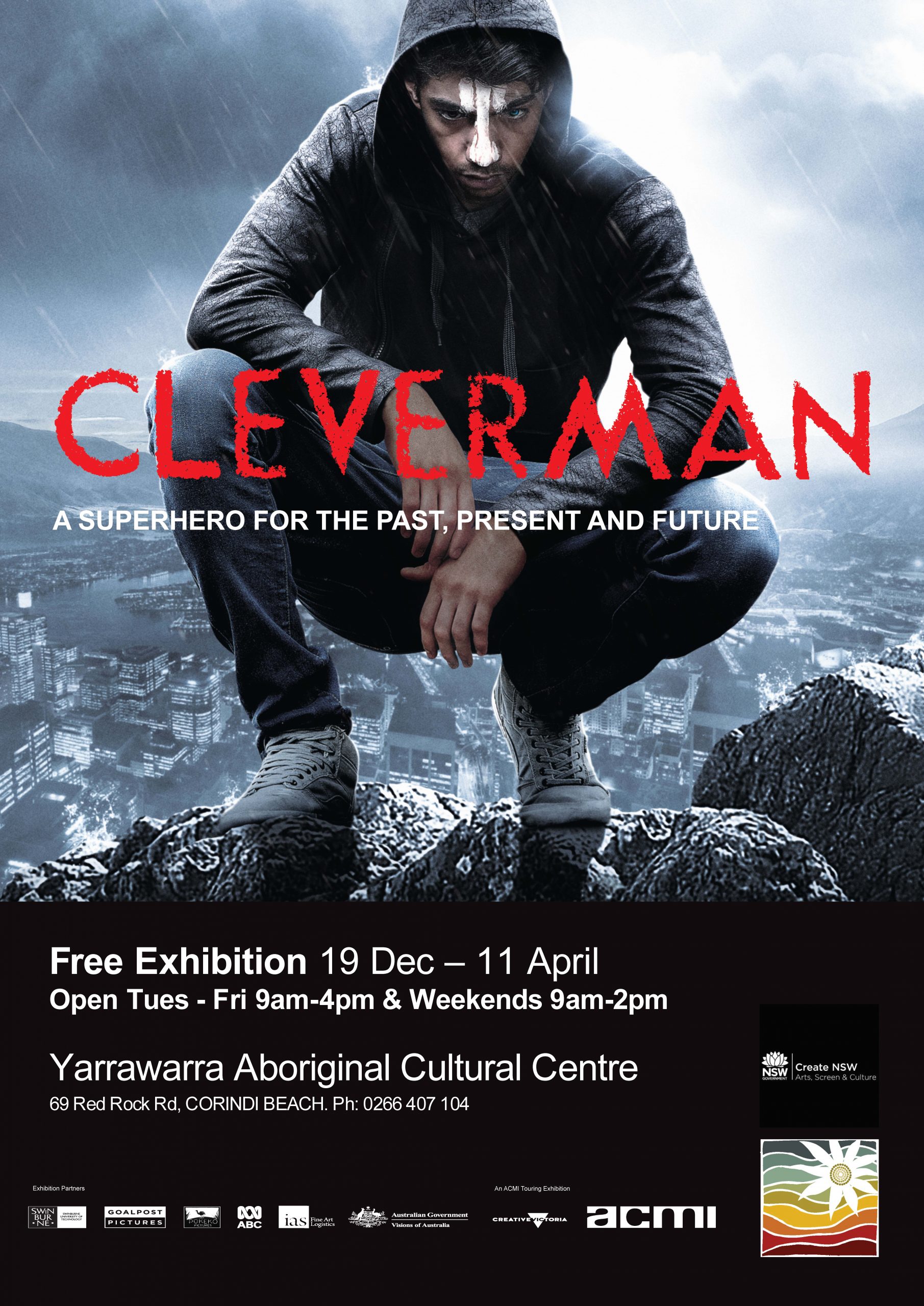 Steve Miller (SM): Are you and the family Cleverman fans? Is that what first drew you to host the exhibition?
Alison Williams (AW): I am definitely a Cleverman fan! I have grown up with stories of clevermen and hairy men known as Gumburru. They are entwined in my ancestry and country. When I saw the exhibition on the national touring (NETS) website I made contact with ACMI to put forward an expression of interest and to look into the specific requirements for hosting the exhibition.
Cleverman stormed onto ABC TV in 2016 with a predominantly First Nations cast and senior crew. The series explores Aboriginal origin stories in a contemporary context, with political nuance touching the themes of class, racism and power.
I believe in recent years the resurrection of First Nation cultural practices has aroused a curiosity by non-Indigenous peoples into traditional value systems. Climate change, pollution and a growing need for sustainable practices has encouraged many to embrace ancient ideologies that have survived and sustained both people and environments for many thousands of years.
SM: How is the exhibition relevant to the Gumbaynggirr community that Yarrawarra represents?
AW: This exhibition is a big deal for us. It is the first time it's been seen in NSW, and from our gallery it moves on to the National Gallery in Canberra. It presents a great opportunity for local and regional people to experience a high calibre interactive exhibition that has significance to Gumbaynggirr nation.
The exhibition storyline has many significant elements, including the portrayal of hairy people, Cleverman and the use of our native language.
The Aboriginal characters in Cleverman speak Gumbaynggirr alongside the northern NSW language of Bundjalung. Gumbaynggirr and Bundjalung have very particular pronunciation styles so the cast had to work with the Muurrbay Aboriginal Language Centre staff in Nambucca Heads to perfect the pronunciation. It's wonderful to see our language featured in film and also within the exhibition.
SM: So how did you come to secure the exhibition for Yarrawarra? Was it difficult?
AW: There was a range of information requested by ACMI including floor plans of our gallery space including power supply and number of outlets, insurance documents, emergency evacuation plans, COVID safety procedures, storage facility for the crates and climate controls. The ACMI staff were very supportive and excited at the prospect of this exhibition reaching more remote regional audiences through our regional Indigenous gallery.
Once we provided the information to satisfy ACMI it was a matter of paying a loan fee and co-ordinating install at our gallery.
SM: So what's in the exhibition, what makes it special?
AW: Upon entry, the dark walls & lighting create an immediate sense of film and theatre. Head phones are issued for visitors to plug in to several audio panels and screens to hear from the curator, producers, actors & designers who reflect on their roles & the development of the series.
There are many two-dimensional artworks, drawings, design boards & comics for the viewer to gain an understanding of the varied roles & elements involved in creating a television series
The AV screens are amazing to behold and deliver a large amount of behind the scenes information so visitors can expect to gain an intimate insight into the characters, storyline and the dystopian views on our first nation culture.
A range of props and costumes are on display including hair samples, Jaali's cave & the Cleverman's Nulla Nulla (club used for hunting and fighting).
The central Bindawu Spirit Tree is a story telling installation that immerses audience into sounds and narratives that build on the traditions of storytelling within First Nation culture. This exhibition is truly something to experience and digest.
I believe in recent years the resurrection of First Nation cultural practices has aroused a curiosity by non-Indigenous peoples into traditional value systems
— Alison Williams
SM: Was it challenging to install?
AW: This was the largest and more complex installation we have had to date in our centre. I have to admit I was quite daunted by the size of the crates when they were delivered on a rainy Saturday morning. And… the rain didn't stop! It was torrential, so we had to play Tetris with the crates with a trolley jack as we slowly unpacked, condition reported & installed the exhibition.
On day 2 of our install I opened the gallery to find we had no power, and discovered as I opened our power box that the heavy rain and wind had blown in behind the meter box and the main switch had literally melted though the night. That was an interesting day for our install staff who wore head torches and used camping lights to see what they were doing. Luckily for us being located in a small coastal town, we were able to get our electrician in with little notice to repair the damage to our power board by that afternoon.
If the hours and work involved in installing this exhibition is any indication, I am sure it took many months to create. We closed the gallery for a week in December and had a minimum of five installation staff assembling the exhibition with the help of Carrie Mulford from ACMI, who fortunately was able to travel from Melbourne and then have a well-earned stay in Red Rock with family. We also zoomed with ACMI Audio Visual and Registration personnel which made it much easier for us to work from the installation manual.
The crates that contain the exhibition are quite large and we were fortunate to have space in our conference centre on site to store them whilst the exhibition is on.
SM: What's been the reaction from the community? Any special programming for them?
AW: Some are quite shocked when they enter the gallery space and many have expressed how impressive the show is and how fortunate we are to have it in Corindi Beach.
This presents a great opportunity for our schools and particularly students participating in Aboriginal Studies to access the Cleverman exhibition once school resumes.
We hosted a gala opening dinner night for the exhibition with guest Elder Mark Flanders talking on Clever and hairy men in Gumbaynggirr country. We had a local Gumbaynggirr musician entertaining the guests and saw the end of 2020 out with style and flair.
Our holiday programs began in the first week of January with a range of arts/cultural activities on offer and an open air cinema on Saturday and Sunday nights screening the entire two seasons of Cleverman. We also hosted 2 x 4-week weaving circles and our famous Flavours of the Bush tour and tasting events every Sunday.
The exhibition does come with a range of ACMI digital public programs, but we have recently transferred our internet to a NBN sky muster which, (despite promising to be better than our ADSL) tends to drop out, so our signal strength is not consistent enough to stream a live program.
SM: And have you attracted lots of new visitors, travellers etc? What do they think of it?
AW: We have definitely had a new influx of regional tourists who may have ordinarily opted to travel overseas during the festive season. It's been wonderful to make connection and share our cultural centre with new faces and our regulars.
SM: After your experience with Cleverman, are you keen to bring in other travelling exhibitions? Any ideas or ambitions?
AW: Wadjar gallery normally hosts at least 1 touring exhibition per year as part of the cultural service that we offer community, so yes! I am constantly on the lookout for new and significant touring shows for our venue.
---
Cleverman continues at the Wadjar Gallery at Yarrawarra Aboriginal Cultural Centre until 11 April. The cultural centre is located at Corindi Beach on Gumbaynggirr Country about 30 minutes' drive north from Coffs Harbour. The Centre is open Tuesdays to Fridays from 9am to 4pm and weekends 9am to 2pm (closed on Mondays). Inquiries: 0266 407 104.