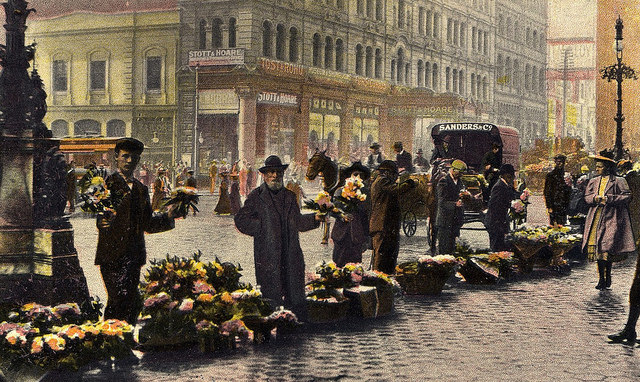 Flower sellers in Martin Place circa 1900. Check out a whole range of heritage events and take a stroll back through our unique history.
Did you know its Australian Heritage Week? An initiative of the Australian Government to coincide with UNESCO's International Day for Monuments and Sites on April 18, the event brings together heritage organisations from all over the country. It's a chance to celebrate unique stories, promote our heritage and celebrate local histories.
The website has a whole range of events covering natural heritage, historic sites and Indigenous culture happening across Australia. Exhibitions and events run all the way through to mid-May so there's still plenty of time to soak up a bit of history.
We've sifted through and picked out some of our favourites from around NSW.
Nightlight tour for families
23 April 2016 6pm-7:30pm
General Admission $25 Concession $20 Family $70
Entering this European style homestead, nestled amongst beautiful gardens, it's almost as if you have stepped straight back into the 1830's. A candlelit tour completes the illusion as you will hear stories about wool pioneer John Macarthur and his wife Elizabeth, the original owners of the house.
This museum is a real hands-on experience that is perfect for kids of all ages. You won't find any ropes or no-touching signs here! The Nightlight tour is an opportunity for families to explore the grounds and learn how the house would have been prepared for the evening in colonial days.
There's even cake and a cup of tea waiting for you.
Discover our Oldest Treasures
Miss Traill's House and Garden, Bathurst
23 April – 25 April 2016 12pm-3:30pm
Adult $10 Concession $8 Children $6 Family $26
If you're over in the Central West, go and have a sticky beak at Miss Ida Traill's eclectic and extensive collection of treasures. Descendant of some of the early colonial families who established the city of Bathurst, Miss Traill's collection includes many colonial artefacts handed down through the years and a range of Aborginal artefacts from the region.
There's also a fantastic array of art and ceramics amongst historical and sporting memorabilia. Have a trawl through and discover a 1691 King William Delft plate, 1870 Sydney Gold cup, The Lee's Invitation to opening of Parliament in Melbourne 1901 and so much more!
Just don't get lost, you might become part of the collection.
Nursing and Medical Museum, La Perouse
24 April 2016 10am-3pm
General Admission $5
The Coast Hospital opened in the late 1880s and remained in operation well into the 20th Century. It has the honour of being first public hospital in NSW and boasts a fascinating history, starting as a sanitation camp for those exposed to smallpox on the long sea journey from Europe. Patients showing signs of the disease were treated at the Quarantine Station at Manly while the healthy were held in quarantine here at the hospital.
Visitors can see surgical equipment, photographs and uniforms dating all the way back to the hospitals colonial past. You can also read all about outdated medical practices from old reference and textbooks in the museum library.
If you're lucky you might even get a glimpse of the Museum's resident ghost, Sister Gracie Andrews, a nurse who worked with Polio patients in the hospital.
Relics, Rocks and Remnants
18 April 2016 – 30 May 2016
Adults $7 Concessions $5 Children $3 Families $15
Situated right near the entrance to the Hastings River, the Port Macquarie Museum is deceptively unassuming from the outside. Once inside you'll find 14 rooms and gallery spaces all jam packed with stories of the Mid North Coast.
The museum regularly hosts temporary exhibitions alongside its permanent collection so if you've been before there's a good chance there'll be something brand new for you to discover.
A great destination for families, the museum features a variety of hands on exhibits. Kids can wander the museum and complete their own activity sheet, play dress ups in colonial style costumes and enjoy a good old fashioned game of hookey. No, we don't know how to play hookey either, you'll just have to visit to find out.
For more information on any of these events or museum opening hours click through the links to visit the Museum profile page.
To find out more about Australian Heritage Week or get involved visit the website. All the events featured in this article were found on the official Australian Heritage Week website.