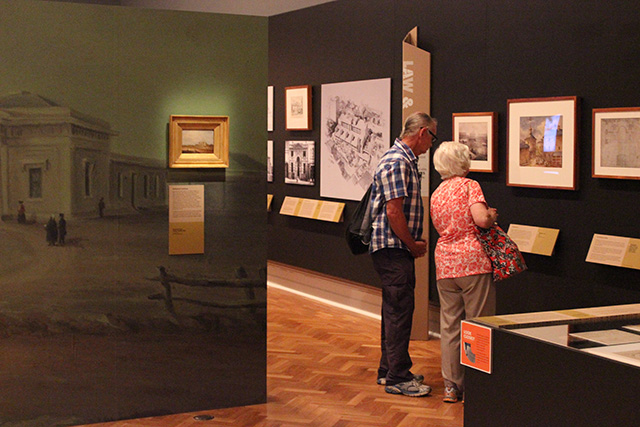 Last week, while visiting Biennale venues, we stopped off at Imagine a City: 200 years of public architecture in NSW at the State Library.
Attracted by one of the promotional images—a fabulously modernist photo by Max Dupain—taken from under an awning which frames the Pennant Hills High School building beyond with a dynamic triangle, we had listed the exhibition as a welcome pause in a day out and about.
And welcome it was. The exhibition is laid out clearly and traces the origins of the Government Architect's Office from inception to the present day.
Themed so that prominent buildings are grouped together: 'Temples of Justice' looks at prisons, police stations and court houses; 'Educating a Democracy; explores schools, technical colleges and universities and so on, the exhibition provides both timeline and explanation of the role of architecture in building a city's identity.
While we are familiar with many of the historical images of early Sydney, such as works by Joseph Lycett and Conrad Martens, seeing these paintings reproduced at large scale is one of the most appealing aspects of the exhibition. These up-scaled paintings allow you to superimpose the city street or scene to the present location in your mind. They lend themselves to minute inspection of detail and the possibility of being up close and personal to the city's past.
Other unexpected gems include the hand drawn plans. Even if you don't possess an eye for technical drawings, these are spectacular. The originals are very large and it is curious to ponder how they worked on them. Are they the hum-drum work of some junior draftsmen just starting with the Government Architect's Office, or the pièce de résistance for the chief architect and the result of toiling away for many hours at the drawing board? Hand coloured, each displays an elevation, or view, of the building with cut-aways describing particular features or construction details.
It was also a pleasure to find an entire section dedicated to the architecture of galleries and museums. Given current debates around several of Sydney's cultural sites—the Powerhouse Museum relocation and the proposed new wing of the Art Gallery of NSW—this section demonstrates a predilection for impressive architecture for cultural institutions. It confirms what we already know—that opera houses, theatres, museums and galleries are important social aggregators for our society. And that they have always been so.
We recently grabbed some time with the curator, Charles Pickett to find out more.
Imagine a City: 200 years of public architecture in NSW is at the State Library of NSW until 8 May 2016
---
Talk – Thursday, 28 April 2016 – 6:00pm at the State Libray of NSW
Discover some of the stories from the archives of the Government Architect's office. Matthew Devine is an architect & heritage specialist, working with the NSW Government Architect. He will be talking with Veronica Norman, a historian researching the history of the NSW Government Architect. Find our more
---