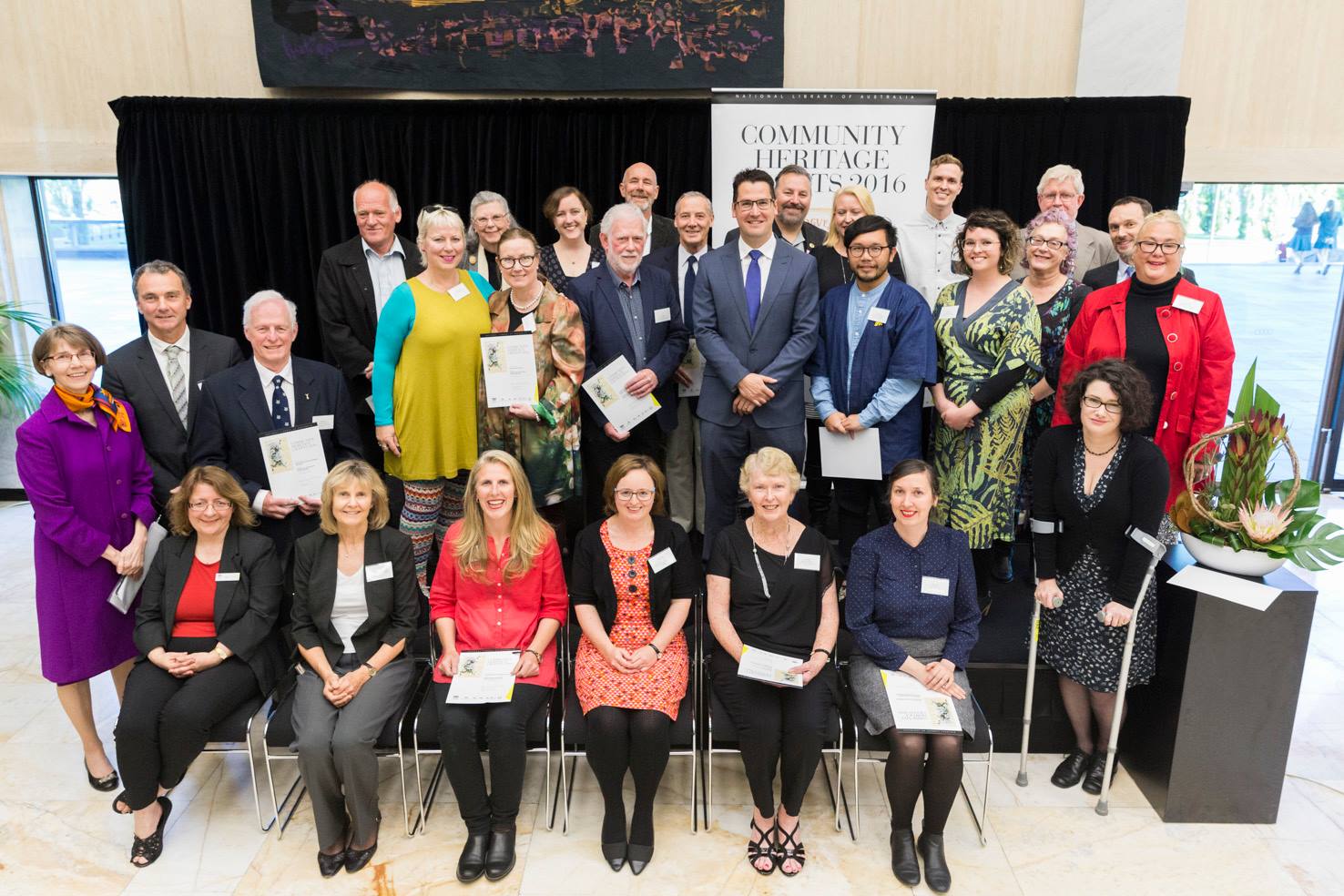 The Community Heritage Grants were recently announced with more than $415,000 awarded to over 75 organisations and community groups.
This year's winners, many from remote and regional Australia, were invited to the National Library of Australia (NLA) in Canberra to receive their awards.
The Community Heritage Grants (CHG) program, managed by the National Library of Australia, provides grants of up to $15,000 to community organisations such as libraries, archives, museums, genealogical and historical societies, multicultural and Indigenous groups. The grants are provided to assist with the preservation of locally owned, but nationally significant collections of materials that are publicly accessible. This includes collections of artefacts, letters, diaries, maps, photographs, and audio visual material. The types of projects supported include; significance assessments of collections, preservation needs assessments of collections, conservation activities and collection management, and training workshops
Anne-Marie Schwirtlich AM, Director-General of the NLA, said in this year's round, applications were received from 172 organisations across Australia.
New South Wales had 31 grant recipients, with the Museum and Gallery sector well represented.
• Snowy Scheme Museum Adaminaby [Collection preservation workshop and archival materials]
• Norfolk Island Museum [Preservation needs assessment]
• Albury LibraryMuseum [Preservation needs assessment and preventive conservation workshop]
• Bathurst District Historical Society Museum [Preservation needs assessment]
• Deniliquin and District Historical Society Museum [Preservation needs assessment]
• Hawkesbury Regional Museum [Significance assessment]
• Wingham Museum [Significance assessment]
• Moruya Museum [Preservation needs assessment]
• Museum of Fire [Collections Management Software]
• Norman Lindsay Gallery and Museum [Preservation needs assessment]
• Old Dubbo Gaol [Preservation needs assessment]
• Penrith Regional Gallery and the Lewers Bequest [Preservation needs assessment]
• Port Macquarie Museum [Collection Management Software]
• S.H. Ervin Gallery [Preservation needs assessment]
• Tamworth Historical Society [Preservation needs assessment of King Collection]
• Tamworth Regional Gallery [Significance assessment workshop]
• Lithgow Small Arms Factory Museum [Significance assessment]
View the full list of recipients