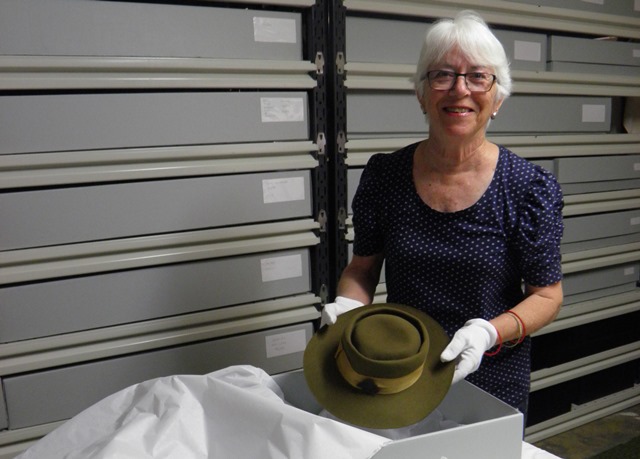 Late last year a new book on object handling made its way onto the market. Detailed, illustrated and invaluable to every museum large and small, we asked author Brent Powell to tell us more about Collection Care: An Illustrated Handbook for the Care and Handling of Cultural Objects.
If you are interested doing an object handling workshop, email us: comms@mgnsw.org.au and we'll see what we can organise.
---
M&G: Thanks for agreeing to talk to us Brent and congratulations on the new book.
The first thing we want to know is, in this age of online webinars, downloadable how-to's, and tailored worksheets for the museum and gallery sector, why did you choose to publish a book?
BP: The choice of publishing a book was an easy one—it fills a gap in collection care information because so much of what is out there is specialist information. This is not a specialist book but a fully-indexed comprehensive guide which covers many areas of collection care.
Incidentally it is available as a eBook if people prefer to purchase and read it in an electronic form.
M&G: Would you describe it as a 'weighty tome' or a practical manual?
BP: I consider it more of a manual or handbook. It contains 400 pages, is broken down into eight discrete chapters with ten contributing authors each of whom provide footnoting in their sections. It's fully indexed with an extensive glossary of terms and a great bibliography so people can pick up specialised information as they need it. It also will assist them to new areas in which to do their research.
There are diagrams and useful tips on aspects about collection care through object handling; installation, packing, transportation, and it's all put together using layman's terminology and accessible language throughout.
M&G: Here at M&G NSW many of our clients are volunteers who work in small, community-run museums, often in regional and remote areas. What would people without formal museum training who operate with small or non-existent budgets glean from this book?
BP: Again, because it's written using language which presents the thinking behind best-practices procedures, industry norms and so on, and explains why particular protocols are in place, it means the book is a perfect fit for those working in small and non-government funded museums or agencies.
Here in the US, the situation is similar to that of regional Australia where a significant quantity of cultural heritage is held in community-run or locally-supported historic houses and museums plus a range of private collecting museums and galleries. I worked for many years in Australia for the National Gallery of Victoria and was in involved in the Australian Registrars Committee and Museums Australia Victoria on their programing committees. I began my career as a preparator—installing, packing and crating up objects for transportation and storage—so I know from experience that everyone who is a custodian of cultural material needs to understand the principles behind caring for their collections.
M&G: In Australia we are in the midst of a sustainability renaissance, albeit a small one, with peak bodies including the Australian Institute for the Conservation of Cultural Material 'relaxing' the 20/50 rule of environmental control. This has made the pursuit of sustainable practices and realistic loan agreements—especially for small organisations—more attainable. M&G: What's the current state of play in terms of environmental controls within museums in the USA?
BP: Mostly here we are ratifying the issue in the same way, though because the ICOM (International Council of Museums) conference was held last year in Melbourne where the topic was widely discussed and those new guidelines adopted. The AIC (American Institute of Conservation of Historic and Artistic Works) are working towards the amended environmental guidelines, as are most major institutions world-wide. It's a concentrated global trend at the moment.
M&G: Preventive conservation is a term used synonymously with collection care and is described in the preface of your book as the "holistic, multi-disciplined approach that is essential for sustainable, long-term preservation of the cultural heritage". Can you tease out the importance of emergency preparedness in relation to collection care?
BP: It's a very good question actually, and one that catches me slightly off-guard because much of collection care is about the planned implementation of quality systems to slow down the environmental fluctuations on an object through controlling how they are stored, moved and handled.
In doing as much as possible to reduce impact on them, an emergency response can be seen fast-forwarding that approach where the aims of minimising impact results in a one-off decision to directly deal with a threat.
I'm thinking back to examples like when the Norman Lindsay collection in the Blue Mountains was crated up and moved to Sydney by IAS when bushfire threatened the site or here in the States when Hurricane Sandy struck, where the basic principles of collection care— assessing the threat and acting to avoid the threat—were applied.
An emergency response or figuring out a 'game-plan' should always be an integral part of the overall collection care plan, as should an approach to recovery.
M&G: The term 'best-practice' is often heard, but surely best-practice depends on the skills of those involved, the resources at hand and the environment in which one works. How can best-practice be relevant to all collections given the diversity of their custodians and constituent parts, and will some organisations forever strive and attain 'not-quite-best-practice'?
BP: One of my favourite things when I'm teaching this subject is to discuss this term. It's not just a buzz-word but a thinking process that should be applied to your object to give it the best possible chance of survival over time.
For example, you could spend $5000 on one state-of-the-art cabinet and tick all the 'best-practice' boxes for a certain number of objects. But you could also spend $5000 on a set of shelves and archive boxes containing appropriate object support to safely care for many more objects then just what will fit in the one perfect cabinet. This will also tick the 'best-practice' boxes and provides 100% improvement on storing the object on a shelf rather than the floor for instance or other less appropriate conditions.
What's important here is to understand the fundamentals and to make improvements under the constraints of your organisation, its staff, skill base and budget. No matter how much money is available to protect an object the same framework can be applied.
M&G: We hear on the grapevine that you may be coming to Australia to promote the book. Can you tell us when and where you might make an appearance back here?
BP: I have no specific details as of yet but am hoping it will be in April or May of this year. At that time I would like to give a talk about collection care in the Sydney area and have a book signing event.
M&G: And finally, where can we and our readers get hold of your book?
BP: The book is available on Amazon in hardback, paperback or as an eBook for your Kindle. You can find more information here: http://amazon.com/Collection-Care-Illustrated-Handbook-Handling-ebook