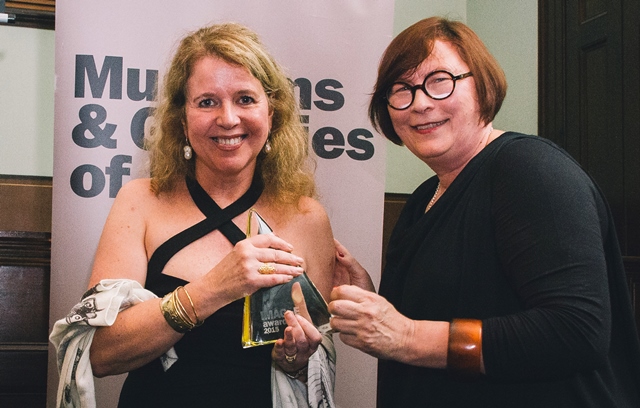 At the 2015 IMAGinE Awards Wendy Hucker was honoured with a posthumous Lifetime Achievement Award for her contribution to women's history and museum practice in NSW. Wendy Hucker passed away in January 2015, and on this first anniversary of her death, we celebrate and remember her.
Wendy was a passionate advocate for rural women's history and volunteer museums, and believed that small museums are the heart of the museum industry.
She was the founder of the Pioneer Women's Hut at Tumbarumba, which opened in 1985 and was the first museum in Australia dedicated to interpreting the lives of rural working women.
The Pioneer Women's Hut began its life in a series of converted prison huts. Wendy approached collecting for the museum strategically: she talked to local families, spoke on radio, wrote for rural newspapers, explained the museum's collection policy, and importantly, recorded the stories of the women who owned or made the items. Within a decade she had created a women's history collection of national significance.
A qualified anthropologist who had worked in New Guinea, her training informed her approach to recording vulnerable object histories that opened a window onto women's lives and experiences. She held in high regard the Indigenous stories of her home region, celebrating and respecting them while mentoring others in their importance. Long-time friend, Amareswar Galla, from the International Institute for the Inclusive Museum, in Copenhagen said that Aboriginal Nunga Elder Noel Nannup and Aboriginal Academic Dr. Dale Kerwin both regarded Wendy as "the best teacher that they have had to understand community museology."
One of Wendy's major achievements was the creation of the National Quilt Register, a survey and documentation project to record the provenance and women's stories behind quilts in public and private collections across Australia. The Register documents more than a thousand quilts and women's stories that might otherwise have been lost as memories fade and owners die. Among its landmark achievements, the Register was the first national survey and documentation project for any category of material culture in Australia. It is notable that it was initiated not by a well-resourced state or national museum, but by a volunteer managed museum working with a network of volunteers across the country.
In addition to her work at the Pioneer Women's Hut, Wendy was involved in a number of major exhibitions, and published books and catalogues based on her research into women's stories. She spent a period researching and documenting women's collections at the National Museum of Australia, and was a Trustee of the Historic Houses Trust, now Sydney Living Museums.
Jennifer Sanders, former Deputy Director of the Powerhouse Museum, said that Wendy Hucker will be remembered as a woman "who saw a pressing need to document and represent the lives of women in our museums and, who steadily, methodically, determinedly and intelligently worked to redress the imbalance."
---
Editor's note: Thanks to both Kirsten Hucker—one of Wendy's daughters—and to Kylie Winkworth for their support with this article. A formal obituary by Kylie can be found on the Museums Australia website.