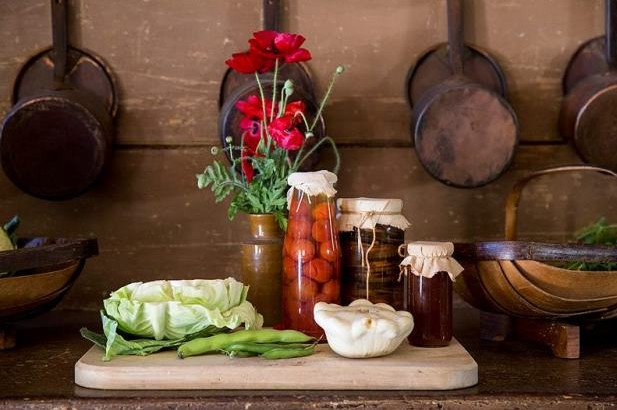 Imagine if we paired food with art in the same way sommeliers pair wine with cuisines. "… Your curator recommends Shaun Gladwell's Storm Sequence with piccolo lattes, or a brioche bun with Margaret Olley's Cornflowers". While this may seem implausible and over-engineered, a new openness for food culture to be part of galleries and museums is driving increasing co-location of art, culture and food.
From the humble coffee cart to boutique dining experiences, food culture is playing a growing role in our cultural spaces. Whether it's a match made in heaven or a relationship of convenience, the combination of art and food culture provides new opportunities for visitor experiences.
David Walsh's Museum of Old and New Art (MONA) exemplifies the high-end companionship between art and culinary experience with wine bars, restaurants and cafes servicing the gallery space. Celebrity chef Matt Moran opened casual dining restaurant Chiswick in the Art Gallery of NSW at the end of 2014.
Thriving cafes adjoining gallery spaces are found at the Blue Mountains Cultural Centre, Tweed Regional Gallery, Hazelhurst Regional Gallery & Art Centre, Campbelltown Arts Centre and the Penrith Regional Gallery to name a few. Despite the many success stories the art and food partnership is not necessarily an instant fast track to increasing gallery and museum patronage. Nuanced planning and programming are required for effective collaboration and dynamic visitor experience.
Sydney Living Museum's Rouse Hill House and Farm, 45km northwest of the Sydney CBD, recently held their Autumn Harvest festival which exemplifies thoughtful integration of the cultural and food experience.
Twenty hand-picked artisan producers provided colonial inspired produce and goods as part of a pop-up market. Diverse producers and social enterprises provided an eclectic range of food and community information. These included social enterprise The Bread and Butter Project, OzHarvest, Feather & Bone, Cornersmith and First Farm Organics.
Rouse Hill House and Farm's Autumn Harvest is not simply a farmer's market in picturesque setting. The selective curation of the market was used to create opportunities to explore the site's history and heritage. Here, our national obsession with food culture is employed to animate Rouse Hill's agricultural and rural history and cast new perspectives on cultural artefacts. #RouseHillHarvest was advertised as a way for visitors to share recipes using produce from the market.
The selective curation of the market was used to create opportunities to explore the site's history and heritage.
Sydney Living Museums have staked their claim on this territory, establishing significant research in the area and initiating the popular blog The Cook and the Curator. They have developed relationships between food and produce at several of their properties including Vaucluse House, Meroogal and Elizabeth Farm and leverage this to initiate public talks, tours and presentations and foster discussion relevant to colonial history.
That said, the food and art alliance is not without its detractors. Concerns about gallery and museum spaces being overshadowed by food and café outlets and consequently detracting from those institutions as venues for creative engagement and collaboration, have been voiced. Some also worry that significant cultural material collections should not be in close proximity to food preparation and storage should vermin and pests threaten collection items.
In some instances fine dining culture may reinforce stereotypes of art and museum institutions as inaccessible to particular segments of society and reconfirm perceptions of cultural elitism. On the other hand, revenues from complementary food and dining businesses may support financial sustainability and public programming.
Yet, these concerns appear insignificant when weighed against the potential for food and café culture to normalise regular gallery visits and engagement, opening up a future where coffee with friends at the gallery, and a walk past the new exhibit is an everyday occurrence.
Meet Paula Perugini Kelly ; Gallery professional, art educator and culture enthusiast
We call her PaulaPK and she's one of our Roving Reporters. She'll be giving us her insights every month in M&Gazine as she takes a look into both well known art hubs and some hidden gems. You can find her on Twitter at @PaulaPerugini