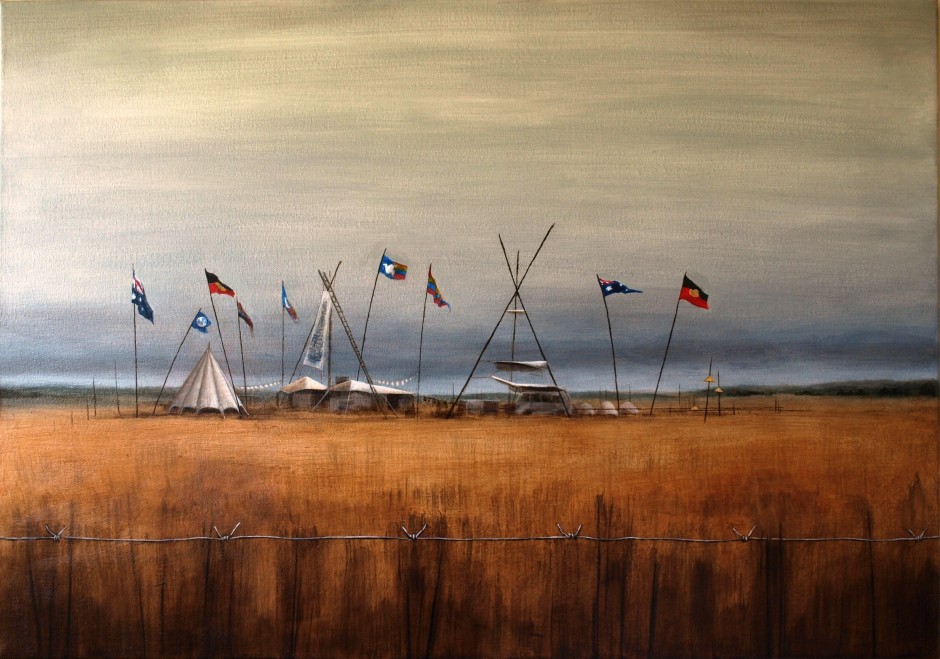 The welcome sign into Byron reads "cheer up, slow down, and chill out". Here life's dramas are faced here a zenish embrace. This is a community of artists from all walks of life including surfers and healers, and is made up of those who passively oppose systematic conditioning, luring the un-reconditioned and the alternative.
So it should come as no surprise that in April the Byron Bay Community Centre Arts Classic attracted over 300 entrants. This annual event is a 'classic' because of its location, its people, its vibe, and its artists. Behind the scenes a community of worker bees, curators, judges and volunteers busied themselves in creating this fabulous visual arts event.
This year's entries erred on the side of the domestic and set local scenes alive in paint. Works featured images of the local baths, of children playing, the environment, and lots of waves­­—both the watery kind and the coloured ones. Generally it was a celebration of earth and creature!
First prize and council acquisition went to The Gatekeepers by Mellita Perry, which quite frankly, in my opinion, belongs in Canberra. This is a painting of the 2014 Bentley Blockade, depicting the epic political stand by the community against coal seam gas fracking where the people won! Rendered as sensitively as one of colonial painter John Glover's oils on linen, and reminiscent of the delicate watercolours of William Bradley, the work depicts the environment crusaders camp nestling in a sea of brown grass against a backdrop of an ominous grey sky. It's a timeless piece where nothing but the hush of grass blowing can be heard.
The welcome sign into Byron reads "cheer up, slow down and chill out". Here life's dramas are faced here with a zenish embrace.
Peter Wood, CEO of Arts Northern Rivers and key mover and shaker for local arts activity, cites the long passed 'Aquarius festival' of 1973 as being the zeitgeist that continues to define the community.
Given that the community is currently gearing up for its second big gig of the year Splendour in the Grass, Wood is probably right on the money. Originally envisaged as a three-day music festival, Splendour runs from 24 through to 26 July in the north Byron parklands and has grown to encompass all manner of creative opportunities.
This year there's Splendour Arts where contemporary artists will change your perceptions of what art can be, working across installation, performance, live art, music and dance. Splendour in the Craft returns after making a big splash with glitter and glue guns in 2014—and offers a host of free workshops by Australia's premiere craft freedom fighters.
In partnership with Splendour, Lismore Regional Gallery has commissioned artist Tom Borgas to present Postdigital Ruins, an excavation of low-res virtual festival landscapes. The sculptural work will explore the wireless, invisible digital network that services our deep seated desire to connect with others. Online updates will be redistributed as data via social media over the three days of the festival.
Bennett Miller is back again, this year with Anabaptister which follows on from last year's Rumspringer and popular Barnraiser in 2013. Pip & Pop will construct for festival goers a Treasure Mountain made of sugar and glitter: an optimistic world of blissful abundance and utopian dreams.

So there can't be better reasons to come north next month to partake of the unique creative opportunities this community has to offer. Remember, it's all about slowing down, cheering up and chilling out.