Collections Law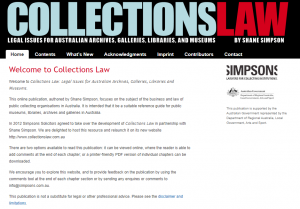 The Collections Law website provides resources for those working in an archive, gallery, museum or library.
The website does not provide online legal advice, nor is it a substitute for seeking legal advice on particular issues, however it is one of the most reliable places to find comprehensive resources on business law for public collecting organisations in Australia.
The website and its resources were developed by lawyer Shane Simpson in consultation with Collections Council of Australia (2004 to 2010). He is supported by an expert panel made up of representatives of some of the biggest cultural institutions in Australia. In forming the panel, Simpson has cast a wide net to capture expertise from libraries, archives, heritage, exhibiting institutions and Indigenous organisations, as well as those with experience in corporate risk, indemnity, strategic planning and all aspects and types of collections.
So go to the site with confidence knowing that the material is reliable and up-to-date. The resources are categorised in sections and cover aspects of copyright and reproduction; risk management; collection policy and law; structures and governance; people; branding and importantly, legislative protection for cultural property.
While all care has been taken to ensure information is accurate at the time of publication, all information in this resource is intended as a guide only.  You should obtain professional advice if you have any specific concerns.