Katthy Cavaliere | Artist and Legacy
---
ABOUT KATTHY CAVALIERE
Born in Sarteano, Tuscany in 1972, Katthy Cavaliere migrated from Italy to Australia with her family when she was four years old. She attended University of NSW Art & Design (then known as College of Fine Arts) in Sydney and was a recipient of the Helen Lempriere Travelling Art Scholarship in 2000, enabling her studies in Italy at the Accademia di Belle Arti, Brera, Milano. During this time in Italy she studied under Marina Abramović.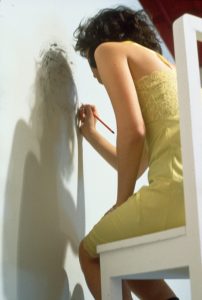 Upon returning to Australia in 2004, Cavaliere staged a survey exhibition called Suspended Moment, which toured to regional galleries in NSW. The fellowship has been named to honour Cavaliere's practice and this landmark exhibition. Created at Artspace Sydney, her video performance, Loved, was included in the 54th Venice Biennale, 2011.
Following her death in January 2012, the Museum of Old and New Art (MONA) presented her retrospective survey Loved in 2015-16. Curated by Daniel Mudie Cunningham, the exhibition toured to Carriageworks in 2016 and was accompanied by an extensive career-spanning monograph.
It was Cavaliere's desire to bring to light what she did not remember of her early years in Sarteano that motivated her lifelong project of packing, storing and transporting the wreckage of her personal possessions, and transforming it into performance installation works that have been exhibited in solo and group shows internationally.
Cavaliere's work is held in the collections of the Art Gallery of New South Wales, National Gallery of Victoria, Heide Museum of Modern Art, Museum of Old and New Art, Artbank, University of Queensland Art Museum, Monash Gallery of Art and numerous regional galleries. Katthy Cavaliere's archive is held in the National Art Archive at the Art Gallery of New South Wales.
---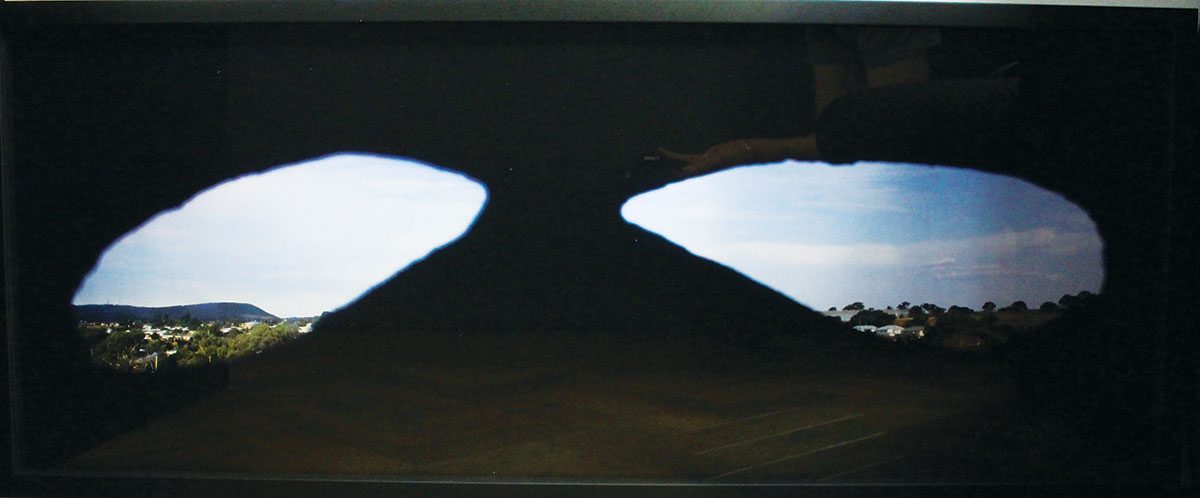 REGIONAL CONNECTIONS
Katthy Cavaliere's work has a significant presence in the collections of many regional Australian galleries – Murray Art Museum Albury, Wagga Wagga Art Gallery, Campbelltown Arts Centre and Western Plains Cultural Centre to name a few.
Her connection to these regional galleries and their communities was often very active and significant. For example Goulburn Regional Art Gallery (GRAG) hosted the artist to undertake a residency there in 2004 and collected the resulting works as well as subsequent photographs and video from Loved, one of Cavaliere's best known works. It seems fitting that Suspended Moment The Katthy Cavaliere Fellowship  will end its tour at Gouldburn in 2024, 20 years later.
Hannah Gee, programs and exhibitions coordinator at GRAG elaborates on the Cavaliere pieces in their collection and their connection to Goulburn:
Living Rag Doll, 2004, is a performance work recorded live at Tony's New and Used Furniture in Verner Street and Gaze of the Masked Philosopher, 2004, is a photograph capturing the view of Goulburn through the eyes of our Big Merino. These works were created in response to our locale.
– Hannah Gee, interviewed by Briony Downes, Suspended Moment, Art Guide, 16 May 2019
Read more about Cavaliere's connection with Goulburn here
Dr Daniel Mudie Cunningham (centre above) is a Sydney based curator, writer and artist. Currently he is Director Programs at Carriageworks. Previously, he held roles at Artbank, Hazelhurst Regional Gallery and Western Sydney University. It was here he completed his undergraduate studies in art history in 1997 and his doctorate in cultural studies in 2004.
Daniel is a widely published academic and arts writer having authored numerous artist monographs and edited publications, including the magazine Sturgeon (2013-16) and a book charting the history of MOP Projects, an artist-run initiative with whom he had a long association.
As a curator, Daniel has extensive experience working in exhibitions, collections and public art contexts. Recently, he curated The National 2019: New Australian Art; initiated the Katthy Cavaliere Fellowship which partnered Carriageworks with ACCA and Mona; and is leading the curatorial delivery of a major public art strategy tied to the redevelopment of South Eveleigh in Sydney.
Loved Retrospective
Following her death in January 2012, the Museum of Old and New Art (Mona) presented her retrospective  Loved in 2015-16. Curated by Daniel Mudie Cunningham, it toured to Carriageworks in 2016 and was accompanied by a major monograph. Loved was named for one of her best known performance works of the same name from 2008. Considered a career high point, Love was first presented for Artspace's 25th anniversary, it was later curated into an exhibition for the Italian Institute of Culture at the 2011 Venice Biennale.
Listen to an interview with Katthy talking about her work Loved.
Mudie Cunningham also produced the catalogue accompanying the Loved retrospective in which he shared his knowledge of his long time friend and colleague Katthy and wrote of her practice:
Katthy Cavaliere had a lifelong project of packing, storing and transporting the stuff of everyday life – the wreckage of her personal possessions, 'the dead among us' – and transforming it into art. Her belongings held a symbolic significance; she used them to banish the past, but in doing so, was never quite able to let go of anything.
– Daniel Mudie Cunningham, Loved catalogue 
---
ENGAGEMENT & TOURING SUPPORT
Key components of Suspended Moment: The Katthy Cavaliere Fellowship are the engagement tools and tailored support surrounding the exhibition.
Education Resource – A comprehensive Education Resource with curricula links will be developed to accompany the tour.
See an example of our detailed education resources from Eugenia Lim The Ambassador below.
Cultural Mediation Training Pack – As part of our commitment to integrating the practice of cultural mediation into our touring program, Suspended Moment: The Katthy Cavaliere Fellowship touring package will also include a Cultural Mediation Training Pack  that will contain information, links, further reading and suggestions designed to equip gallery staff, guides and volunteers with knowledge that will help train them as cultural mediators, whilst also providing additional resources for education and front of house teams. Read more about Cultural Mediation here
See an example of our Cultural Mediation Training Packs from Just Not Australian below.
Public Programs – M&G NSW also supporting regional venues to engage audiences by providing public programming options and facilitating and supporting artists to engage with regional galleries and their audiences.
Catalogue – A comprehensive publication will be produced to accompany the tour, profiling the three fellowship recipients and cataloguing and exploring the content and legacy of Katthy Cavaliere's extraordinary practice.
Download a digital version of the Eugenia Lim The Ambassador catalogue below, as an example.
---
MUSEUMS & GALLERIES OF NSW – TOURING NATIONALLY
The Suspended Moment: The Katthy Cavaliere Fellowship tour will coincide with multiple exhibitions M&G NSW is touring nationally to form a comprehensive program with an impressive reach across the country and a varying view of contemporary arts practices. These exhibitions involve participatory elements that will promote community interaction, practical learning opportunities, professional development, and new tools for connecting with audiences. The program is diverse in its offerings, making tech-heavy exhibitions accessible to regional areas, using live performance and dance to activate audiences and spaces, presenting projects that are driven by women, First Nations peoples and those from culturally and linguistically diverse backgrounds, and ensuring that the content of the exhibitions reflects contemporary interests and concerns. Suspended Moment: The Katthy Cavaliere Fellowship inserts a strong and diverse women-led perspective to our touring program, as well as forging professional development opportunities between major institutions from both metropolitan and regional areas nationally.
Concurrent Touring Program:
> Just Not Australian brings together a group of 20 diverse Australian artists across generations and mediums to deal broadly with the origins and implications of contemporary Australian nationhood. Terror Nullius by Soda_Jerk forms the central focus point of the exhibition; a work that aptly looks at Australia's national mythology, encompassing ideas of visibility and inclusion.
> Material Sound brings together a group of contemporary artists who each create an experience of sound within installations and apparatus constructed from everyday materials. Public programming will bring robotics, music and sustainable practices into the gallery space.
> Centre of the Centre is a major new commission of Australian-born, Paris-based contemporary artist Mel O'Callaghan. M&G NSW is developing a new professional development program to introduce the seminal idea of cultural mediation used to access O'Callaghan's work to the regional gallery sector, aligned with the national tour
> Zanny Begg: These Stories Will be Different, curated by UNSW Galleries and designed for tour, brings together Zanny Begg's most significant works to date, exploring themes of gender, activism, migration, and social change.
> Vernon Ah Kee: The Island is a major survey exhibition conceived by Campbelltown Arts Centre that examines the significant political impact of Aboriginal artist Vernon Ah Kee's contemporary practice.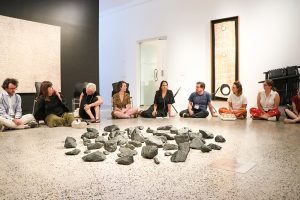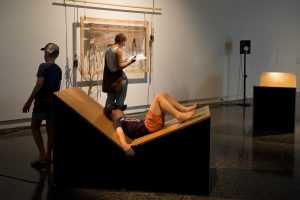 ---
A Carriageworks and Museums & Galleries of NSW touring exhibition, curated by Daniel Mudie Cunningham, developed in partnership with the Australian Centre for Contemporary Art, Melbourne and the Museum of Old and New Art (Mona), Hobart. This project is assisted by the Australian Government's Visions of Australia program.