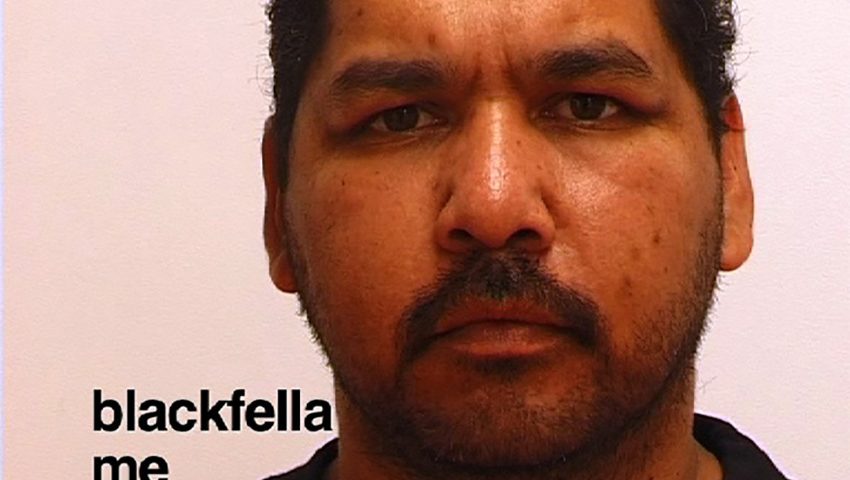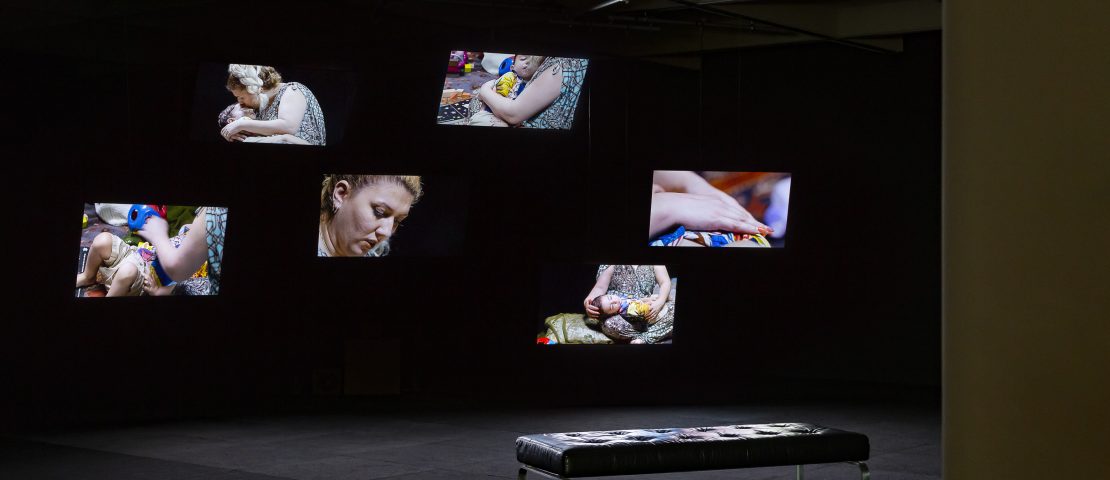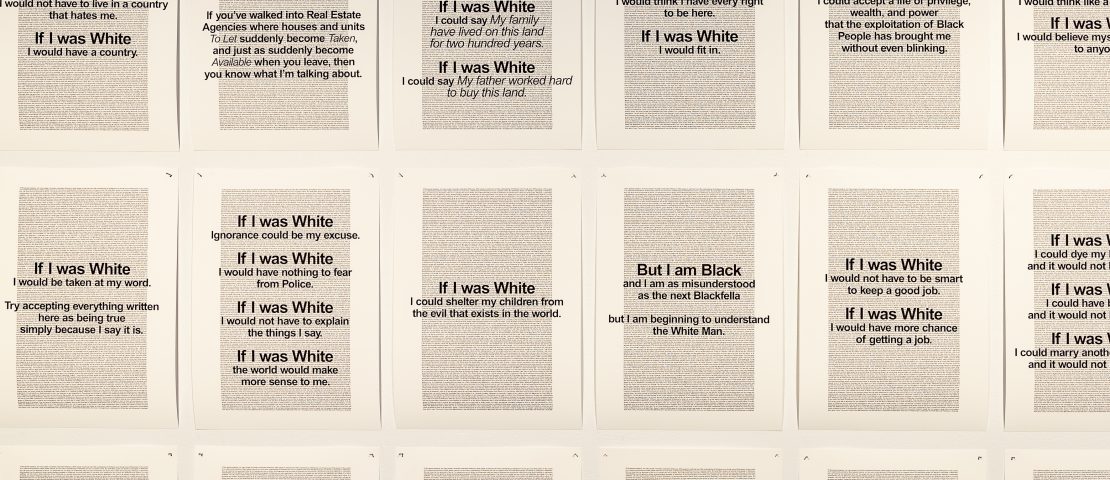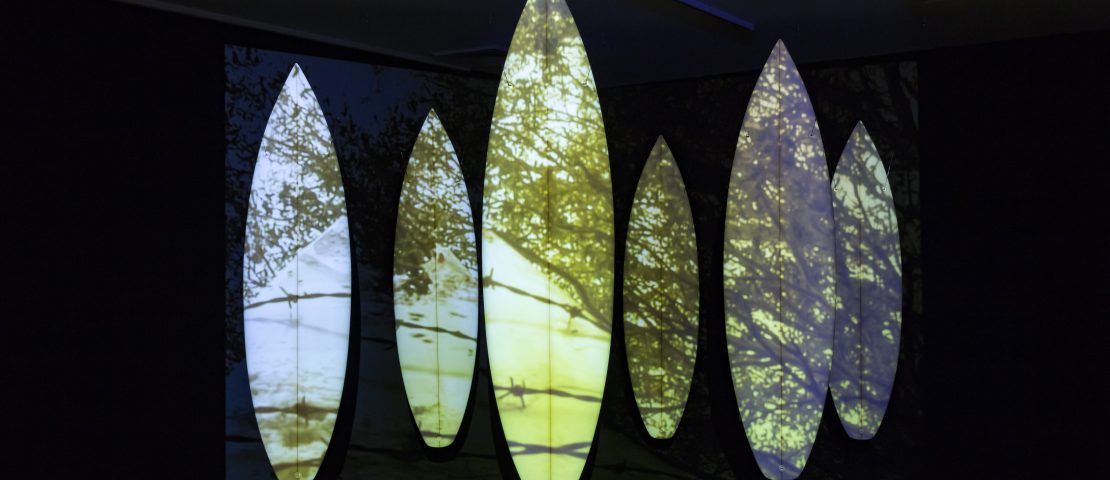 ABOUT
Vernon Ah Kee (of the Kuku Yalandji, Waanji, Yidindji, Koko Berrin and Gugu Yimithirr peoples) is one of the most prominent and important contemporary artists practicing in Australia today. Often utilising tongue-in-cheek and wordplay, his practice ranges from large-scale renderings of his family members to multimedia installations with impacting text, sculptural elements, and moving image works.
From 2 January to 23 February 2020, Campbelltown Arts Centre (C-A-C) will present a major survey exhibition examining the significant political impact of Ah Kee's contemporary art practice. Spanning two decades, the exhibition will profile Ah Kee's video practice, juxtaposing these pivotal works with corresponding drawing, vinyl graphics, and installation.
Testament to Ah Kee's powerful, politically and socially-engaged contemporary artworks, the exhibition will trace the trajectory of the artist's practice from his early text-based works to significant recent video works such as The Island (2018). Building upon his impressive catalogue of works, Ah Kee will expand on existing themes with two new commissions, including a multi-channel video work and an installation work. The latter will include a number of riot shields drawn upon with charcoal. This new installation expands upon Ah Kee's latest video work, Kick the Dust (2019), reflecting upon racially motivated violence in Australia and the disparity in justice.
Two video documentaries, Not a Willing Participant (2010) and Vernon (2007), both directed by Alex Barnes, will accompany the exhibition and will be available for screening. A tailored education program will include an education kit, a performative lecture and a High Tea with Vernon Ah Kee.
---
ABOUT THE ARTIST
Born 1967 in Innisfail, North Queensland, Australia. Lives and works in Brisbane, Australia. Kuku Yalandji, Waanji, Yidinji, Koko Berrin and Gugu Yimithirr people.
Vernon Ah Kee's conceptual text pieces, videos, photographs, and drawings form a critique of Australian culture from the perspective of the Aboriginal experience of contemporary life. Ah Kee's works respond to the history of the romantic and exoticised portraiture of 'primitives', and effectively reposition the Aboriginal in Australia from an 'othered thing', anchored in museum and scientific records to a contemporary people inhabiting real and current spaces and time.
Ah Kee's work has been exhibited in a number of significant national and international exhibitions, and is held in many notable private and public collections in Australia and overseas. Vernon Ah Kee was a key member in the establishment of Queensland's leading Indigenous arts collective, proppaNOW.
> video:  Not a Willing Participant (2010), Documentary trailer by Alex Barmes
---
READ MORE
Refugee and Indigenous Australian experiences drawn together in exhibition by artist Vernon Ah Kee – By Hannah Reich for The Art Show, ABC News
'About 10 to 15 years ago, Brisbane artist Vernon Ah Kee started noticing similarities between the treatment of refugee asylum seekers and Aboriginal First Nations people in Australia.' – Hannah Reich, The Art Show
'Someone's Got to Deal With That Fire:' Vernon Ah Kee's The Island – Article by Emma-Kate Wilson for MutualArt
'In a conversation with the artist about his exhibition, Ah Kee likens the denial to "a fire burning behind your back," but adds, "you can turn your back on it, but someone's got to deal with that fire."' – Emma-Kate Wilson, MutualArt
THE ISLAND (PART 1)  – Review by Andrew Brooks for Running Dog
THE ISLAND (PART 2)  – Review by Andrew Brooks for Running Dog
A two part series extended review considering the exhibition Vernon Ah Kee – The Island.
Review: Vernon Ah Kee: The Island, Campbelltown Arts Centre (NSW) – Article by Gina Fairley for ArtsHub
'A powerful survey exhibition of Aboriginal artist Vernon Ah Kee's videos and wall texts, questions the frameworks of power and role of language in embedded racism.' – Gina Fairley, ArtsHub
The Island – Preview by Steve Dow for Art Guide Australia
'The Island delves into Ah Kee's hard-hitting critiques of Australia, with Campbelltown Arts Centre commissioning a new work which premieres in the show.' – Steve Dow, Art Guide
Vernon Ah Kee's The Island – Article by Steve Dow for The Saturday Paper
'The power of Vernon Ah Kee's latest show, The Island, lies in its ability to spotlight the experiences of First Nations people and refugees as the antithesis of privileged white Australian culture.' – Steve Dow, The Saturday Paper
Vernon Ah Kee: art should ask questions – Interview with Namila Benson on The Art Show
Namila Benson on The Art Show interviews Vernon Ah Kee, unpacking the questions within his practice that confront systems and structures in contemporary Australia from the perspective of his Aboriginal experience.
Deaths in custody: We've got to give it everything – Article by Lorena Allum in Artlink
"There are also moments when art practice and digital journalism intersect, not to create "political art", whatever that might be, but to deliberately repurpose the gallery as a space for the kind of reportage sorely missing in the mainstream media coverage of Aboriginal affairs. Vernon Ah Kee's incendiary 2012 work 'tall man' claims this space…" – Lorena Allum, Artlink
---
ITINERARY
| | |
| --- | --- |
| Cairns Art Gallery, QLD | 7 October  – 4 December 2022 |
| Perc Tucker Regional Gallery, Townsville, QLD | 17 December 2022 – 12 February 2023 |
| Artspace Mackay, QLD | 25 February – 15 May 2023 |
| Caboolture Art Gallery, QLD | August – 17 September 2023 |
| Lismore Regional Gallery, NSW | 30 September – 26 November 2023 |
| The Glasshouse Regional Gallery, Port Macquarie, NSW | 9 December 2023 – 28 January 2024 |
| Newcastle Art Gallery, NSW | 24 February – 12 May 2024 |
| Shepparton Art Museum, VIC | 24 May – 2 September 2024 |
| Bunjil Place, Narre Warren, VIC | 14 September – December 2024 |
| Bega Valley Regional Gallery, NSW | 14 December 2024 – 9 February 2025 |
| Canberra Museum and Gallery, ACT | 22 February – 18 May 2025 |
| Bathurst Regional Art Gallery, NSW | 31 May – 20 July 2025 |
| Blue Mountains Cultural Centre, NSW | 17 August – 13 October 2025 |
---
A Campbelltown Arts Centre exhibition presented nationally by Museums & Galleries of NSW.