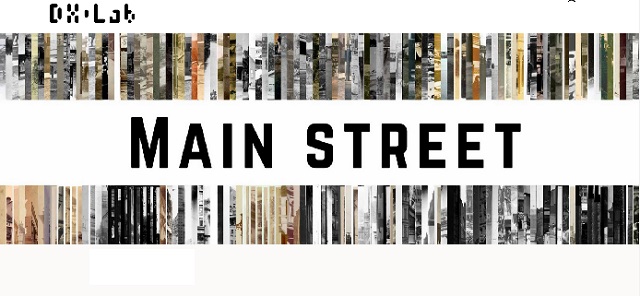 Main Street is a visually rich interface which offers users a city, regional comparison over time based on the main streets in Sydney and the Tweed region.
The project features 100 photographs of "main streets" from the Tweed Regional Museum Collection and visually aligns/splices them with 100 images of "Sydney main streets" from the State Library of New South Wales (SLNSW) collection. The visual snippets of each main street are organised chronologically from the 1880s to the 1950s, and tagged with common terms from both the Sydney Morning Herald and the Tweed Daily newspapers for the relevant decade. These were captured using Trove, the Australian online library database and search engine hosted by the National Library of Australia.
Currently in prototype form, Main Street explores how the State Library collection can be used in conjunction with a regional one to provide a digital experience of both collections.
The DX Lab at the SLNSW is an experimental research project using technology to develop interesting ways of exploring collections and their related data. Over the past 10 years the SLNSW has created substantial digital content by digitising manuscripts, artworks, photographs, oral histories, maps and written works. These document Australian and Oceanic heritage from discovery through to settlement, from the 15th century to the 21st century. The Lab works with these diverse digitised collections to explore new ways to make them accessible.
Paula Bray, DX Lab Leader, said: It is great to collaborate and experiment on a project using data from The Library's collection alongside another cultural heritage collection to see what can be built. We have been able to prototype something very quickly using three APIs and now think we can extend it to include other collections.
Erika Taylor, Tweed Regional Museum Curator, who spent two-weeks with DX Lab as the recipient of one of our Professional Development Mentorships, said: "Our collection is already online with Ehive, but we wanted to find ways to make it more useable, findable, and sharable. Tweed Regional Museum is a small organisation without a dedicated IT or web department, but we do have great content so it was important to see what could be done with it".