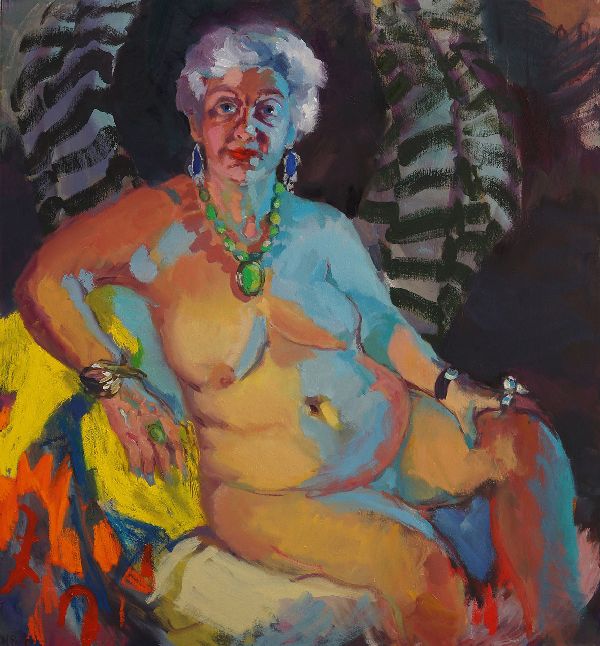 Esteemed judge John McDonald has awarded the $10,000 first prize in the inaugural Manning Art Prize – Naked and Nude 2013 to Wendy Sharpe from Erskineville, NSW for her oil painting titled Jill Mackay with a Mexican Cloth. Wendy's winning work and those of the other seven winners and 78 finalists will be on exhibition at Manning Regional Gallery until 10 November.
A crowd of 170 people gathered at Manning Regional Gallery on Saturday night to celebrate the gala opening and announcement of winners of the $16,000 Art Prize.
The winning works include:
Wendy Sharpe – Jill Mackay with a Mexican Cloth. Oil on canvas. Erskineville NSW
Robert Malherbe – Back of Nude. Oil on linen. Blackheath NSW
Andre Bowen – The Black Line (Nathalie in the studio at 35 weeks). Eureka NSW
Dagma Cyrulla – Urban Venus after Titian, Giorgione and Manet. Kensington VIC
Brian O'Dwyer – Sandal. Bronze sculpture. Forrest Lodge NSW
Claire Pendrigh Elliot – Skin Cosy. Hand knitted wool sculpture. Bunbury WA
The Packer's Prize was awarded to Naomi Grooteman of Kundle Kundle, NSW for her ceramic sculpture titled Materiality and the Feminine Cycle.
The painting will be donated to the Greater Taree City Art Collection by the competition organisers, the Friends of Manning Regional Art Gallery. The other winners each win $1,000 prizes which are non-acquisitive. The prize money is kindly donated by generous individuals, families and businesses from the Manning.
There is still one prize to go. The People's Choice Award 2013, sponsored by Helen and Barry Schlenker will be awarded on 10 November at the completion of the exhibition. Go and see it and cast your vote!