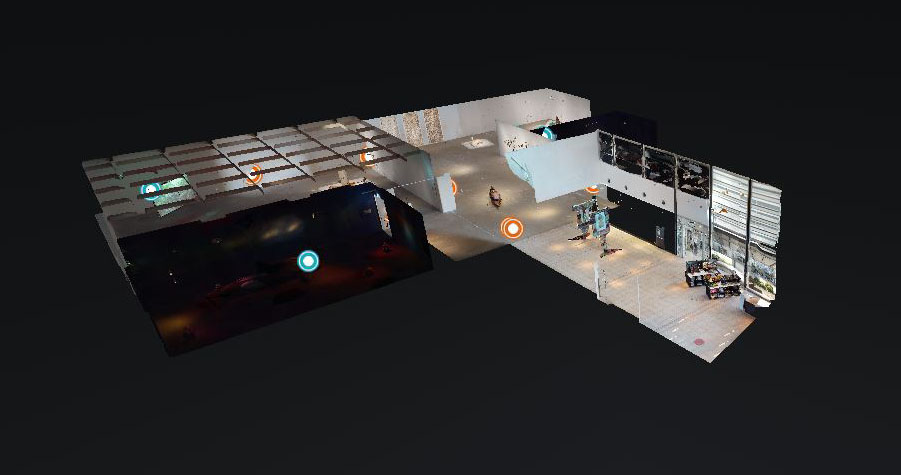 Several weeks into the current greater Sydney lockdown, our sector has again been forced to close to the public, with many moving their activities to the digital arena. We've compiled a list of exhibitions, programs, and experiences moved or specifically developed online. This list is by no means complete,  if your organisation has developed or leveraged your activities online, please let us know, by emailing comms@mgnsw.org.au.
Penrith Regional Gallery – Weaving Workshop – Online
21 August 2pm – 4pm
Create a beautiful coil vessel in this online weaving workshop inspired by their upcoming exhibition Line Work: Rivers of the Basin.
Suitable for beginners, this workshop will guide you through the process of weaving a raffia bowl and provide tips for incorporating natural and scrap materials from your home and garden. Prior to the workshop, participants will receive a carefully curated parcel with natural and hand-dyed raffia, a needle and printed instructions.
Find out more
Biennale of Sydney – Lockdown Love
The Biennale of Sydney has devised at-home activities based on participants in the 23rd Biennale of Sydney (2022).
Find out more
Museum of Contemporary Art – Richard Bell: You can go now
The largest Australian solo exhibition by artist and activist Richard Bell, bringing together over 30 years of the artist's practice.
Hear from the artist at the digital Aboriginal Embassy.
Find out more
Australian Design Centre – Isolate Make
Isolate Make: Creative Resilience in a Pandemic explores how creative practice has adapted to isolation, associated restrictions and production challenges in response to the tragic global events.
Watch the films made by: Glenn Barkley, Crossing Threads, Kathy Elliot, Benja Harney, Liz Payne, Donna Sgro, Lucy Simpson and Melinda Young.
Find out more
State Library of NSW – Sydney Elders
Immerse yourself in the history of Sydney through the personal stories of four of its Traditional Owners — Uncle Dennis Foley, Aunty Esme Timbery, Uncle Charles 'Chicka' Madden and Aunty Sandra Lee — and contemplate the complex histories of the city.
Find out more
Sydney Living Museums – History Reflected: Behind closed doors
In the lead-up to the opening of the History Reflected exhibition, Sydney Living Museums bring you History Reflected: Behind closed doors. Each week, enjoy a range of online exclusives, including free curator conversations via Zoom, sneak peeks behind the scenes, exhibition highlights and more.
Find out more
Australian National Maritime Museum – Explore online 
Play, create, learn and discover with fun-filled online games, activity sheets, print-out-and-make templates and more.
Find out more
Artspace – Virtual Tour – the pleasurable, the illegible, the multiple, the mundane
Explores the fabric of our relationships', from the interpersonal to the interplanetary. Featuring works by: Boris Achour, Jack Ball, Louise Bourgeois, Ellen Cantor, Carla Cescon, Laurent Grasso, Louise Haselton, Dylan Mira, Wura-Natasha Ogunji, Rachel Rose, Fannie Sosa and Jelena
View the virtual tour
S.H. Ervin Gallery – Salon des Refusés 2021 – virtual viewing
The Salon des Refusés was initiated by the S.H. Ervin Gallery in 1992 in response to the large number of works entered into the Archibald Prize which were not selected for display in the official exhibition. Go on a virtual tour with Jane Watters, Gallerie Director.
Find out more
Art Gallery of NSW – Hilma af Klint at Home
Discover the visionary artist disrupting art history and explore the exhibition Hilma af Klint: The Secret Paintings online with Hilma af Klint at Home.
Find out more
4A Centre for Contemporary Asian Art – I am a heart beating in the world: Diaspora Pavilion 2 – Virtual exhibition
Presented by 4A Centre for Contemporary Asian Art and International Curators Forum in partnership with Campbelltown Arts Centre, the exhibition delves into the navigations, imaginings and lived experiences of artists based in Australia, the UK and the Caribbean: Abdul-Rahman Abdullah, Kashif Nadim Chaudry, Lindy Lee, Leyla Stevens, Zadie Xa and Daniela Yohannes. The virtual tour is on view until 17 October 2021.
View the virtual exhibition

Blue Mountains Cultural Centre – In Cahoots – Virtual Gallery
In Cahoots: Artists Collaborate Across Country began when six Aboriginal art centres across Western Australia, Northern Territory and Victoria invited leading independent Australian artists to visit their community and work with artists to produce a significant body of new work through genuine collaboration and skills exchange.
View the virtual exhibition
Australian Museum – virtual tour of Spark
In this new showcase, learn about inventions and innovative approaches offering positive solutions to the climate crisis. See some of the technology and practices Australians are working on to reduce pollution, create affordable and clean energy, support the richness of plant and animal life, and ensure a livable future for all.
View the virtual tour

Museum of Human Disease – Virtual excursions 
Each virtual excursion includes a live 40 minute streamed presentation scheduled for your timetable, with seven days access to the Virtual 3D museum experience. To support the many regular visitors, for the period of lockdown in NSW, you are able to schedule a virtual excursion and pay only what your students/school can afford.
Book a virtual excursion
Bankstown Arts Centre – Online Exhibition- Time Pass
Time Pass explores the experience of 'passing time'. This exhibition offers us an opportunity to pause, slow down and pay attention to the moments that offer us joy and wonder, at the little things that we might take for granted in our everyday lives.
Find out more
Newcastle Art Gallery – KILGOUR PRIZE 2021 Winner Announcement – Livestream
Winner Announcement on Friday 13 August, 6pm. Tune in via the Gallery's Facebook and Instagram to hear Lord Mayor of Newcastle, Councillor Nuatali Nelmes announce the winner of the $50,000 prize.
Find out more
Casual Powerhouse Arts Centre – Digital Program
With Sydney in lockdown, the Casula Powerhouse team have been working behind the scenes to deliver a multifaceted virtual arts experience. There's a whole range of things to enjoy – from virtual museum tours to virtual workshops, free film screenings, cooking tutorials and more.
Find out more
Anzac Memorial – Virtual Exhibitions 
The RAAF Centenary Exhibition marks the centenary of the Royal Australian Air Force (RAAF). Per Ardua Ad Astra is the RAAF's motto and a literal translation, from the Latin, is: 'through adversity to the stars'. The exhibition uses personal stories of individuals to reveal the broader lived experience of RAAF personnel over the span of a century.
Find out more
1945: From Hot War to Cold War remembers the last year of the Second World War, 75 years on. Using the three principal victory celebrations VE Day, VP Day and VJ Day we examine the experience of Australians in the final phases of the war in Europe, in the campaigns in New Guinea and Borneo, Australia's role in post-war Asia and the recovery and return to civilian life of Australian service personnel and the domestic wartime economy.
Find out more
Liverpool Regional Museum – Virtual Exhibitions 
Resonances: Objects, lives and stories of Liverpool
Objects shape who we are, the people we engage with, our attachment to place, our values and ideas. Resonances takes you on a journey to discover Liverpool's heritage through its collection of donated objects, unifying a diversity as an eclectic assembly of artefacts and oral histories.
Ray Hely: An Engineer's Eye 
Liverpool 1971 – 1993
Ray Hely (b 1930) was a Senior Civil Engineer employed by Liverpool City Council from 1971 to 1993. His photographic skills were recognised by Council with an initial request to photograph Liverpool City Council's 1971 celebrations, which included the Festival of Progress. This informal commission grew into a rare and extensive photographic archive, films and industrial heritage artefacts, which he salvaged from Liverpool Powerhouse, now Casula Powerhouse Arts Centre.
Find out more
Maitland Regional Art Gallery – Online Program 
While its doors are closed, Maitland Regional Art Gallery has plenty of online offerings, including virtual tours, art activities for the family, artist's playlists, exhibition videos and more.
Find out more
Manly Art Gallery & Museum – MAG&M Online
Enjoy a growing selection of MAG&M's films on art, exhibitions, recent catalogues, and creative learning opportunities. You can also look through stories and highlights of MAG&M's extensive collections.
Find out more
Boomalli Aboriginal Artists Co-operative  – Saltwater Freshwater Exhibition – Online
Boomalli Aboriginal Artists Co-operative has partnered with Saltwater Freshwater Arts Alliance for an exhibition featuring works by Aboriginal Artists from Worimi, Biripi, Dunghutti & Gumbaynggirr Nations.
Saltwater Freshwater is a biennial art award and contemporary cultural objects exhibition that was established in 2017, and continues to provide a valuable platform for Aboriginal and Torres Strait Islander artists from the Mid North Coast Region.
Find out more