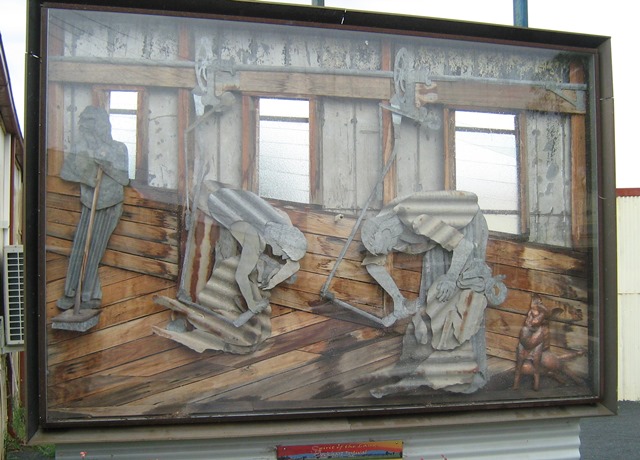 The final round of 2013 Volunteer Initiated Museum (VIM) Grants has been completed and we're happy to announce the 22 grant winners.
The majority of Small Grants (up to $2000) awarded were for the provision of storage materials, collection management databases and display cases with several significant conservation projects funded.
The Greens Gunyah Museum in Lockhart received funds to conserve a pastoral map which tells part of an important story about the character of rural settlements as far back as the 1840s and the changing nature of landuse. The paper and calico-backed map will be sent to Conservator Kim Morris at Art and Archival for cleaning and reinforcement. The map is similar to those used in primary schools in geography lessons of the past – stored rolled around its wooden rods and unfurled for display. The conservation treatment is critical for its long-term preservation.
The Development Project Grants (up to $7000) were awarded for exhibition development, strategic planning and for professionals to assist with skill development and collection care.
Willoughby Museum received a Development Project Grant to assist them in redeveloping two of their permanent exhibition spaces. The exhibitions will focus on Shaping Willoughby and to develop professionally printed interpretive panels and an exciting new documentary about the early settlement and industry of the Willoughby region.
Here are some quick stats to whet your appetite for applying this year:
22 of 43 applications were successful
$51,436 allocated
The funds will support the work of an estimated 585 volunteers across 21 local government areas in 11 regions of NSW.
Congratulations everyone!
Read on for the complete list of the VIM Grant winners for 2013.
VIM Leg-up grant is currently open.
VIM Skills Initiative grant is currently open.
VIM Development Project Grants – up to $7000
Australian Scout Museum – Strategic Plan development
Deniliquin Historical Society Museum – capacity building and collection care
Murrurundi Museum – Significance Assessment
Tongarra Museum – capacity building and documentary film development
Willoughby Museum – exhibition development
VIM Skills Initiative Grants – up to $5000
Bathurst Historical Society Museum – MOSAiC database training
Goulburn Historic Waterworks Museum – MOSAiC database training for ten local museums and galleries
Murrurundi Museum – Textiles documentation and conservation workshop for Upper Hunter museums
Museums Australia: Central Tablelands Chapter – Significance Workshop
VIM Small Grants – Up to $2000
Australian Country Music Hall of Fame – archival hat boxes
Great Lakes Historical Society Museum – construction of display cases
Greens Gunyah Museum – conservation treatment
Illawarra Museum – archival and textile boxes
Lawrence Museum – textile storage shelving and materials for outdoor vehicle storage
Lithgow Small Arms Factory Museum – exhibition development
Lithgow State Mine Heritage Park and Museum – exhibition development
Maclean Bicentennial Museum – costume storage boxes
McCrossin's Mill Museum – collection management database
Morpeth Museum – interpretive panels for exhibition
Moruya Museum – textile storage boxes
Mullumbimby Museum – conservation treatment
Museum of Walcha District Historical Society – textile storage boxes and mannequins
Nambucca Headland Museum – signage purchase
Narromine Aviation Museum – LED lighting upgrade
Nowra Museum – storage shelving
Old Courthouse Museum, Batemans Bay – AV equipment for exhibition
Port Macquarie Historical Museum – metal shelving for textile storage area
Rockley Mill Museum – MOSAiC database
Snowy Scheme Museum – equipment for the upkeep of vehicles in the collection
Snowy Scheme Museum – outdoor lighting
Sulphide Street Station Railway & Historical Museum – posters for public program display
Thredbo Ski Museum – MOSAiC database
Tinonee Museum – showcases
Tinonee Museum – archival materials
Wyalong Museum – storage shelving cabinets
Wymah School Museum – display cases
Yamba Museum – exhibition Development
VIM Leg Up Grants – Up to $500
Clyde River & Batemans Bay Historical Society – Significance Assessment workshop attendance
Dunera Museum – Access to Funding event attendance
Fort Scratchley Historical Site – Certificate IV Museum Practice Course at Newcastle TAFE for curator
Griffith Pioneer Park Museum – Access to Funding workshop participation
Golden Memories Museum – Oral histories and the digital age workshop attendance
Golden Memories Museum – MOSAiC database training
Gulgong Pioneer Museum – MOSAiC database training
Hay War Memorial High School Museum – IMAGinE awards event attandance
Holbrook Submarine Museum – Standards Mid Program Workshop attendance
Holbrook Submarine Museum – Standards Debrief and Celebration event attendance
Kempsey Museum and Cultural Centre – IMAGinE awards event attendance
Mid North Coast Maritime Museum – IMAGinE Awards and the Regional Stake holders Forum attendance
Tenterfield & District Historical Society – Royal Australian Historical Society Regional Conference attendance
Wollondilly Heritage Centre – Newcastle TAFE for Cert IV Museum Practice course
Yamba Museum – Connecting with the History Curriculum workshop hosting costs
Yamba Museum – IMAGinE Awards event attendance
Yeoval Historical Museum – MOSAiC database training