M&G NSW is pleased to report that two new exhibitions have started their touring programs. After many months of COVID-related gallery closures, rescheduling and logistical challenges, we are particularly proud to be able to bring high quality and thought-provoking art to regional areas across NSW and beyond. A big and sincere thank you to all the artists and hosting gallery staff who went above and beyond to get these exhibitions up and running during such uneasy times.
Just Not Australian
On 18 September, Just Not Australian opened at Tweed Regional Gallery & Margaret Olley Arts Centre, the first of ten venues on its tour. The exhibition presents work by 20 Australian artists at the forefront of national debate and practice, whose works deal broadly with the origins and implications of contemporary Australian nationhood. Showcasing the common sensibilities of satire, larrikinism and resistance so as to present a broad exploration of race, place and belonging, Just Not Australian interrogates what it means to be Australian at this challenging point in time.
The exhibition's tour kick-off in 2020 also coincides with the 250th anniversary of Captain Cook's first voyage to Australia, a timely moment to interrogate Australia's colonial history and the complexities of presenting and representing national identity.
Just Not Australian was curated by Artspace and developed in partnership with Sydney Festival and M&G NSW. The tour was made possible with Create NSW Project Funding and the Gordon Darling Foundation, the latter of which enabled the production of a printed catalogue for the tour.
To view upcoming tour locations, interviews with artists and the curator, and more info about the exhibition, see the Just Not Australian page here. A suite of resources entitled Cultural Mediation: engaging audiences with sensitive topics in art will also be launching soon; watch this space!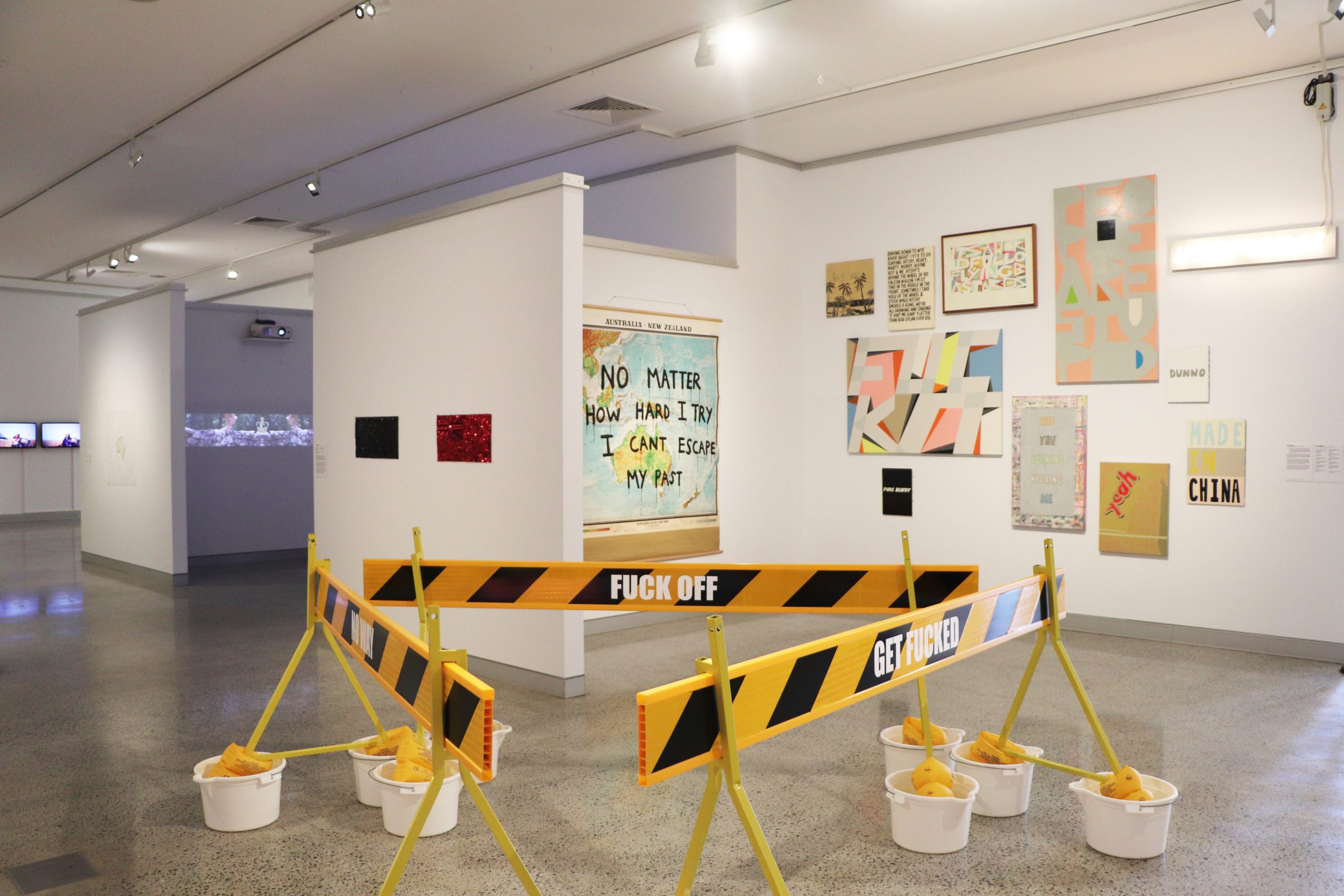 Just Not Australian was curated by Artspace and developed in partnership with Sydney Festival and Museums & Galleries of NSW. The exhibition is touring nationally with Museums & Galleries of NSW.

---
Material Sound
Sound is often thought of as immaterial and while perpetually present – there is no such thing as true silence – it is frequently neglected. Curated by Dr Caleb Kelly and developed by the Murray Art Museum Albury (MAMA), Material Sound features newly commissioned work by artists Vicky Browne, Pia van Gelder, Caitlin Franzmann, Peter Blamey, Vincent and Vaughan Wozniak-O'Connor and Ross Manning, whose work and practice investigates sound and materials within art and performance.
Material Sound has emerged from Dr Caleb Kelly's ongoing engagement with sound in contemporary practice. Over a 20-year period, Kelly has developed an acute sensitivity to how sound shapes our experience of art. His research, writing and exhibition projects encourage us to move our attention beyond the visual to embrace a more complete bodily experience of the work we encounter in art spaces.
On 29 September, Material Sound will open at Manning Regional Art Gallery in Taree, the first of nine venues on its touring schedule. The tour was made possible with significant funding from the Australia Council for the Arts.
To see the venues where Material Sound will be on display, access the Education Resource, and see interviews with the curator and artists, see the Material Sound page here.
A Murray Art Museum Albury exhibition, curated by Caleb Kelly and presented nationally by Museums & Galleries of NSW. This project has been assisted by the Australian Government through the Australia Council for the Arts, its arts funding and advisory body.

---
M&G NSW Touring Exhibitions
Between 2016-2019, M&G NSW toured 17 contemporary art exhibitions across 60 venues, reaching over 500,000 people. You can see our current touring exhibitions here and those in development here. If you're interested in hosting a touring exhibition at your gallery or have any queries, get in touch.