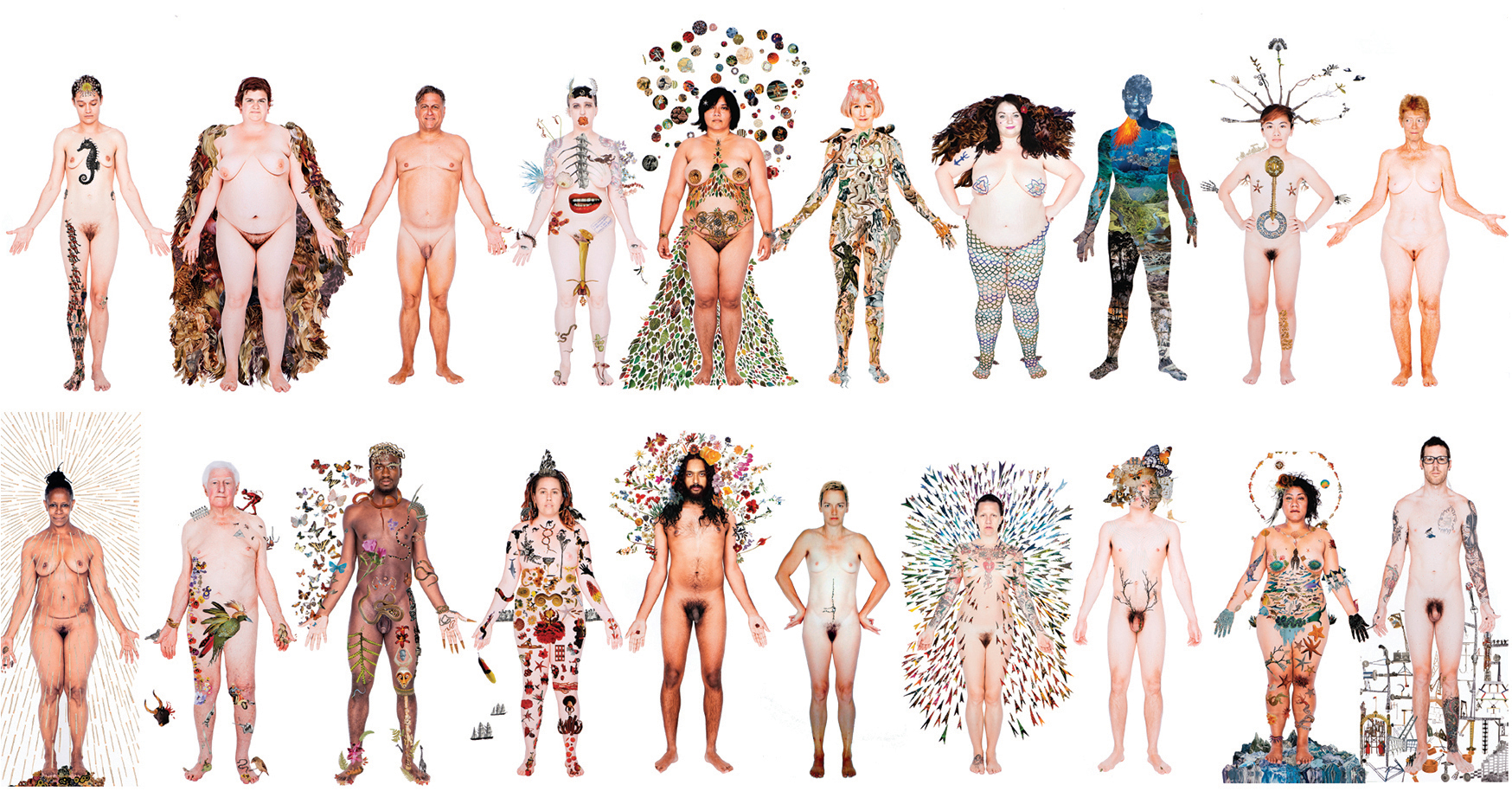 We are sad to say goodbye to the 20 amazing individuals celebrated in Deborah Kelly's No Human Being Is Illegal (in all our glory), we feel we have come to know them through touring them to 12 regional galleries over the last three years.
A major commission by curator Juliana Engberg for the 19th Biennale of Sydney in 2014, No Human Being Is Illegal (in all our glory) was a result of collaborations between the Sydney-based artist and 70 creative participants over many months. The final work emerged as a suite of 20 life-sized collaged portraits celebrating the individual, exploring ideas of discrimination in all its manifestations and highlighting racial, sexual and religious prejudices that exist in society today.
At each regional tour venue these life-sized nude portraits were met by audiences with surprise and curiousity, evolving into deep discussions around issues of community, family, love and acceptance. One gallery remarked: 'The exhibition exceeded our expectations. We were prepared for the community to be shocked by the works however there was instead an overwhelming appreciation and gratitude for the messages in the works and the words of Deborah at the opening'.
As in real life, the portraits in this exhibition evolved and changed over the duration of the tour. Kelly worked at many venues with local communities developing the work by adding collage in line with the subjects' personal interests, attributes and vision.
Perhaps the most poignant and intimate evolution to the work came at the end of the tour. During a residency at Noosa Regional Gallery Kelly enlisted local volunteers to help re-work the portrait of Jeremy Anderson, reflecting the significant shift in Jeremy's physical and cultural identity since the beginning of the project. When Jeremy was initially photographed for No Human Being Is Illegal (in all our glory) he was known as Jemima Jane Anderson. Over the duration of the tour Jeremy has transitioned to reflect his internal sense of gender as well as reconnecting with his Indigenous ancestry and identity.
This celebratory reworking of Jeremy's portrait then re-joined the rest of the suite at Noosa, with Gallery Director Michael Brennan echoing the sentiments many tour venues in saying "We are thrilled to have secured this ground-breaking exhibition for Noosa. The concept, scale and ambition are all impressive. Nothing compares, however, to being in the same room as these beautifully intricate representations of shared humanity and celebrated individuality."