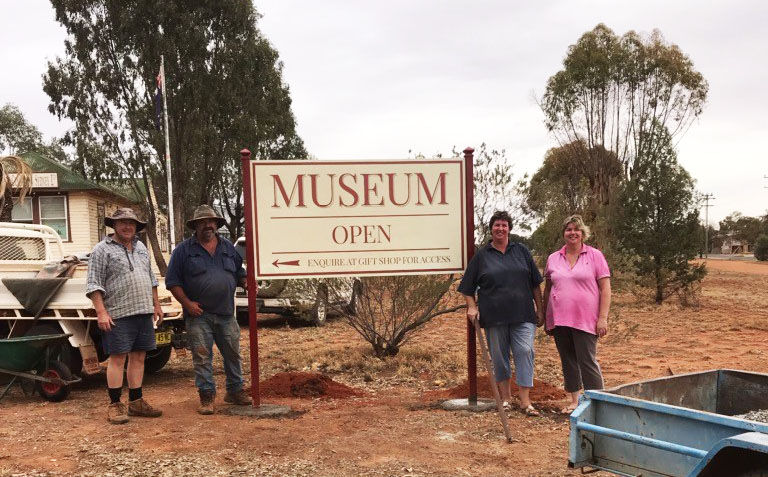 Museums & Galleries of NSW would like to congratulate all the successful applicants in the first round of the Volunteer Museum Small Grants for 2019.
These grants are designed to provide assistance to volunteer community museums and Aboriginal Keeping Places in NSW. Funded by the NSW Government through Create NSW and administered by Museums & Galleries of NSW, the program is designed to provide access to funding, in addition to providing experience in the grant application process.
In this round a wide range of projects have been funded, demonstrating once again the commitment of our volunteer museums to best practice, as well as their imagination and innovation in caring for their collections and their visitors. In particular,  we had a large number of projects focused on collection care, including storage and conservation, as well as many focused on showing their collections in the best possible way for their visitors with new methods of displaying collections.
The successful applicants were:
Walcha Pioneer Cottage & Museum
$1,817 – Purchase of textile boxes and acid free tissue paper to store a collection of historical clothing.
Iluka Museum
$1,110 – Purchase of archival resealable poly/plastic pockets and archival albums/boxes to permanently store and preserve historical paper/textile items, photos and documents.
Quambi Schoolhouse & Stroud Courthouse Museum
$557 – Purchase of archival material for storage of photographic/document collection.
Yamba Museum
$1,348 – To replace the outdated, wires and hooks with a contemporary hanging system from Arcus Art.
Lawrence Museum
$1,573 – Purchase of new photographic equipment to meet best practice requirements for recording, display and storage.
Nowra Museum
$2,000 – Purchase of modern lockable cabinets to replace existing display cabinets.
Land of the Beardies – History House Museum
$1,729 – Purchase of a museum-standard, child-safe (tempered glass, rounded edges), glass display cabinet.
Thredbo Alpine Museum
$1,927 – Purchase of Touch Screen Hardware & Software for use in the Museum.
Moruya Museum
$704 – Purchase of materials needed to stabilise the condition of the 'Flamboyant Font' as well as the removal of possible lead-based paint and the manufacture of effective, attractive interpretation.
Oberon Museum
$1,463 – Purchase of a toughen glass protective barrier around a kiln fired and hand painted pottery streetscape of Oberon as it was in the 1930s.
Jindera Pioneer Museum
$773 – To engage a photographer to assist with digitising the museum machinery collection when it is being rehoused
Montreal Goldfield
$623 – Development of two interpretative panels to hang on the wall of the Montreal Goldfield Heritage.
NSW Lancers Memorial Museum
$1,800 – Digitisation of Trooper J D Hobb's Light Horse Gallipoli Diary.
Round Two of the 2019 Volunteer Museum Grants are now open 
If your volunteer-run museum is interested in applying for Small Grants, Project Development or Leg Up Grants, please contact Emily Cullen, Museum Programs & Collections Coordinator by email at emilyc@mgnsw.org.au or by phone 02 9339 9913.
Closing – 15 September 2019
The Volunteer Museum Grant Program is a Create NSW devolved funding program, administered by Museums & Galleries of NSW  on behalf of the NSW Government.