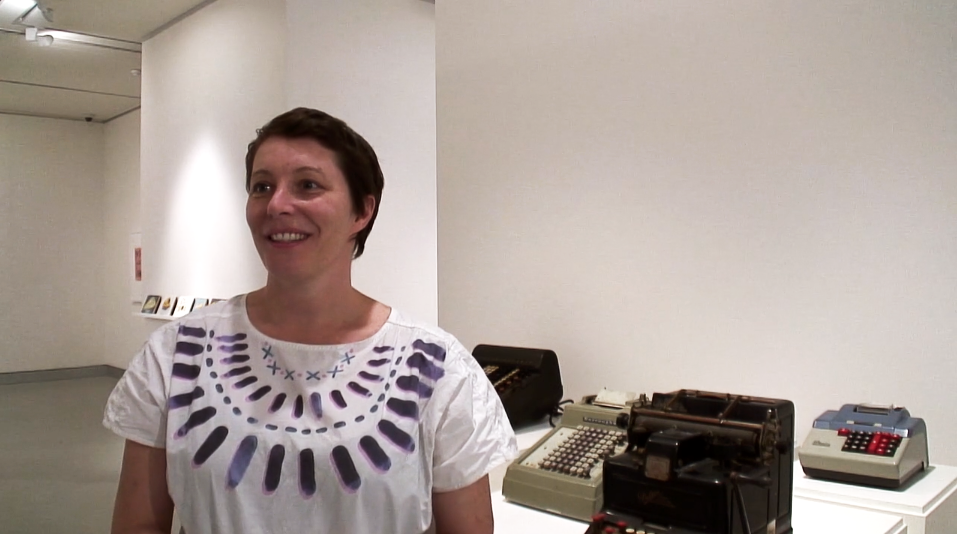 SHOWCASE highlights the contemporary artists and curators we work with and whose work you will see in galleries and museums across NSW and beyond in the near future.
The Curators' Department is an independent creative agency established to bring artists and audiences together in innovative, direct and flexible ways. Founded in 2015 by Directors Holly Williams & Glenn Barkley and Associate Curator Ivan Muñiz Reed, The Curators' Department undertakes a broad range of activities across the sector, anchored in close working relationships with artists.
Having worked on projects across contemporary arts, design, architecture, archival collections, science, time-based and experimental installation practices, curator Holly Williams has a focus on unpicking overlooked aspects of contemporary living.
Rachel Arndt, M&G NSW's Gallery Programs and Touring Exhibitions Manager spoke with Holly about her recent project, Creative Accounting, currently on show at Albury LibraryMusuem, and touring to seven galleries and museums in NSW, QLD and VIC.
RA: Money is a curious concept, having no value other than the illusory. Yet it is a precise measure of value and worth. Creative Accounting looks closely at money, both as a physical object as well as the key to our global financial system. Why do you think it's important at this time to explore issues around money? And why through the contemporary arts?
HW: It's not surprising that many artists have made work about money and its connection to the art world. My initial interest was in bringing together a collection of artworks and ideas that went beyond that, to create surprise and interest in a subject that is either considered to be incredibly boring and dry, or impenetrable and frightening.
The economic system is something that is so pervasive it's almost overlooked, even though it's a construct we all tacitly agree to participate in. I was struck by how little reflection there is on this day-to-day—like fish that can't see beyond the water they swim in. I think Melanie Gilligan's video in the exhibition is almost the expression of a zen koan in this regard. She has created an embodied figure of the global economy as a middle-aged woman having a nervous breakdown, bursting the bubble of habitual understanding.
RA: The artists in Creative Accounting deal with the topic in broad ways – some examine the personal, some the design and aesthetics of currency and others the historical. What interested you about particular artists in this exhibition?
HW: We are at this moment of the demise of money as we commonly think of it—banknotes and coins—so I was keen to bring together artists who are engaged with this materiality. As a visual device used to inspire trust, when we look to banknotes for example we are engaging in a rich history of design, of propaganda and of technological advancement. Artists such as Fiona Hall, Andrew Hurle, Abdullah M I Syed and Ryan Presley have made works in this area whereas Ian Burns, Penelope Cain and Daniel McKewen have looked at the economy itself.
RA: Creative Accounting also includes a number of loans from institutions such as the Museum of Applied Arts and Sciences (MAAS) and Westpac banking archives. How does this historical material connect to the work of contemporary artists?
HW: The objects from MAAS and Westpac highlight the connections between historical and contemporary preoccupations around money, and this is a thread I wanted to explore on the tour. As soon as you scratch the surface you get a sense of the way commerce has developed in many of these towns. Several of the local galleries in the tour are connected with local museums and libraries, and many of these museum collections have sprung from historical societies, bequests from local families or deceased estates, and contain quite idiosyncratic objects. Some of the artists have applied a kind of historical sleuthing to their practices so there is a nice connection there. Collectively, the contemporary art and historical objects serve to underscore the creative drive that pervades all aspects of our lives.
RA: The exhibition is touring to a total of seven regional galleries and museums across Australia, what do you hope audiences will take away from their visit?
HW: This exhibition breaks down some of the silos that can be placed around exhibition content—I've deliberately chosen to combine work by regional, metropolitan and international artists as well as loans from big museums and small local collections. I focused on creating an exhibition that is approachable and visually pleasurable as well as thought-provoking. By recontexualising objects from local historical collections into a gallery setting I'm hoping to encourage new audiences to meet the complex ideas in contemporary art (and finance for that matter) with confidence and curiosity.
RA: The Curators' Department seems to be quite a unique model. Can you tell us more about this and how it works?
HW: Glenn, Ivan and I had all come from institutional galleries or organisations, we saw the potential that working together would bring that went beyond being individual freelance curators. Together we embody a unique combination of skills and experience that enables us to deliver a wide range of curatorial and arts advisory services, from exhibition development and production, to art consultancy, valuations and publishing. Our clients include Australian artists and their estates, private collectors, regional galleries, private companies, large public institutions and arts festivals.
RA: Where can we find out more about The Curators' Department and your upcoming projects?
We have seven projects on show in September-October alone! As well as Creative Accounting's next iteration, At the Junction of Two Rivers will culminate in an exhibition at Wellington, NSW; Jeff Khan of Performance Space and myself have co-curated Jon Rose: The Museum Goes Live as part of Liveworks; my colleague Glenn Barkley has curated Objects in Space: Artists in the Garden at Peacock Gallery & Auburn Arts Studio and Auburn Botanic Gardens and The Archipelago of Ramesh with artist Ramesh Mario Nithiyendran as part of the Kuandu Biennale in Taiwan; the exhibition Ajit Ninan: Drawing the world's largest democracy will open in Canberra and Melbourne; and our co-founder and Associate Curator Ivan Muñiz Reed will return from San Francisco to curate Yoshua Okón: Octopus at Artspace. Our website www.thecuratorsdepartment.com has all the details.
Click here more information on Creative Accounting and the regional tour.
Creative Accounting is an exhibition curated by Holly Williams, in conjunction with Hawkesbury Regional Gallery and toured by Museums & Galleries of NSW.
This project is supported by Arts NSW's Curatorial Support Initiative grant, a devolved funding program administered by Museums & Galleries of NSW on behalf of the NSW Government. This project has been assisted by the Australian Government through the Australia Council, its arts funding and advisory body.