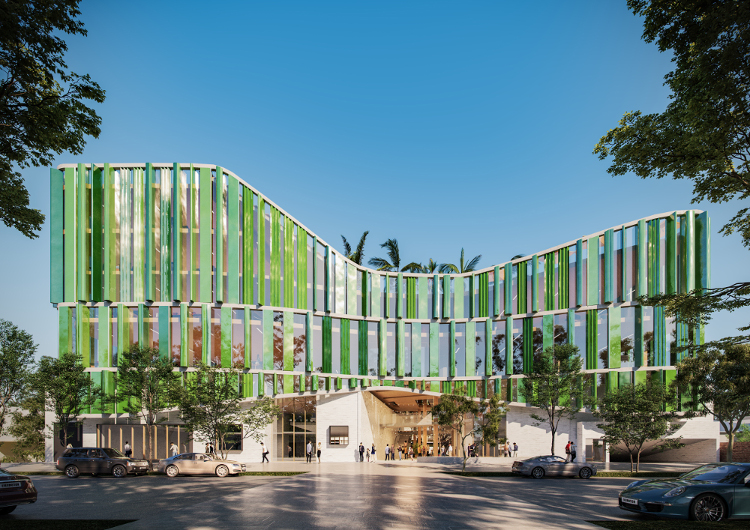 Coffs Harbour City Council has released a preliminary Schematic Design for the proposed Cultural and Civic Space for the Coffs Harbour region.
Located on the ground floor, the expanded gallery and museum space will provide easy access for visitors. Separated from the library entrance by a pedestrian space or internal street, visitors will flow comfortably to and from these new ground floor spaces as well as the anticipated café and gallery shop.
The new library space will expand across three floors, with the main entrance on the ground floor. Level one of the library will incorporate the makerspace and digital studio, with level two library facilities across the entire floor. A public space on level three is open to the sky and is designed for small events, such as council meetings, smoking ceremonies and other community functions.
Coffs Harbour Mayor Councillor Denise Knight says the release of this unique building design is a welcome step forward, providing more space for our central library, regional gallery and museum, and centralised council facilities to bring life, vibrancy and economic benefits to the Heart of the City.
"This preliminary schematic design has been produced from the consultation with Coffs Harbour residents and key stakeholders in 2018 which indicated they were seeking an environmentally sustainable and efficient 'statement' building that reflects the place we all call home," she said.
The design team from architects BVN has been working on a preliminary schematic design that considers the elements from previous engagement activities that provided council with a very clear picture about what the community were looking for in this facility.
This phase of the project has seen key stakeholders working with the design team to help develop draft schematic designs that include the elements to deliver that earlier vision.
With an overarching theme of 'All Welcome', this preliminary schematic design has six strong principles that support the decision-making processes for the building design. Each building element will also match the desired experiences to gather, create and discover in this reimagined space to combine arts, community and culture.