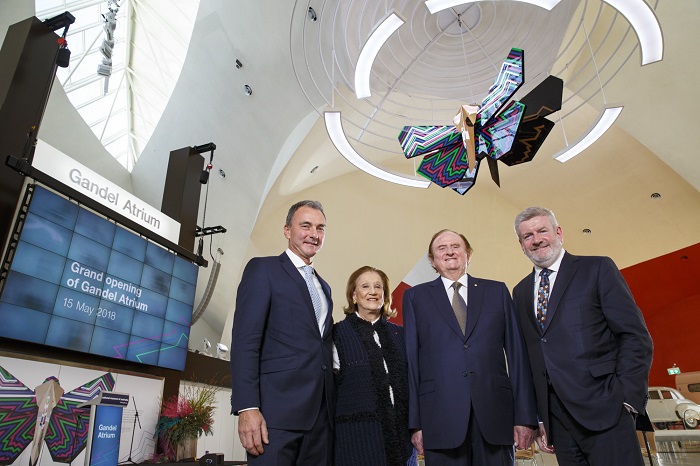 Prominent philanthropists John Gandel AC and Pauline Gandel have donated $1.5 million in a partnership with the National Museum of Australia, Canberra to support a $6.5 million Defining Moments Digital Classroom initiative to take Australian history into classrooms nationwide.
The National Museum's Defining Moments project explores key moments which have shaped Australian culture and identity.
The Defining Moments Digital Classroom will allow students to explore this history via interactive smart boards, iPads, videos, virtual tours, 3D scans and trivia quizzes.
Gandel Philanthropy has generously contributed $1.5 million to the initiative, in addition to the funding from the National Museum and the Federal Government. In acknowledgement of this gift the National Museum's Main Hall is being relaunched as the Gandel Atrium.
The gift from Gandel Philanthropy has also assisted with the acquisition of a contemporary aerial sculpture Bogong Moth by Indigenous artist, Reko Rennie. The neon coloured artwork is suspended from the Atrium dome.
This is the largest philanthropic gift the National Museum has ever received and it is the first time the National Museum has instituted naming rights in acknowledgement of a gift.
National Museum director Dr Mathew Trinca said that the support of John and Pauline Gandel was critical to ensuring this project became a reality.
The Defining Moments Digital Classroom will be aligned to the national curriculum and made accessible to classrooms nationally from 2020.