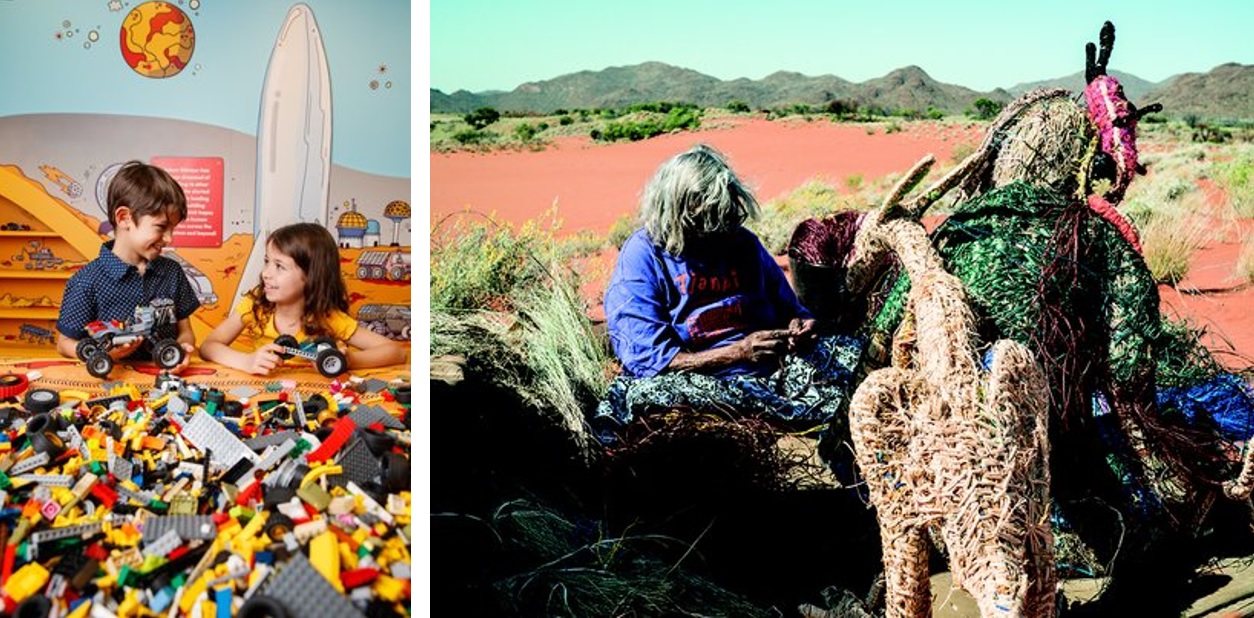 Looking for something new and exciting to fill in a newly made gap in your schedule? Or just looking to create new options for your audiences? Now is a great time to see if there's a new and exciting tour available on the National Exhibition Register (NER). Australia's touring exhibition portal, the NER, brings together a range of options for exhibitions of all sizes and capacities from across the country.
Why use the NER? And what is it?
The NER provides free promotion and access for organisations across Australia to enrich their programs and reach new audiences by offering a register of available exhibitions and touring shows. The NER is supported by the National Exhibitions Touring Support (NETS) Australia, a national network of arts organisations who support and deliver high-quality arts programming to regions across the country.
The NER allows Australian organisations and artists to promote their touring exhibitions to venues nationally. If you would like to add your touring exhibition to the register you can submit it here.
How to get started?
The NER is designed to be user friendly – just search and sort using the filters of cost, size or dates and you'll be able to find available options from across the country that meet your needs. Once you've had a look around, you'll find all the information you need about the shows that most interest you, from artist and curator information, to accompanying resources, any necessary costs, and the contact details needed for you to book in your leg of the tour.
Exhibition Highlight:

1X4  – If you're looking for an all-around people pleaser, the 2021 MAGNA award winning 1X4 is an innovative, collection-rich, social history exhibition exploring the multiplicity of narratives each object can tell. Developed by Newcastle Museum, the show is elegant in design with a flexible layout, COVID safe options, low rental fees and reasonable environmental controls, 1X4 allows regional museums in NSW to highlight multiple histories, a diverse historical collection and the art of museology in a small exhibition gallery.
Each object in this exhibition tells four distinct stories. You can listen to or read each of the four stories … or some … or none and just enjoy the beauty of the objects. Highlighting the way in which museums use objects to tell stories and objects can tell multiple stories from many points of view, this exhibition asks of both organisations and audience, 'So, who chooses the story? Which story is the truth?'
For the kids:
How Cities Work – recommended for children aged 2 to 8 years, this Sydney Living Museums exhibition has been developed in collaboration with illustrator and city fanatic James Gulliver Hancock, and is adapted from the bestselling book How Cities Work from Lonely Planet Kids. Enter an immersive cityscape full of magical, tactile experiences to discover how the city works. Peek inside buildings, duck underground, and explore the streets to find out what's going on above your head and beneath your feet. See and hear the city come to life with interactive animations, bustling sounds and something new to uncover on every street corner.
Other enticing options:
Lionel's Place – Lionel Lindsay from the Maitland Regional Art Gallery Collection – a touring exhibition presented by Maitland Regional Art Gallery (MRAG) of Lionel Lindsay works on paper from the Maitland Regional Art Gallery Collection. Available from June 2020 to December 2023. Lionel's Place consists of 136 art works and features Lionel Lindsay's finest etchings, wood engravings and watercolours. The works on paper are rich in visual texture, and depict scenes from abroad and closer to home, exotic and domestic animals and birds, and the lushness of gardens and floral abundance and portraiture.
On the Move – this interactive exhibition explores the evolution of transport and encourages imaginations to run wild. Created by Sydney Living Museums in collaboration with illustrator James Gulliver Hancock, On the Move takes visitors on a journey across Australia, discovering fascinating facts about different modes of transport and vehicles along the way.
Obsessed: Compelled to make – an Australian Design Centre exhibition which presents the work of 14 artists from across Australia, delving beyond the finished object, beyond the personality of the maker, into the fundamental conceptual framework of their creations. This exhibition explores the act of making through the framework of obsession – how it consumes us, carrying us along in its wake, colouring every aspect of our lives.