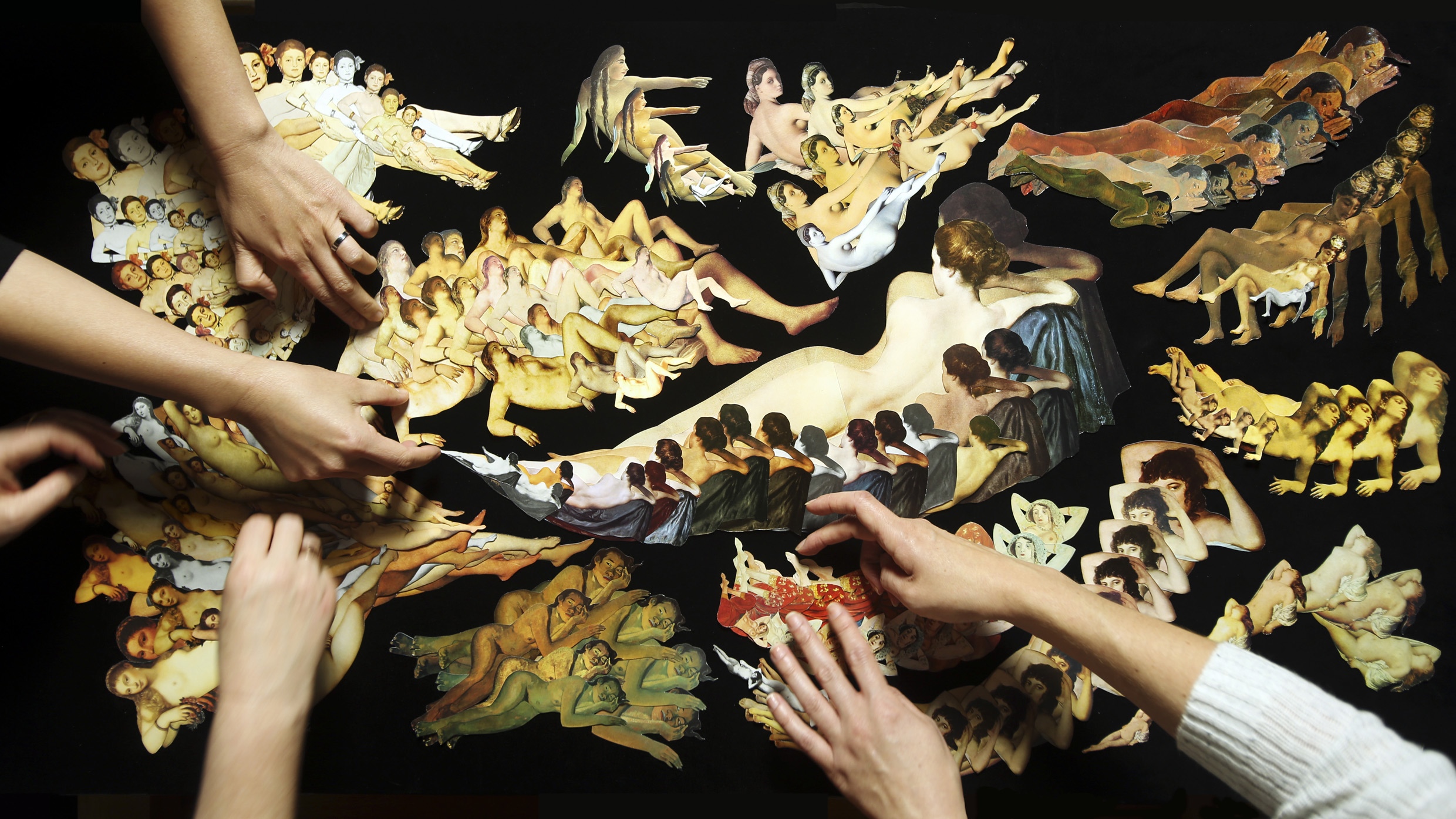 Moving Histories // Future Projections, has opened at its final touring destination, Grafton Regional Gallery.
The exhibition brings together some of Australia's leading female contemporary artists working across screen-based media including Mikala Dwyer and Justene Williams, Amala Groom, Deborah Kelly, Kate Blackmore and Jacinta Tobin, Joan Ross, Soda_Jerk, Angelica Mesiti and Caroline Garcia, and has been curated by Kelly Doley and Diana Smith of Barbara Cleveland.
"… the artists in Moving Histories // Future Projections adopt the role of historian, archivist and archaeologist, using the camera and the screen to excavate historical materials and reanimate archives"
– Diana Smith and Kelly Doley
Moving Histories // Future Projections is a dLux MediaArts exhibition toured by Museums & Galleries of NSW. The exhibition tour began at Toowoomba Regional Gallery in February 2017. From there, it went on display at Cairns Regional Gallery, Mosman Art Gallery, Blue Mountains Cultural Centre, Bega Valley Regional Gallery, Latrobe Regional Gallery, Lake Macquarie City Art Gallery, Broken Hill Regional Gallery, and Wagga Wagga Art Gallery before reaching its final destination in Grafton.
Throughout the 2.5 years on the road, Moving Histories // Future Projections has engaged, inspired and provoked thought for audiences Australia-wide. Writer Emma-Kate Wilson wrote about the tour for Un Projects, saying: 'the artists have constructed narratives that delve into issues that are at once complex and everyday; the roles that women play in our society. The bodies that play on the screen are underrepresented, still, in popular media: the older bodies; the working bodies; the colonised bodies.'
Amala Groom's work speaks of the endurance of Aboriginal culture through generations, despite the impact of colonialism, with an audience member from Bega Valley Regional Gallery revealing an emotional response: 'So wonderful and so inspirational. Thank you. So much humour and sadness. Amala's work is stark and powerful and wonderfully simple..'
Many of the artists in this exhibition also looked at what has been lost through what remains. Kate Blackmore and Dharug Elder Jacinta Tobin respond to the 'white-washing' of Aboriginal Histories with Ngallowan (They Remain), where Angelica Mesiti reimagines an endangered whistled communication from Turkey through sports whistles on a soccer field in Play. Moving Histories // Future Projections also looks at marginalised histories. Joan Ross speaks of the colonial desire to control land and resources in Colonial Grab, and Caroline Garcia asks who is in control of portraying cultural identity in Primitive Nostalgia, by superimposing herself into exoticised dance scenes from film.
Mikala Dwyer and Justene Williams's darkly comic film Captain Thunderbolt's Sisters draws out the female colonial histories within buildings on Sydney's Cockatoo Island, a loaded site for its past use as a convict prison and reformatory for girls. The stop motion animation collage LYING WOMEN by Deborah Kelly looks at the reclining female nude of occidental art history, whilst Soda_Jerk manipulate found Hollywood footage of female actors in The Time that Remains.
Insight into the exhibition and its feminist, historical and cultural undertones was shared on the road, with the curators and M&G NSW staff speaking at multiple openings. Artist talks and workshops also occurred throughout the tour, as well as galleries working with artists and educators in their own communities to draw out the exhibition's themes from a local perspective. Bega Valley regional gallery hosted a children's workshop, Movies for Newbies, which allowed participants to learn how to make and edit short movies utilising iPads; Broken Hill Regional Gallery invited the Art Gallery Cine Club Coordinator James Bourne to launch their show; and Lake Macquarie City Gallery hosted children's Saturday art classes inspired by the works in the exhibition. Local media also were very interested in the exhibition; a highlight being The Toowoomba Chronicle Newspaper's review titled 'Art Exhibitions engage viewer'.
Visitors have commented:
'Very thought-provoking and visually engaging' – Blue Mountains Cultural Centre
'Young visitors fascinated and absorbed with the video art.' – Latrobe Valley Regional Gallery
'Illuminating and enjoyable.' – Lake Macquarie City Art Gallery
'8 wonderful works – provocative, amusing, contrasting, very very engaging.' – Bega Valley Regional Gallery
'what a treat, so unexpected' – Toowoomba Regional Art Gallery
Moving Histories // Future Projections closes on 20 October 2019 at Grafton Regional Gallery. Museums & Galleries of NSW wishes to acknowledge the thought and effort put in by every venue on this tour to make it such a success. We would like to pay tribute to the vision of curators Kelly Doley and Diana Smith, and thank the artists for contributing such meaningful works to this exhibition. We would also like to acknowledge our partners for this tour, dLux MediaArts.