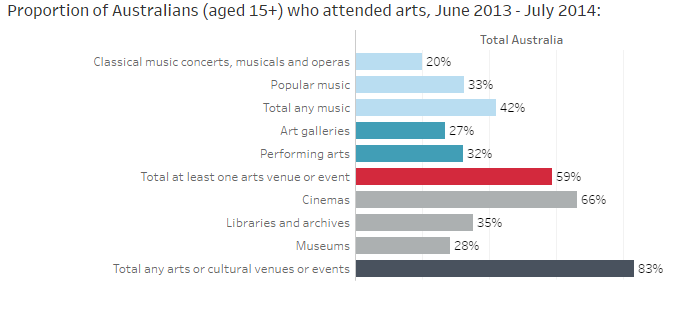 The Australia Council for the Arts has released a new online interactive dashboard that looks at attendance and participation with the arts at a local region level across Australia.
Australia Council for the Arts commissioned the Australian Bureau of Statistics (ABS) to prepare data using the smallest geographical area, Statistical Area Level 4 (SA4), to profile how people engage with the arts.
The Local Region Arts Engagement dashboard data reveals that:
– Museums and art galleries were most popular with ACT and Tasmania residents;
– ACT residents were by far the most engaged as audiences, with 91% attending arts or cultural venues or events, followed by Victoria at 86% and South Australia and Western Australia at 85%;
– 89% of residents in Cairns attended arts events or venues compared to 73% in Latrobe-Gippsland;
– More people in Parramatta (23%) created or participated in the arts compared to Sydney's Eastern Suburbs (18%);
– 47% of people in Warrnambool and South West, Victoria engaged in creating art compared to 28% in Mandurah, WA and 23% in Darwin.
View and compare your Local Region Arts Engagement data on the Australia Council for the Arts Research webpage.