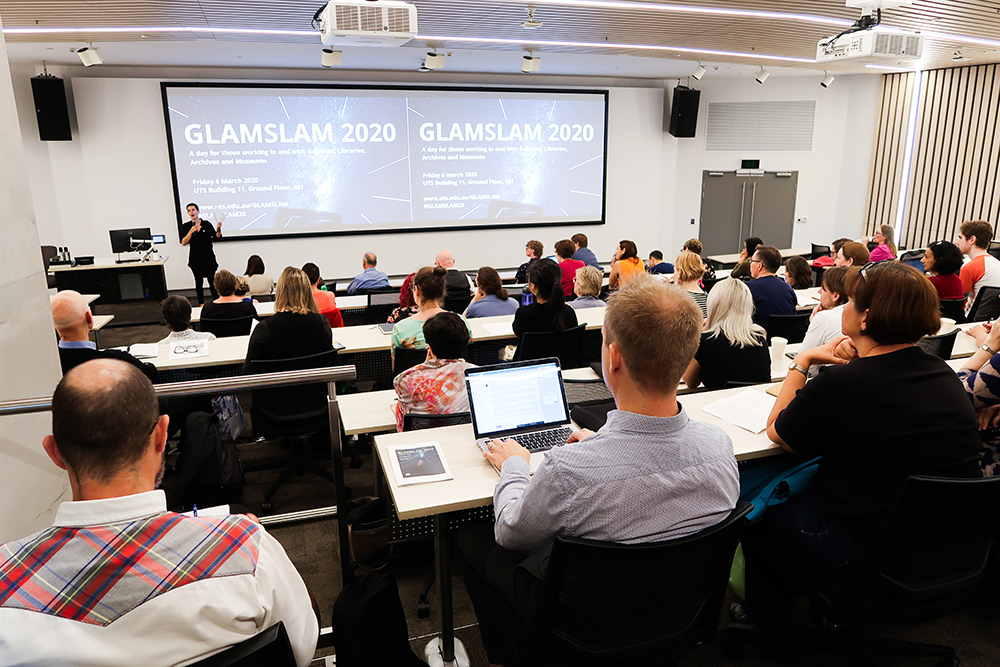 On Friday 6 March, the Australian Centre for Public History, UTS hosted GLAMSLAM 2020 – "a day for those working in and with Galleries, Libraries, Archives and Museums." The day kicked off with a heartfelt Acknowledgement of Country by UTS Elder in Residence Aunty Glendra Stubbs who stated "your work is important so keep on going every day."
The day was MC'd by the enigmatic and energetic Assoc Prof Tamson Pietsch (UTS) who welcomed attendees and introduced the keynote speaker Prof Heidi Norman (UTS). The talk, entitled Land Justice, Aboriginal Country and the Future of all Australians, opened with the 1993 map Corpus Australia by Ngarinyin Elder David Mowaljarlai which depicts the country as a body, with Uluru as the heart. Of the map, Prof Norman said: "it's a reconceptualisation of Country as a necessary step in how we think of climate change." Other topics presented in the keynote included the state of the Darling River as part of a much bigger issue of political economy and the effects this has had on the Wilcannia and Barkindji communities, and the 43,000 land claims yet to be assessed by the government. Prof Norman ended her talk with 2 proposals for action: firstly, that a totem (such as a bird or a tree) be gifted to all Australian children at birth to embed them "in a system of responsibility and connection" and secondly, in spirit of guerrilla activism, to "write 'with consent of the natives' on every surface we can find… start a conversation on what consent means… start being bold about what the nationhood project of Australia is." Some background on the phrase can be read here and listened to here.
Following a break, the first of six lighting talk rounds began with the theme of Collections and Collecting. Each presentation was short and punchy; speakers were only allowed approximately 5 minutes each. Jon Steiner and Helen Meany (ABC) spoke on their Retro Focus project which unearthed the ABC's archives; Toby Hudson (University of Sydney) spoke on GLAM needs Wikidata and Wikidata needs GLAM; Janet Villata (City of Sydney) spoke on the new Archives and History Resources catalogue – "one million items and counting;" and Renzo Benedet (Lithgow Small Arms Factory Museum) spoke on museum regulations.
The following session, themed GLAMtech, began with entertaining insights in Adventures in Regional Digitisation by Nerida Little (Coffs Harbour Regional Museum), followed by a presentation by Evanthia Samaras (Animal Logic Academy, UTS) on the challenges with preserving digital video effects (VFX). Liz Stokes (Australian Research Data Commons) presented on teaching data skills to GLAM workers, and Keir Winesmith (UNSW Art & Design) presented on Sydney's Cultural Data.
After a quick "GLAMSLAM wave," session 3 began, focusing on Historical justice and truth-telling. Stephen Gapps (History Council of NSW)  presented on Resistance Wars and Mariko Smith (Australian Museum) presented on the upcoming exhibition Unsettled, a First Nations-led right of reply to the 250th anniversary of James Cook's voyage.
After the lunch break, there were three more sessions starting with GLAM Power as Green Energy – Responses to the Climate Challenge. This session included ANU's Mike Jones; M&G NSW's Dale Maxwell-Smith and Emily Cullen on Disaster Preparedness; and the Australian Museum's Megan Lawrence on the #CapturingClimateChange project.
Natural history museums are uniquely placed to comment on climate change
- Megan Lawrence (Australian Museum)
The next session, entitled GLAM+, encompassed presentations on audio description at UTS Gallery by Eleanor Zeighner; Cultural Mediation by M&G NSW's Rachel Arndt; a presentation on the parallels between craft beer and libraries by Rob Thomson (ALIA); and the recent renovations of the Hyde Park Barracks by Gary Crockett (SLM), "we turned the story of the Barracks upside down; instead of looking inwards, we are looking outwards."
The final session of the day was themed Productions in Focus and included talks on the University of Newcastle's GLAMx Lab by Ann Hardy; the launch of a brand new free course by UTS entitled Making History in the 21st Century by Keria Lindsey; insights into the building of the new Chau Chak Wing Museum which will include 16 new exhibitions; and the challenges of archiving and displaying the 40-year history of Sydney's community radio station 2SER by Jess Klajman and Karina Gladsby.
The conference ended with group discussions, giving people the opportunity to dive deeper into the topics that had been presented in the Lightning Talks.
Overall, the day was efficiently organised by the Australian Centre for Public History, and greatly supported by a team of dedicated volunteers from UTS and the University of Sydney.