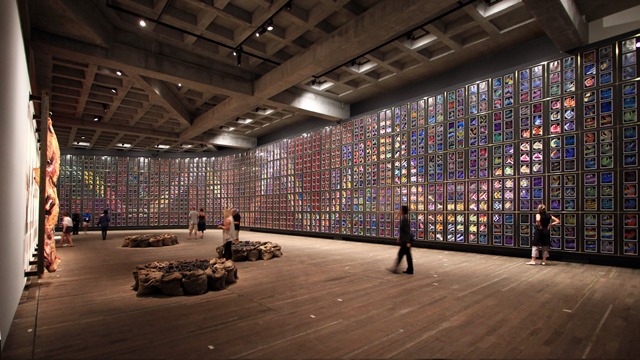 Traditionally the museum has not been seen as a place for social engagement. Museums and galleries evolved as object-based institutions, borne of people's passion for the collection of significant things, and committed to interpreting objects in a setting of enlightenment and authority by a select few.
Last week at the Asia Society Arts and Museum Summit in Hong Kong, Glenn Lowry, Director of New York's Museum of Modern Art (MoMA) called on his colleagues around the globe "to be subversive". He said, '"We want to take risks, to take the museum out of its walls. We want to be a place where people participate, where social engagement is absolute."
And he's not the first to call for a rethinking of the museum and public engagement.
Here in Australia there's been a series of opinion pieces and articles about steering museums and galleries into the future. Several ingredients are common in this proposed journey – the uptake of digital technology in all its forms is a feature of the sector's future. And that's because digital possibilities have the potential to implode the very notions of what a museum actually is and does.
There's also a voracious appetite for 'story-telling' to contend with, which involves the democratisation of the way we curate, collect and describe our collective experiences of past, present and future, and has quickly become synonymous with what museums and galleries do. Curators, collections policy-makers and those involved in education and public programming find themselves 'curators' of story, especially contemporary and unfolding story, for the first time. History and its sifting power have effectively been taken out of the mix. Old is not necessarily awesome anymore.
Museums are turning towards participating in the future of society and the local community, rather than being happy to talk about it post-coitally.
There's also a voracious appetite for 'story-telling' to contend with, which involves the democratisation of the way we curate, collect and describe our collective experiences of past, present and future.
At The Journey to Economic and Social Impact – Showcasing Entrepreneurial Public Art Museums symposium in Melbourne, this topic was explored in depth. Jody Evans, convener said those cultural institutions who will ultimately survive are those that come to terms with their narrative or 'story', and the role that this story plays within the community.
The accompanying report, Branding the arts, describes case studies of entrepreneurship, innovation and ambition and illustrates how galleries can foster civic pride, social cohesion, regional development, and economic growth. The report also makes recommendations for the wider museum sector on how they can "do better at doing good."
Evans said galleries can no longer function as static or dusty tributes to long dead artists. Rather, visual art spaces must evolve into vibrant and electric social meeting places of ideas and engagement, with the power to reinvent and reinvigorate an entire region.
This brings museum architecture and their interior spaces into the frame. How space defines engagement is seen as critical – with artists and exhibitors expressing need for buildings and internal spaces which communicate implicitly with their activities and their audiences. The days of long, ill-lit halls and deserted display rooms are gone – with mega museums such as Bilbao's Guggenheim and Australia's MONA illustrating how 'building as receptacle' defines not only what's contained within but how audience is allowed to interact with it.
Given that successful art museums have been known to revive cities, public cultural institutions are now required to demonstrate how they make a difference. Described in terms of economic and social impact the Branding the arts report provides food for thought if the industry is to thrive through shrinking budgets and audience development demands to provide innovative, inclusive practices across the board.
Want to read more?
Galleries face public image crisis
Museum architecture – receptacle or spectacle?