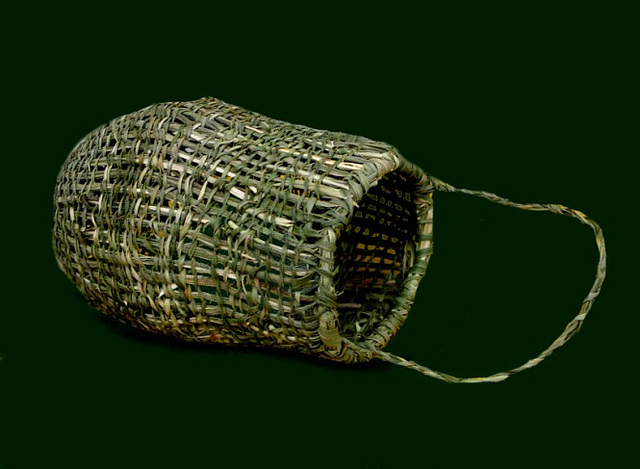 I am on the road in the next week to Dubbo, Armidale and Bathurst carrying not much more than an electronic dilly bag.
A dilly bag is a generic term for the string bags made from plant fibre used in Aboriginal culture. This particular dilly bag is called Mukurtu from the Warumungu word from Tennant Creek, Northern Territory.
When Dr Kim Christian was working with the Warumungu people they expressed a desire to have a collections management system that would allow them to store their growing and significant archive of photos, videos and documents containing their knowledge and heritage. It included, for instance, video of Elders who had since passed, talking about their first contact with Europeans.
But the catch was that not all the knowledge could be freely accessible. The complex systems of kinship and cultural knowledge meant some knowledge should only ever be accessible to certain individuals. The gender differences of men's business/women's business and secret/sacred information is only the start.
Kim was surprised to discover there was no archiving system that did this, so she immediately set about the long journey that has resulted in the building of Mukurtu as safe digital keeping places.
Now freely available as Mukurtu 2.0 the collection management system is being used by Indigenous communities around the world as well as the National Museum of Australia (Canning Stock Route Project), Museum of New Zealand Te Papa Tongarewa and the Smithsonian National Museum of the American Indian.
In addition to its access protocol functions, Mukurtu has many other features. It works with a variety of formats across audio, audiovisual, photo and print documents. These digital objects can then be linked in a variety of ways, towards the development of online exhibitions. Mukurtu is fully functional on mobile devices, allowing for ease of cultural site work.
… a system such as Mukurtu allows for digital repatriation, by way of importing images from the collections of major institutions relevant to each community.
Creating online exhibitions has more powerful reach and permanency than many "permanent" exhibitions in museums and galleries. It is far more cost effective in development and maintenance than a permanent gallery. I believe that for many communities where the desire for a cultural centre is strong, an online keeping place is probably a more practical solution, and possibly the only viable option.
Importantly a system such as Mukurtu allows for digital repatriation, by way of importing images from the collections of major institutions relevant to each community. There has been considerable debate and shift in attitudes over ownership and custodianship of cultural objects and the means by which many of them were obtained. The bottom line is still that many communities do not have the facilities for safe storage of such materials. The completion of high-speed broadband connection and the development of 3D imaging technology will only enhance these possibilities. Ultimately by linking up communities and their knowledge across say, Wiradjuri Country, a more complete picture, with more details and information from a variety of sources can be built as a contributor to nation-building and identity for Wiradjuri people and others.
Travelling with me next week will be Dr Michael Ashley, from the Centre for Digital Archaeology at the University of California Berkley. Accompanying him will be Kelley Shanahan, manager of client services for Mukurtu.
We have a hectic schedule: Dubbo on Monday, Armidale on Wednesday, and appointments at the State Library on Thursday, followed by workshops there Friday and Saturday before we wrap up in Bathurst on Monday 19 October.
Most of the workshops are booked out with Aboriginal people from a diverse range of key organisations with only a few places left in Dubbo and Bathurst. It's a healthy sign that the mob feels that getting online with accurate knowledge, evocative images and the stories of their people is the future and the time has arrived to step up.
Mukurtu workshops are part of the Travelling Places series of workshops produced by Museums & Galleries of NSW with support from the Vincent Fairfax Family Foundation.
Steve Miller, Manager Aboriginal Program, M&G NSW