This article was published earlier in the year to coincide with the annual Archibald touring show. Scott Bevan, ABC journalist and arts writer has recently published a book about Dobell, so we thought it was worth circulating it again. It's a great story and one which links to both Sydney's historic sites and its art history.
Here's a book review about Bill: The Life of William Dobell
And here's what the ABC and Margaret Throsby had to say about it.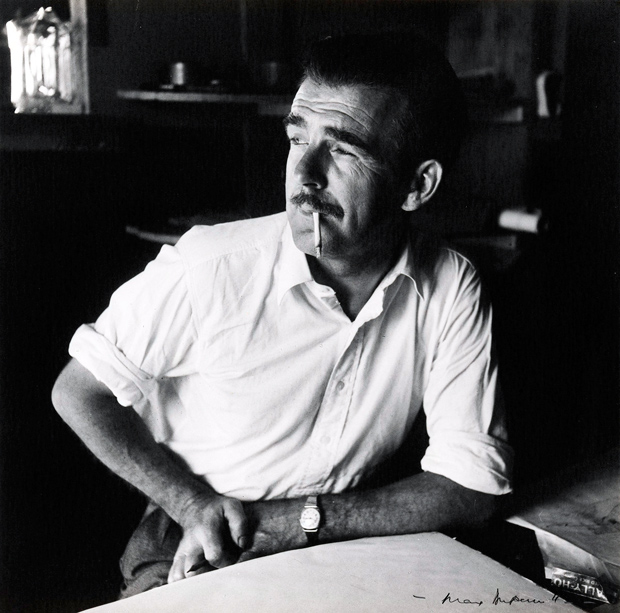 Max Dupain, Portrait of William Dobell, 1942.
Photo: via Wikipedia Commons.
Many people know that William Dobell, of the Dobell Drawing fame, was himself three times winner of the Archibald Prize. His most prominent win came in 1943 with the contentious portrait of artist Joshua Smith, which ended in a Supreme Court trial where Dobell was called to defend his portrait against accusations of it being a caricature. It was an event that rocked lives of both artist and subject and entertained Sydney-siders for months on end.
It was also the event that made William Dobell's name a household one.
In Sydney, there are still threads of this spectacular story to be found. The case, originally destined for the Equity Court of NSW, was instigated by two artists against the Trustees of the Gallery on the grounds that the Prize had not been awarded in the spirit of the original bequest.
It was heard inside the Hyde Park Barracks courtroom, on the site where the café now sits. The Supreme Court of Chancery Square and the legal precinct of Macquarie Street used several of the austere little convict-built courtrooms at the Barracks and here Dobell was pitted against Garfield Barwick, one-time Chief Justice of the High Court of Australia.
Barwick, then tenacious young barrister, all fired-up about ensuring proper standards in art were upheld in the prestigious Archibald Prize, was intent in bullying Dobell into admission that his work was a 'caricature' rather than serious portrait. The case hinged on this distinction.
Smith and Dobell had once been friends—they had worked closely during the war, engaged by the Allied Construction Corps to camouflage our airstrips by painting little rows of cabbages and potatoes across them so they appeared as market gardens from the air. Smith had consented to have his portrait done and was, we assume quite happy with Dobell's rendition of him—he appears as a perky and polite chap, long arms echoing the shape of the wicker chair, highlighted with a warm afternoon light.
Despite the award being upheld, fallout was significant. Smith—mild mannered man that he was, became a near recluse and Dobell fell into deep depression retreating to Wangi Wangi to paint landscapes. In 1948 he won the Wynne Prize at the AGNSW for the work Storm approaching Wangi. Perhaps it was a metaphor for the furore the Joshua Smith painting created.
You can visit Dobell's house and studio right on Lake Macquarie at Wangi Wangi. Here you can see his studio and over 60 of his paintings. The house has a great display about his life and his studio lies intact at the top of a ricketty staircase. And there's a view of the lake to die for.
For those of you who frequent the Art Gallery of NSW make sure to see Dobell's second Archibald Prize winning work from 1948—the portrait of Margaret Olley which hangs as perfect companion to Ben Quilty's 2011 more modern offering of the iconic Margaret.