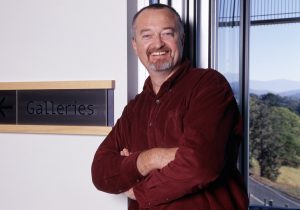 Museums & Galleries of NSW would like to acknowledge the recent passing of Gary Corbett.
Between 1999 to 2005, Gary was Director of Tweed Regional Gallery (then becoming Manager of Community Cultural Services at Tweed Shire Council until 2012), and was instrumental in moving the gallery from its riverfront location to its now iconic location overlooking Wollumbin. Gary gained the support of Doug and Margot Anthony to donate the land, as well as working with Council to raise funds through government and the Gallery's Foundation and Friends. The success of the new site once opened in 2004, saw an immediate push to extend the facility in 2006, and again in 2014 with the establishment of the Margaret Olley Arts Centre.
Our CEO, Brett Adlington, remembers Gary as an enthusiastic supporter of regional practice, but also with an awareness of where the regional gallery is situated in a national context: 'As an emerging curator living and working on the Gold Coast, I spent much time at Tweed Regional Gallery, and regularly had long conversations with Gary about his work, and the role he saw a regional playing in its community. In many ways, he was very much an early mentor for me. I also remember being enthralled that he'd worked with (and featured in) Tracey Moffatt's 1998 series Up In The Sky when he was Director at Broken Hill Regional Gallery. To me, that signified the clear way that regional galleries can be connected to their local communities while simultaneously contributing to nationally significant practice.'
M&G NSW sends its condolences to Gary's wife Sue, his family, his colleagues and the artistic community of the Tweed Valley.