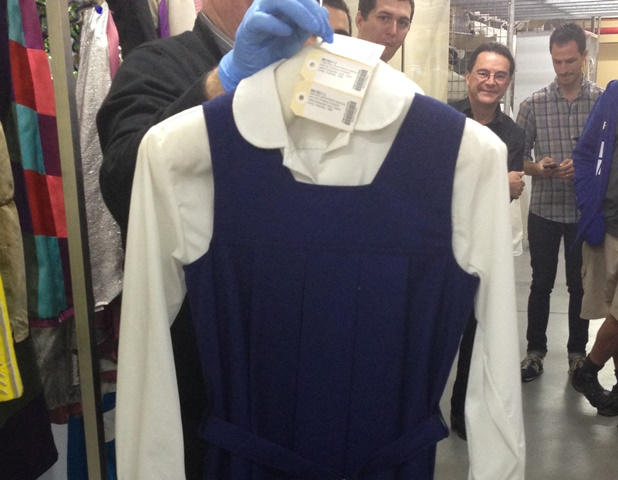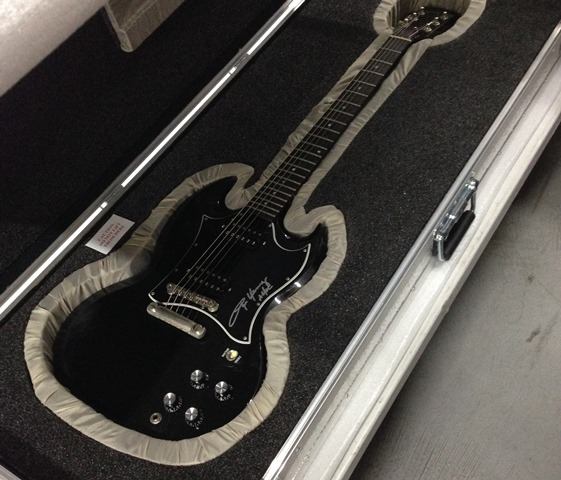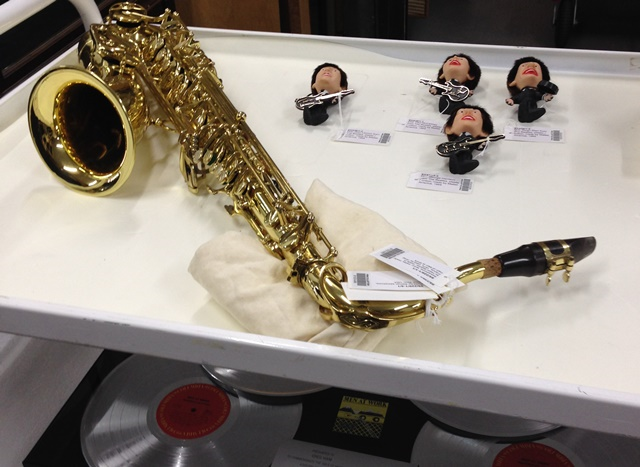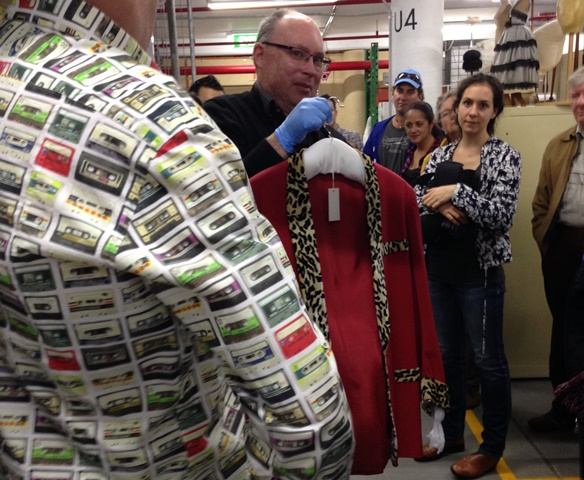 One of the things I love about museums is that they hold lots of unexpected treasures. Treasures that museums want to share with us. If you've been to the Powerhouse Museum (recently renamed Museum of Applied Arts and Science, or MAAS for short) you'll know that it's a big museum with big displays of planes, trains and automobiles to thrill kids and adults alike. What you may not know is that adjacent to the main building sits an unassuming shed, filled with treasures that the public hardly ever get to see. Until now.
Once a month MAAS throws opens the doors of that shed, so you can get up close to their treasure. And when I say up close, I mean really close! On a sunny Sunday afternoon I took the opportunity to take a Powerhouse basement tour with the theme of Rock 'n' Roll. I confess to not being much of a 'rocker', or a 'roller' for that matter, but I was amazed at the treasures we were shown on the tour, and just how much rock history I had unwittingly absorbed over time.
Led by passionate curator Peter Cox, who fittingly wore a shirt covered in cassette tapes, our group was taken on a whirlwind journey of rock and pre-rock music history. Items were laid out on trestle tables, covering five decades of material including photos, fanzines, letters and contracts for big names like Bob Hope, the Andrews Sisters, and Abbott and Costello ­– all of whom toured Australia in the '50s thanks to the famous music promoter Lee Gordon.
Peter is not only knowledgeable about the items in the collection and their history, he has a plethora of anecdotes. Such as, who in 1966 was booed on stage at Sydney Stadium. The answer surprisingly is Bob Dylan. It is hard now to imagine Bob Dylan, such a giant of the music world being booed, but the folk music groupies who paid to see him in 1966 took real offence that he brought out a Rock'n'Roll band for the second half of his show.
Moving through we saw costumes worn by Johnny O'Keefe, Sherbet, Little Pattie, and even one of Chrissie Amphlett's infamous schoolgirl dresses, and learnt that the most popular Australian rock song of all time is Friday on My Mind by The Easybeats.
I confess to not being much of a 'rocker', or a 'roller' for that matter, but I was amazed at the treasures we were shown on the tour.
For real music fans, seeing the actual instruments their heroes owned and played was the biggest thrill of all. On the tour we saw a saxophone played by Men at Work, a guitar used by Mental as Anything, but it was ACDC's guitar, played by Angus Young, that drew gasps of delight from several of the men on the tour. Proving that we never lose that youthful awe for our celebrity heroes.
In fact, some of the most touching items we viewed were scrapbooks made by teenage girls obsessed and entranced by new Rock 'n' Roll gods like The Beatles and The Rolling Stones. Meticulously laid out and researched, these scrapbooks are filled with all the love, lust and dedication that only teenage girls can find for their glamourous and sometimes slightly dangerous idols. For me these scrapbooks are all the more poignant because I suspect teenagers no longer create these private books of worship, but instead pour all their passion into social media websites.
As we moved around the enormous space filled with strange and beautiful items, we saw many other items such as Victorian dresses, 19th century wood carvings and furniture, 1980's swimsuits etc … While obediently resisting the urge to touch things, I was filled with a sense of privilege in being allowed so close to these tantalising snippets of tangible history.
MAAS basement tours are an unmissable opportunity to get up close to this vast collection. Tours are running monthly through to December 2015.
One small tip: don't run late, tours start on the dot.
Narelle grew up in the beautiful Hawkesbury region and now lives in Sydney where she works as a museum educator. Her passions include visiting museums, travelling with her husband, and singing.
She reports on regional and Sydney based history and heritage, and gets down and dirty in new exhibition spaces.