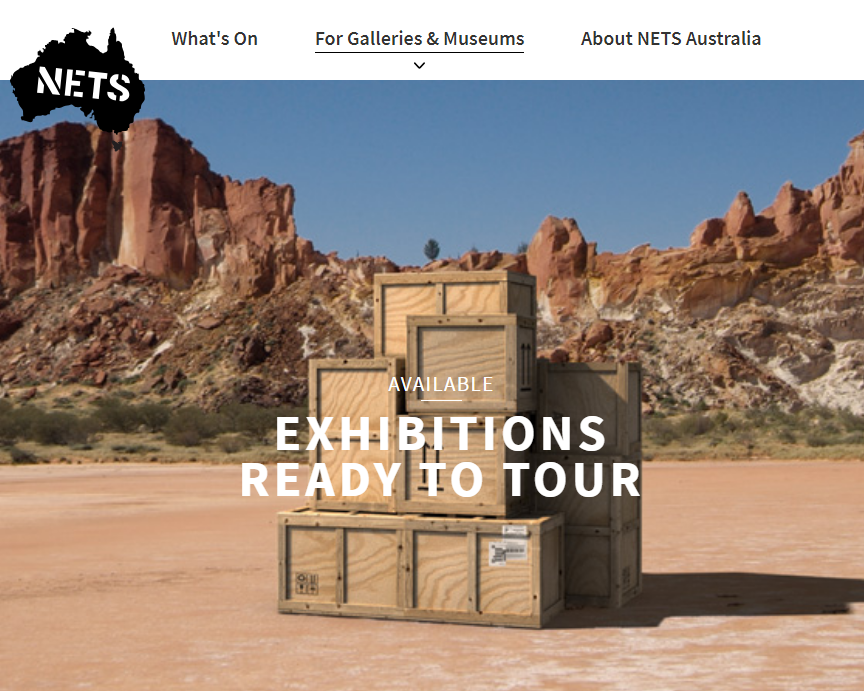 Australia's touring exhibition portal, the National Exhibition Register (NER), lists a diversity of exhibitions for venues of all sizes and capabilities. The NER is a free service that allows Australian organisations to promote, browse and book touring exhibitions of contemporary visual culture.
Galleries and venues across Australia are invited to submit their touring exhibitions.
The NER is supported by the National Exhibitions Touring Support (NETS) Australia, a national network of arts organisations who support and deliver high-quality arts programming to regions across the country.
The user-friendly search and sort functionality allows you to search touring exhibitions from around the country and filter according to your needs – cost, size and available dates. Browse the exhibitions on offer, select an exhibition and find out all you need to know such as artist and curator information, available dates, size, accompanying resources, cost, contact details and much more.
New exhibitions on the NER:
Keg de Souza: Common Knowledge and Learning Curves – This exhibition is the first Australian solo institutional exhibition of artist Keg de Souza. Common Knowledge and Learning Curves expands on de Souza's interest in the ways we teach and learn, transforming the gallery through spatial interventions and related public programs. The exhibition will open at Artspace from 29 June – 19 August 2018 and will be available to tour from early 2020.
Green Asylum – Charlotte Haywood's experimental architectural tapestry and video works forage within the Australian landscape, seeking narrative and language from the past, present and future. Green Asylum is about flux – an act of cracking hierarchies. Green Asylum was exhibited at the Australian Design Centre in Sydney from 17 August – 27 September 2017 and is now available to tour.
2019 Moran Contemporary Photographic Prize – Established in 2007, the Moran Contemporary Photographic Prize (MCPP) is a national competition that awards and promotes Australian contemporary photography and excellence in all forms of still-based artwork. It showcases the best of photography, judged by eminent experts in their fields. The Moran Arts Foundation is seeking venues for touring an exhibition of the finalists and winners from mid-2019 to early 2020.
Midawarr | Harvest – touring from the National Museum of Australia, Midawarr | Harvest explores the plants of the Dhudi-Djapu clan lands of East Arnhem Land north-east Arnhem Land through stunning artworks by Yolngu elder Mulkun Wirrpanda and internationally recognised landscape painter John Wolseley. Their collaboration has resulted in a body of artworks including bark paintings, larrakitj (decorated memorial poles), printmaking and a monumental watercolour and mixed media painting.
ANTHROPOCENE – Wollongong Art Gallery Has developed this survey exhibition of Arthur Apanski's work, the culmination of a nearly ten year journey by the artist to articulate his concerns about humanity's impact on the plant and provide a forum to discuss these pervasive yet difficult issues. The exhibition also provides a glimpse into the development of Arthur's artistic practice as it has evolved from his early biblical-like apocalyptic paintings to subtler images informed by his life and the landscape in Wollongong's northern suburbs.
Through a different lens – Cazneaux by the water – Touring from the Australian National Maritime Museum Photographer Harold Cazneaux (1878-1953) is a giant in the history of Australian photography. In the early 1900s he became a passionate advocate for photography as an art rather than a mechanical recording process. This exhibition of more than 40 original works present a new dimension to Cazneaux's work, reflecting how the water and Sydney Harbour offered him a space to explore mood, light, atmosphere and life in his signature pictorial photographic style.