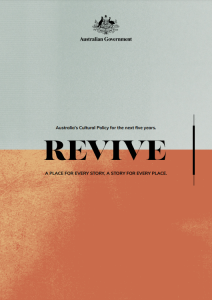 Museums & Galleries of NSW welcomes the launch of a long overdue National Cultural Policy. Our sector has long known that culture is central to our identity as a nation, and that First Nations expression is vital to this. It is therefore gratifying to see a national policy providing avenues to support and grow the cultural sector.
In particular, we welcome initiatives supporting the careers of artists and arts workers, and those that recognise the role the arts play in education and health and therapy. We also acknowledge increased funding to the Regional Arts Fund; the development of an Arts and Disability plan; the re-establishment of intergovernmental meetings between Commonwealth, state and territory cultural ministers, and the Australian Local Government Association; and the update of Significance 2.0: a guide to assessing the significance of collections which assists in determining the significance of cultural and heritage objects. We have seen over the past 12 months the great benefit in organisations having gone through this process.
While there are many great initiatives announced as part of this cultural policy, we will continue to advocate for the needs of the cultural heritage sector across all levels of government.
You can read our submission to the national cultural policy here.