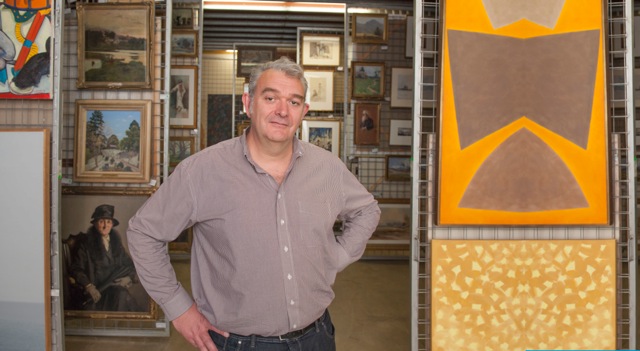 This article was originally published in Focus Magazine. We liked it so much, we asked if we could republish it here. It's an interview with Robert Heather, NERAM's new director, and it explores his love for Armidale and his hopes for the Gallery. Thanks go to Tracy LeMessurier.
Where are you originally from and what brought you to Armidale?
I grew up on the Gold Coast, but spent the last decade in Melbourne where I was working at the State Library of Victoria and responsible for its exhibitions, publishing and fellowships programs.
The State Library is a beautiful building and one of the oldest cultural institutions in Australia with an enormous collection that literally has millions of items including photographs, rare books, maps, paintings and sculptures plus some unusual objects from Victorian history such as Ned Kelly's armour, which is on permanent display. It was a great place to work but after nine years at the Library it was time to move on and do something new.
NERAM has a fabulous reputation and although I had never been to Armidale before, I knew it was a 'university town' and a beautiful location. When I visited for the first time during the recruitment process and they showed me the fabulous Howard Hinton Collection I knew that this was the place where I wanted to be as there are very few collections of this quality anywhere in Australia.
When did you first get involved with art and what has your journey been so far?
It's been a long journey. I think my high school art teacher would fall off his chair if he knew that I am now directing one of the leading art galleries in Australia, as I wasn't a star pupil. When I grew up, the Gold Coast didn't even have a regional gallery and was a bit of a cultural desert so art wasn't on my radar. It was while I was supposed to be studying at the University of Queensland I discovered that my real aptitude was in working with creative people to make interesting things happen – at the student union running the Activities department and then as editor ofthe student newspaper.
After University I got a very junior job working in the marketing team at the Queensland Art Gallery and it was there that everything came together. I love working in galleries and museums because of the opportunities to deal with great art and collections as well as the chance to work with leading artists, curators, writers and a whole range of specialist professional people on fascinating projects and exhibitions.
For over twenty years I have worked across Australia including stints at the Cairns Regional Gallery, as the Executive Director of the Regional Galleries Association of Queensland, as the inaugural Director of Artspace Mackay and then at the State Library of Victoria. In that time I have worked with leading artists, scholars, writers and curators from around Australia and overseas. Art galleries are one of my great passions and I think that there are few jobs in the arts which are as satisfying as working in a regional gallery like NERAM.
Tell us about your family and how are you enjoying Armidale so far?
I met my partner Edwina in Melbourne, although we crossed paths previously in Brisbane where she worked in the arts. She is a practicing artist when she can find the time but has mainly been working in marketing for creative industries in Melbourne. We have two gorgeous little kids – our daughter Audrey and our new son Thomas. They are keeping her very busy at the moment but she will be looking at what opportunities are available in the future.
Living in a community like Armidale has been a big change from Melbourne and we are loving the spring here. The flowers, birds, trees, parks, gardens and even the light is spectacular everywhere we look and the old buildings are gorgeous. Every weekend we have been going on excursions to check out neighbouring towns as well as everything from the local school fetes to the markets.
What events etc can we look forward to coming up at NERAM?
The big event in the near future is the Archibald Prize 2015 regional tour which opens in November as our big summer show. Every year the Archibald Prize at the Art Gallery of NSW in Sydney is one of the great events in the Australian art calendar. The exhibition includes portraits of iconic Australians 'distinguished in art, letters, science or politics'.
We also have a fantastic exhibition by leading picture book artist and author Shaun Tan planned for May 2016 about his book The Lost Thing and the Oscar winning animated short film based upon it. It is also a great exhibition for kids and I hope families will take the opportunity to come in to this exhibition and take part of the programs and activities that we hold.
How can locals get more involved with the gallery?
There are so many ways that locals can get involved with the gallery, but the best way is by walking through the doors and looking at what is on show. We want to have an ongoing conversation with the people of New England about art. Sometimes you may love the exhibition on show and other times you may hate it, but I ask everyone to keep on coming back so we can surprise or delight you next time. Of course you can also buy a gift in our shop, register for an art class or have a meal at our new Studio 52 café while you are here.
To get more involved you can sign up for our e-newsletter so we can keep in touch, 'like' our facebook page, join as a Friend of NERAM or even become a volunteer. The support which our various groups of supporters provide is incredibly important. It is the work of our volunteers and Board, the events put on by the Friends of NERAM, Foundation members and Packsaddle artists as well as the generosity of our donors and sponsors that help keep our doors open, the exhibitions on display and our events engaging for our local community.
So we would like you all to get involved and it can be so easy, even a small group of friends can chip in together to make a donation to help conserve a painting through our Adopt an Artwork program.
I intend to put in place a program which will bring together artists and artworks from around Australia, creates opportunities for people to get involved and ensures that NERAM is a place which is close to the hearts of the wider community. You can expect exhibitions and programs which explore local art, history and architecture as well as bringing to Armidale some of the best artists and collections in the country.
I also want to tell more people the story of Howard Hinton's and Chandler Coventry's generosity and philanthropy in donating all of those works of art and make it better known here and around Australia. It is a unique opportunity to put Armidale on the map as an arts destination and one which will be very rewarding to the whole community.