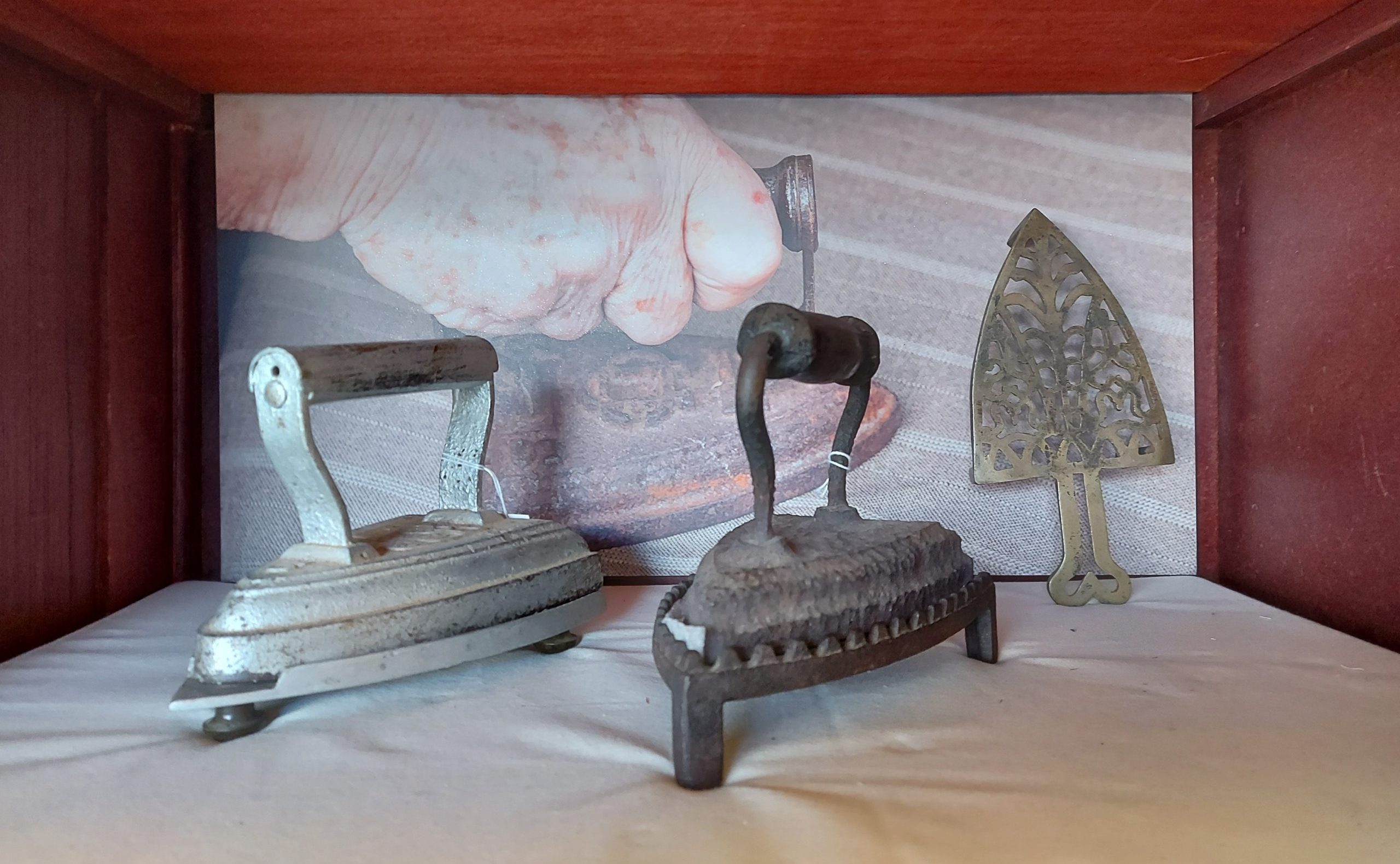 Irons – heavy, awkward and boring, it would be a rare museum that didn't have at least a few, if not a few dozen, old irons in their collections. The Museum of the Riverina has taken the humble iron and made it the star of its new exhibition, Hot and Heavy.
MoR recently relocated its collection into offsite storage as part of its upcoming redevelopment. They have taken the opportunity to spend time updating their collection registration records. Because, like women's work, we all know that museum collection processing is never 'done'.
Predictably, the collection has a large number of typewriters, sewing machines and irons. Some of the irons had been stored on shelves, others in dark and isolated corners of the storage areas. However, as they began processing the collection, curators Leila Davendah and Sally Nolan discovered that irons were far from boring. They were different shapes and sizes, materials and each one told a story about the past.
Ironing was, and still is, a regular activity carried out in homes, and in the past it was done almost exclusively by women as wives or domestic servants. To forget about these objects is to forget about the important, and often unacknowledged, role that women played in their homes and communities.
'Following research of our pre-electric irons, we quickly discovered the important role they played in most households prior to the wide availability of electricity,' Sally and Leila said.
'Ironing was a job defined for women. Most households had to set a day during the week to get the job completed. In the case of sad irons ('sad' being an old word for solid), multiple irons were heated in front of open fires, on the tops of closed ranges, or on specially-designed iron stoves in larger laundries. It must have been a tedious task to smooth the wrinkles from a large family's sheets and clothing.'
The innovation of 'fuel' irons made heating easier, but many were unsafe. The small metal fuel tanks at the back of the iron had a tendency to 'pop-off' when escaping fumes ignited. Not only frightening, numerous newspaper articles found in the Trove database show that many women were badly burnt while using a petrol or kerosene iron.
The curators consulted a range of online resources, accessing online collections from MAAS, Museums Victoria the National Museum of Australia and Western Illinois Museum. They also watched many YouTube videos posted by iron collectors demonstrating how the irons were used. And, of course, talking to people about their memories of their mothers and grandmothers using the irons also helped to fill in the blanks.
'I am in the age group that can remember my mother and grandmothers using the sad irons which were heated on the wood stoves situated in their kitchens,' Curator Sally says. 'It has been a very interesting topic to cover.'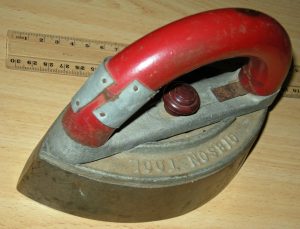 And do they have a favourite iron? Of course they do.
'Amongst the collection, one of our favourites is a Gibson Tool Sad Iron. It is a small hand-held sad iron with a detachable red wooden handle. Interestingly, repairs have been made to the handle by nailing a strip of aluminium around the diameter, indicating the make-do-and-mend mentality of the early half of the 20th century, which is very different to our current approach of discard and replace.'
Hot and Heavy is on exhibition at the Museum of the Riverina's Historic Council Chambers site.
Sam Leah, Leila Davendah and Sally Nolan