Updated 1 April 2020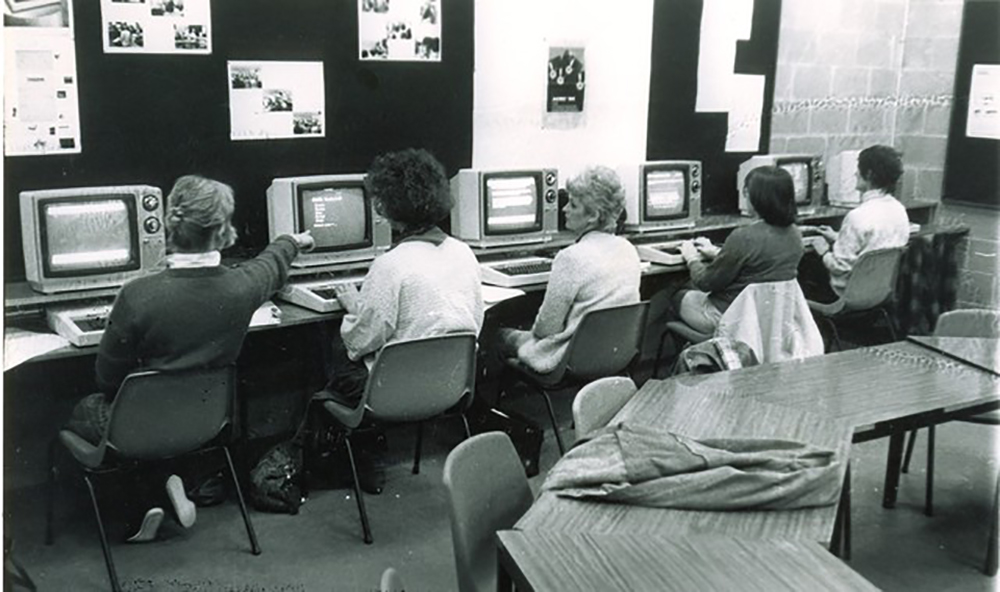 Although most museums, galleries and Aboriginal keeping places are now closed due to COVID-19, there are still many ways to engage with them whilst maintaining social distancing practices. Below is a list of online resources and activities to keep your cultural curiosity piqued.
Programming
Many organisations with programs scheduled over the coming weeks and months are working to convert them into virtual offerings. Tune in by clicking the links below.
#NIRINfromhome
NIRIN, the Biennale of Sydney, will launch its online activations and experiences from Monday 6 March. Programming will follow the themes of the exhibitions: Bila (river/environment); Gurray (transformation); Muriguwal Giiland (different stories); Ngawaal-Guyungan (powerful ideas/ the power of objects). Stay up to date by following the BoS website
Blue Mountains Cultural Centre
"Blue Mountains Cultural Centre is launching its VIRTUAL INSIGHT program, a curated selection of digital content, featuring DIY art making activities, staff insights into our collection and exhibitions, book and game recommendations, wholesome food recipes from our café and many more. We will feature local artists, creatives and makers and invite you to contribute with your ideas and stories. During these uncertain times and with many events and programs suspended, we aim to provide our community with some positive content and activities to keep you sane, busy and inspired – all accessible online and for free." Find details at the BMCC website
The Public History Hour
Run by the Australian Centre for Public History (UTS), the Public History Hour will be captured on Zoom and broadcast live from the ACPH Facebook Page on Mondays, Wednesdays and Fridays at 1-2pm, starting from 20 March. Find out more here
Head On Photo Festival
The annual Festival has announced that its program will be held online from 1-17 May and will include a program of online seminars and events. A scaled-back physical festival will be held later in the year. Stay up to date here
Fashion Hub 2020
The 10-day Fashion Hub 2020 event, organisaed by the Sherman Centre for Culture and Ideas, was scheduled to take place at the Museum of Sydney but will now be a virtual hub delivered online. Talks from leading fashion thinkers are scheduled to speak – find out more here
Virtual Cinémathèque
The Australian Centre for the Moving Image (ACMI) and Melbourne Cinémathèque are presenting a weekly movie night available "anywhere with a decent internet connection." Read more here and check out ACMI social media accounts for weekly film announcements
Daily Opera (New York)
The Metropolitan Opera (New York) has announced daily high-definition streaming of operas on its website throughout the closure period. The operas are only available for 23 hours so ensure to check back for new content daily. Start viewing here
Taronga TV
Taronga Zoo has just launched their 24/7 live cams. Tune in to Tiger Cam, Seal Cam or Elephant cam here
---
Online Archives & Collections
Many collections have been digitised for conservation and accessibility purposes. High-resolution images are freely available to view at the following websites, including many objects that would not normally be accessible to the public or on display.
City of Sydney Archives & History Resources
The three-year redevelopment of the City of Sydney's Archives & History Resources were only recently unveiled to the public. The collection has objects dating back to 1842 and 450,000 items are accessible online now. Start uncovering Sydney's history here
State Library of NSW
Just earlier this year, SLNSW launched beta testing of its brand new digital catalogue which spans books, journals, magazines, newspapers, pictures, manuscripts, maps, objects, audio and music. Start exploring here
Kaldor Digital Archive
Late last year, Kaldor Public Art Projects launched their digital archive, including over 18,000 digitised A4 pages spanning correspondence, logistics, negotiations, planning documents and reviews produced over the past 50 years. Miscellany such as posters, maps, charts, artworks and tshirts are also included on the site, providing a robust resource for researchers and curious members of the public alike. Click here to start browsing
Museum of Arts & Applied Sciences
The MAAS Collection spans art, science, fashion design, object design and exhibitions. A great way to access their extensive collection is by exploring the curated 'sets' such as Anatomical & Botanical Models; Speedo Swimwear Collection; 200 Years of Wedding Fashion; Joseph Box Shoe Collection; Early Meteorology in Australia; Absolutely Mardi Gras; Berlei Underwear Archive. View all the sets here
Art Gallery of NSW
The AGNSW has over 30,000 artworks from its collection available to view online, including over 20,000 from their Australian Art collection; over 2,000 from the Aboriginal and Torres Strait Islander Collection; and almost 5,500 from the photography collection. Browse by categories or highlights here
Museum of Contemporary Art Australia
Discover a selection of the MCA's collection online by browsing through artworks or artists' stories. Access the collection here
Trove
The online library database Trove was launched in 2010 and is run by the National Library of Austrlaia. Rather than searching individual library collections, people can now search for photos, manuscripts, books, music, videos, newspapers from 1803 onwards, maps and archived websites through Trove directly which will collate search results from over 1,000 libraries instantaneously. A vast expanse of Australian history and culture at your fingertips
The National Film and Sound Archive of Australia 
NFSA has curated parts of their collection into digestible and entertaining themes, including vintage cats; fashion history; true crime; trains; historic Australian theatres and cinemas; 1980s. View all categories and begin a trip down memory lane here
Coffs Collection / The Coffs Coast Heritage & Arts Digitisation (CCHAD)
Take a sneak peek at the newly online Coffs Collections – open to the public for a three-week window from 27 March 2020. The collection includes photographs, oral history, art, documents and local Honour Boards. To find out more about the project and to access the site, click here
---
Virtual Tours
Many cultural institutions have created virtual tours of their galleries. Start wandering their spaces and discovering displays by clicking the links below.
Google Arts & Culture
Through this long-standing project, Google Arts & Culture has documented over 500 institutions from across the globe. Here are a few NSW-based spaces to get you started:
Newcastle Art Gallery
In 2018, Newcastle Art Gallery created virtual tours of two of their exhibitions PAINTING MEMORY: From the collection and EVERYTHING CHANGES: Tim Maguire 2002 – 2017. The experiences are powered by Matterport and function similarly to Google Street View. View iconic works from the Newcastle Art Gallery collection now
White Rabbit Gallery 
Get your dose of cutting edge, contemporary Chinese art through White Rabbit Gallery's virtual tours. View the exhibitions THEN. , HOT BLOOD, SUPERNATURAL and THE SLEEPER AWAKES here.
UNSW Galleries
View the Galleries' most current exhibitions Skye Wagner: Opacity Shift and Samuel Hodge: The Wit of the Staircase virtually on their website.
Five hours of the Hermitage Museum (St Petersburg, Russia)
Apple recently released a 5-hour long video of Russia's iconic Hermitage Museum. The exceptionally long video was taken in one smooth shot and was used to test its new iPhone 11 Pro. Promotion aside, the video offers unparalleled access into the renowned collection. View the video here
Virtual tour of the Frick Collection (New York, USA)
The Frick Collection was assembled by industrialist Henry Clay Frick (1849-1919) and consists of distinguished Old Master paintings and highly renowned European sculpture and decorative arts. View the virtual tour here
---
Learning
Aboriginal Sydney
Learn more about First Nations culture and history through this Sydney University course (offered entirely online through Coursera): Cultural Competence – Aboriginal Sydney. The course includes videos, an extensive suggested reading list, and local history. The course takes approximately 10 hours to complete and is free to enrol in.
UTS Open – Making History in the 21st Century
UTS launched this free online course just a couple of weeks ago. It introduces students to the Galleries, Libraries, Archives and Museums (GLAM) sector and explains the skills, context and critical ideas required to source archives in online environments. Start learning here
Virtually visit your local library
In addition to their physical locations, many local libraries offer free digital access to resources with a library card. Depending on your library, this could include eBooks and audio books through Libby and BorrowBox apps; access to Lynda for professional development; access to movie and music streaming; language learning and computer learning apps; access to ProQuest and EBSCO for research; coding through BusyCode; and picture books through Story Box Library. These could be especially great resources for parents who a homeschooling during this period. A directory of public libraries in NSW can be found through SLNSW here
Skillshare
Learn from artists first-hand and learn a new skill through Skillshare – an online platform with a large variety of courses. A few suggestions to get you started:
Sydney Dance Company
The Sydney Dance Company will be launching online dance classes through their Virtual Studio soon, targeted at all skill levels. Their dance styles cover ballet, contemporary, hip hop, jazz, JFH, Latin funk, lyrical, pilates, stretch, and senior tap/jazz. Follow their website for details 
Podcasts
This article from the New York times highlights 10 Binge-Worthy art podcasts to listen to, including Awaye! produced by the ABC. Read it here
---
If you are a NSW-based museum, gallery or Aboriginal keeping place and would like your remote offering added to this list, please contact Vanessa via comms@mgnsw.org.au
Photo from Picture Victoria, accessed through Trove.