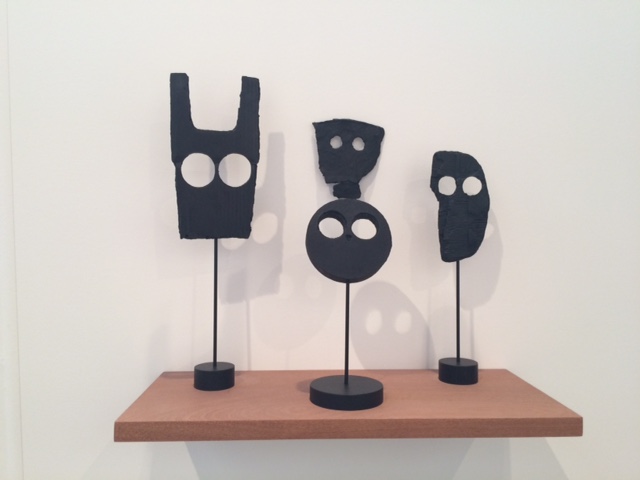 Sydney Contemporary Art Fair made its sophomore return to Carriageworks after breaking new ground for the city with its inaugural launch in 2013. Sydney Contemporary's second offering delivered a more dynamic experience with performances, diverse culinary delights, local and international art sales, artist talks and curated installations.
Sydney Contemporary, billed as Australasia's international art fair, straddles the potentially awkward gulf between art appreciation and commercial art collection. As someone who has worked in the commercial art sector I fully appreciate the commercial imperatives of galleries which primarily exist to sell art to seasoned buyers and regular collectors.
Yet, a large proportion of those who attend art fairs simply want to see and experience contemporary art. They want to appreciate art in a public environment and share their impressions and interpretations with friends. Others window shop and imagine the works they would buy if only they had the means.
Borne, in part out of necessity, this year's art fair offered a forum for art appreciation and art collection to co-exist. Art literacy and appreciation has strong cultural resonance yet the cultural uptake of art collection and art philanthropy has been episodic in Sydney compared to other global cities. Many of the fair's new features equally appealed to the uninitiated as to the sensibilities of art aficionados and seasoned collectors.
… a large proportion of those who attend art fairs simply want to see and experience contemporary art.
The addition of 'Paper Contemporary' to this year's fair, showcasing modern printmaking and works on paper is a case in point. In this section of the fair, booths used by exhibiting galleries were replaced with long trestle tables displaying a selection of monoprints, limited edition books and zines by Australian and international print makers. The Print Council of Australia ran talks and demonstrations on print-making practice which proved popular with attendees. Prints and paper-based art offers collectors accessible prices, access to a diversity of mediums, with work being suitable for domestic display and appreciation.
The Curators Department presented 'Installation Contemporary' which focused on the display of leading contemporary artists works away from the commercial booth spaces. Located near the entrance Alex Seton's 'Someone else's problem', a sculptural installation examining the persecution of asylum seekers, was a timely reminder of the art's political and meditative function.
In a room dedicated to the application of coloured masking tape across every possible surface, 'Kids Contemporary' hosted by local community arts initiative Pine Street Creative Arts Centre, occupied the younger audiences by bringing kids' art activities 'into the now' focusing on collaboration, three-dimensions and time-based creation as well as on colour, line and shape. For older audiences they offered a Photoshop line animation workshop. Both were a resounding success: their youngest budding artist and participant was a mere 18 months young!
Looking through Instagram images tagged #sydneycontemporary conjures an eclectic contemporary art exhibition more than ordinary 'art fair'. With its successful balance of culture, programming and art sales, Sydney Contemporary is no longer freshman or sophomore, but a fully-fledged art event for the city.
---
Meet Paula Perugini Kelly: Gallery professional, art educator and culture enthusiast.
We call her PaulaPK and she's one of our Roving Reporters. She'll be giving us her insights every month in M&Gazine as she takes a look into both well known art hubs and some hidden gems. You can find her on Twitter at @PaulaPerugini