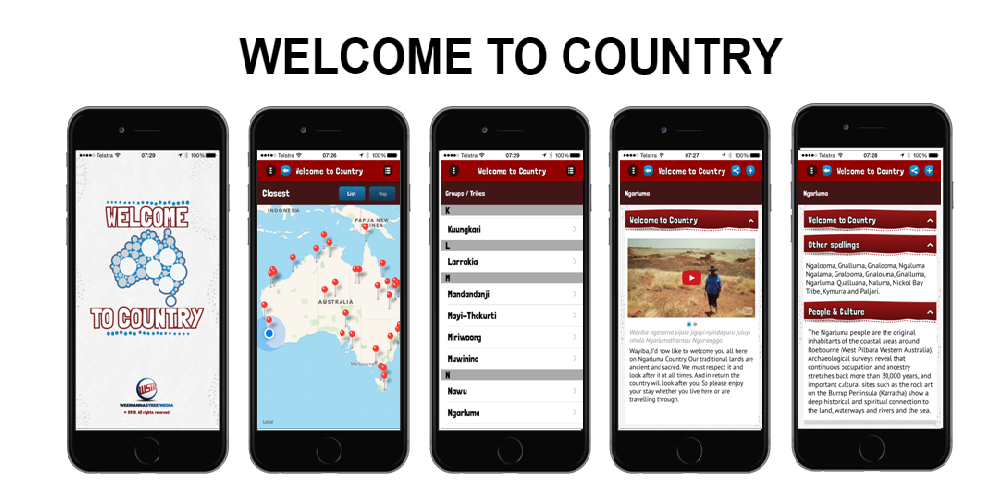 Did you know there's a Welcome to Country iPhone app?
Released in July 2015, the app–the first of its kind on the market–is packed full of useful features. Providing short video 'welcomes' that are tribal boundary geo-specific, the app includes summary information about each group's people and their culture, a list of alternative spellings of tribal names, and a map.
Using GPS technology, each Welcome to Country video is delivered to the user via a push notification which must be activated when prompted. In some locations, a video by a traditional owner (or elder) welcoming the user/visitor to their country is provided.
Last week M&G spoke with developer Tyson Mowarin of Weerianna Street Media about his motivations for building the app. He talked about being inspired by Kevin Rudd's ability to talk to millions of people in China by speaking their language–yet saddened that most Australians aren't even aware of the 400-odd Indigenous languages spoken here.
Much of his inspiration comes from wanting to raise awareness and educate people about the diversity of Indigenous cultures and to identify the actual places where those languages come from.
"Our Indigenous cultures aren't visible, whereas all big cities in Australia and lots of large towns have Chinatowns, and everyone knows a bit about Chinese history in Australia, but not many know about Ngarluma culture for example. Celebration of Indigenous cultures is limited to NAIDOC Week–that's seven days out of 365–so I thought it was time to draw more attention to our land, languages and cultures", says Mowarin.
The app has been in development for four years, 18 months of which was spent finding backers. Energy company, Woodside (Pluto PNG) came on board to sponsor the app, as well as Mowarin's other project the Digital Dreamtime Project.
Interestingly, the app was also designed with Indigenous people in mind. "It's impossible for us to know all the mobs in Australia", says Mowarin.
Mowarin reflects that collecting the research was the hardest part of the project because of the large number of languages and groups he needed to liaise with. Version 1.0 of the Welcome to Country app contains more than 30 tribes and languages groups and Weerianna Street Media plans to add more over time.
Cleverly organised to concentrate information on Indigenous country close to major airports, cities and regional towns, the app is designed with the backpacker and international tourist in mind. "We know they're interested in Indigenous Australia, are mobile and travel through large amounts of country in relatively short periods of time, and that they're always wired in", Mowarin says.
Interestingly, the app was also designed with Indigenous people in mind. "It's impossible for us to know all the mobs in Australia" said Mowarin after a trip to Ballina where used the app to get some background on the Bunjalung people and their Country.
"Traditionally when we passed through other mobs' country for trade, on Sorry business or for various ceremonial reasons, Welcome to Country would be conducted on the boundaries of territory, so this app works in the same way. As you pass into one mob's Country the geo-locational function alerts you and provides a little video Welcome, as well as information about the mob and their culture", explains Mowarin.
The app is not designed to replace an Elder providing a Welcome in person; "far from it" says Mowarin who is more focused on celebrating culture and hopes that using the app might inspire users to seek out Aboriginal cultures as they travel. Instead, the app provides access for those visitors unlikely to interact with a face-to-face Welcome to Country, mostly performed at public functions, Government meetings and in educational settings; events that travellers and backpackers are unlikely to attend.
Mowarin has a dream: that one day every Australian schoolchild will respond to the question "where do you live?" with "I live on Wiradjuri country, or I live in Tallowolladah".
We're inspired by that. Aren't you?
---
Aboriginal and Torres Strait Islander viewers are advised that this app may contain images and voices of people who have died.
---
Like more information? Welcome to Country website
See more of Tyson Mowarin's work: