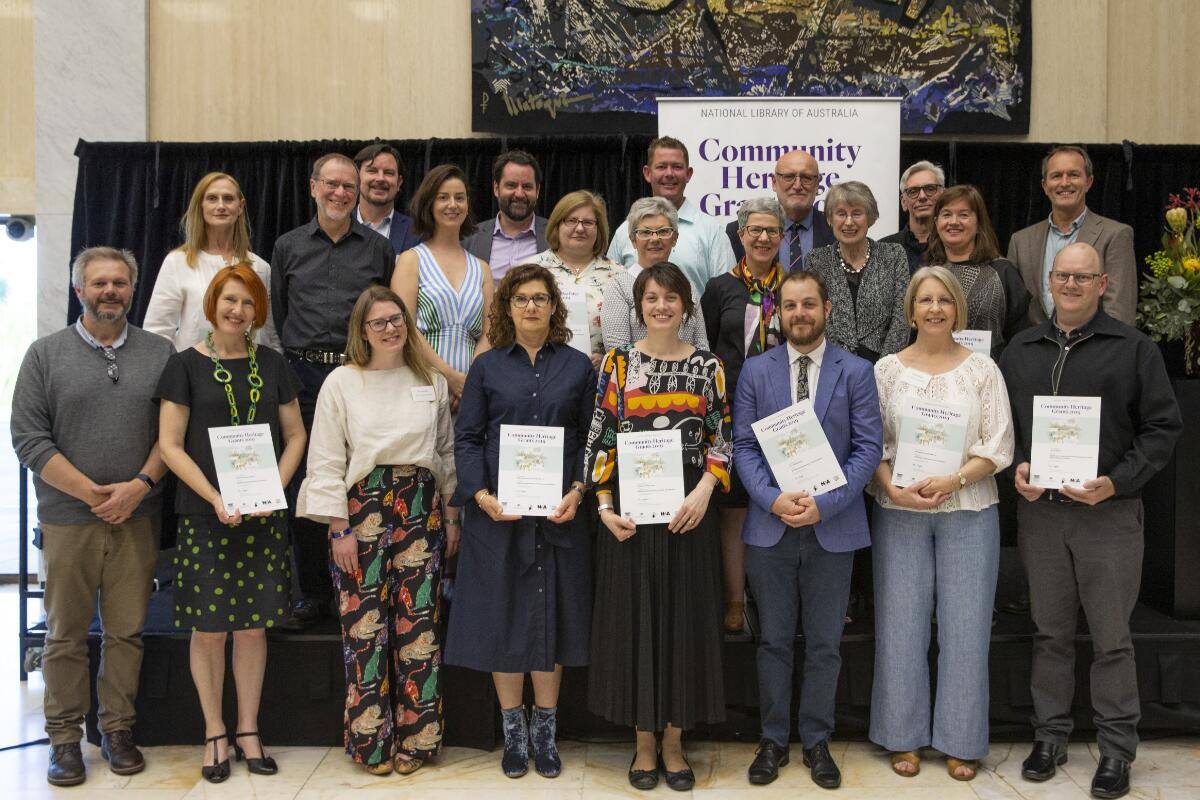 The Community Heritage Grants (CHG) for 2019 have recently been announced with more than $382,940 awarded to 61 organisations and community groups across Australia.
The CHG program, which is managed by the National Library of Australia (NLA), provides grants of up to $15,000 to community organisations such as libraries, archives, museums, Indigenous and multicultural groups, genealogical and historical societies from inner cities to the most remote parts of Australia.
The grants are provided to assist with the preservation of locally owned, but nationally significant collections of materials that are publicly accessible including artefacts, letters, diaries, maps, photographs, and audio visual material.
Of the 61 successful recipients in 2019, 20 are from NSW; see the list below.
Grants have been allocated for a wide range of projects including the purchase of archival materials for rehousing, preservation needs assessment, conservation treatment and workshops on preventive conservation and object handling.
It is gratifying to see that of the 20 successful grant applicants from NSW organisation, 8 have received grants for significance assessment of their collections. Significance assessment is an essential tool in collections management, underpinning decisions in resource allocation. It assists the collecting organisation to:
Establish priority themes for the collection
Consider how this relates to the mission/purpose/strategic plan
Consider which items or aspects of the collection relate to specific themes
Propose a thematic plan for display and the priorities
Identify strengths, weaknesses and gaps in the collection
Assist in helping to identify future collecting activities
For more on significance assessment, read Significance 2.0.
New South Wales
| Organisation | Project | Amount |
| --- | --- | --- |
| Australian Jewish Historical Society | Purchase of Archival Materials | $4,480 |
| Blacktown City Council | Significance Assessment of the Garage Graphix Archive Collection | $4,500 |
| Broken Hill Regional Art Gallery | Significance Assessment of the Collection | $6,140 |
| Care Leavers Australasia Network | Preservation Needs Assessment of Australia's Orphanage Museum's Collection | $4,500 |
| Friends of the Hawkesbury Art Community & Regional Gallery Inc | Preservation of the Clint Collection | $12,940 |
| Georges River Council | Preservation Needs Assessment of Georges River Libraries Local Studies Collection | $4,500 |
| Goulburn Regional Art Gallery | Significance Assessment of the Collection | $5,120 |
| Lithgow Small Arms Factory Museum Inc | Purchase of Archival Storage Materials | $2,600 |
| Moore Theological College Council | Conservation Treatment of the Rev Frank Cash Negative Collection | $9,090 |
| Naval Historical Society of Australia | Significance Assessment of the Collection | $5,880 |
| Norfolk Island Museum | Purchase of Two Freezers for Pest Control Management | $660 |
| Penrith Performing & Visual Arts | Pest Site Inspection and Purchase of Conservation Resources | $8,390 |
| Penrith Performing & Visual Arts | Two Preventive Conservation and Object Storage Workshops | $2,200 |
| Port Macquarie Historical Society Inc | Significance Assessment of the Costume Collection | $5,440 |
| Royal Far West | Preservation Needs Assessment of the Archive and Museum Collection | $4,500 |
| Shoalhaven City Council | Significance Assessment of the City Art Collection | $4,500 |
| Tamworth Regional Gallery | Significance Assessment of the Collection | $5,920 |
| The Children's Hospital at Westmead (The Sydney Children's Hospitals Network) | Preservation Needs Assessment of the Collection and Collection Management Software | $5,790 |
| The Embroiderers' Guild NSW Inc | Significance Assessment of the Collection | $4,500 |